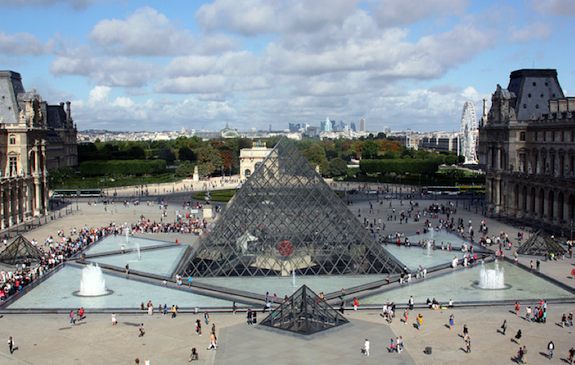 How does one begin to capture the imaginations of two young girls at the Louvre Museum, one of the world's largest and most famous art museums? Ours is a family where art is not just appreciated but very much encouraged as a hobby and pastime. From the youngest of ages, both kids were taught about the painters whose famous works are displayed at the Louvre. Yet, the thought of bringing the girls to the Louvre was an intimidating one.
They'd already toured Musée de l'Orangerie and Musée d'Orsay on this trip, but after hearing "we want to see the Mona Lisa!" enough times, we gave it a go on our third official day in Paris. We had a 9:30am appointment to meet a guide named Marie who would lead us on the "Louvre Crash Course" tour. She was there right on time, and she and the kids became fast friends.
At the famous Louvre I.M. Pei Pyramid entrance, lines were already snaking through the courtyard. We then realized it was the first Sunday of the month, the monthly free entry day at Paris museums that usually draws huge crowds. We expected this would make it especially challenging to guide two small but eager people through the Louvre. We entered through a private entrance reserved for tours that was much less crowded. [Beat the lines with our map to all Louvre entrances.]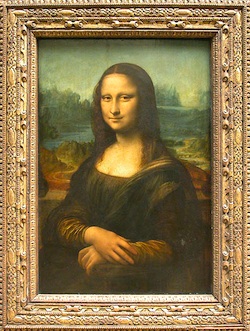 Marie knew the girls' main wish was to see this "Mona Lisa" they'd been hearing about forever, and that we'd have to pick up the pace because the area where the most famous painting in the world would soon flood with people. Marie again guided us swiftly away from the crowds and through an almost empty passageway that led us easily to the Mona Lisa.
The kids managed the many stairs impressively and their eyes were huge as they looked up at the breathtakingly beautiful painted ceilings above the stairways. "How does Mom always know to look up for all the good things?" my daughter asked her sister. I reminded them, there were good things everywhere here.
It's all about perspective, and to engage little ones aged five and eight, as my two are, you need a sense of what things must look like from about two feet down. I waited to see if our guide, Marie, could hold their attention; after a summer of keeping them stimulated and busy, I know it's no easy task.
It's difficult for young children to manage the size, scale and meaning of what is seen at such a large museum, yet Marie remained true to the tour company's name by putting things into context, which is the key to learning. She was animated, energetic and very knowledgeable.
Luckily we arrived in front of da Vinci's masterpiece before the crowd became too deep. Still, it took a few hoists above the shoulder-to-shoulder mob of people crowded around the painting with cameras. But even our smallest managed to snap a photo with her new disposable camera.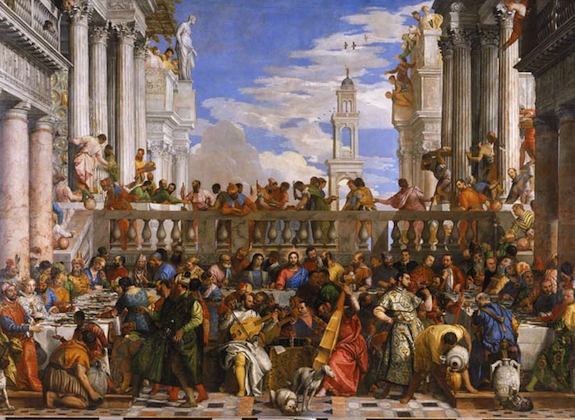 Marie then presented each of our daughters with a booklet that outlined some of the sites on our upcoming tour. We had a bit of a lesson on the symbolism and history related to the Mona Lisa and then the kids were off to do an activity: a visual scavenger hunt in which they checked off displays noted in their booklets, such the enormous painting The Wedding Feast of Cana by Paolo Caliari, known as Veronese. By then I was pleased to see the kids asking and answering questions and really enjoying Marie. Soon we were off to see the statue, Winged Victory of Samothrace, where there were more questions, discussions and working in the kids' art workbooks.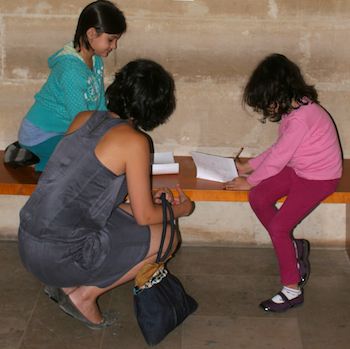 Our next stop was a quieter room where we learned about Etruscan art and architecture. At this point the adults were as engaged as the kids, benefiting from Marie's ability to convey her knowledge by referencing understandable concepts and themes from a child's day-to-day world.
In the Egyptian Chapel of the Tomb of Akhethotep, details about mummies, embalming and afterworlds were difficult to broach for kids with only a shallow understanding of religion and death, yet Marie was able to distill it a bit with our help, keeping it relevant and "cool" enough to keep their interest.
Next we saw Roman art and sculpture, and thanks to my older daughter's love for Percy Jackson from Rick Riordan's adventure novels and some school discussions, she participated in Marie's lessons about Roman gods and goddesses.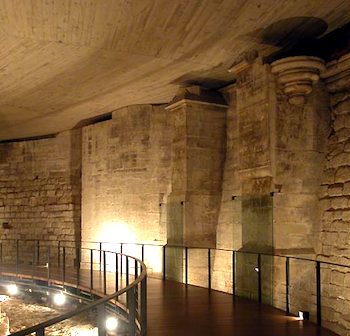 Our last stop inside the museum was downstairs in a long, dark corridor that was a visual display of the palace moat that surrounded the French King Charles V's castle as it was around the 14th century. We learned about the castle's architecture, discussed why it was built in such a way and viewed a smaller replica of the castle with its turrets and blue roofs. We learned that the remnants of the castle moat in this exhibit were excavated in the early 1980s after they were found in perfect condition when I.M. Pei's glass pyramid was being built.
The tour ended on the grass in the royal Tuileries gardens, where Marie gave us a history lesson about how the gardens were conceived and how Catherine De Medicis' vision eventually took root here and at the Luxembourg Gardens. The kids were also intrigued by how the wall around Paris kept moving out further and further concentrically as Paris grew.
Seeing the Louvre with the Context Travel guide, Marie, was a fantastic way to give kids a taste of this important museum. Marie's explanations were relevant and interesting to all five of us. We only saw a tiny part of the Louvre's entire collection, but we set out with realistic expectations of what we could accomplish, making adjustments when we saw the unbelievably large masses gathered at the Louvre that day.
Travelers must be flexible and ready to change course when the situation calls for it, especially when traveling with children. Still, with a little "context" and a little luck, touring the Louvre with kids is a highly recommended must-do activity.
PRACTICAL INFORMATION:
Paris 1st
Tél: 01 4020 5317
Online route maps for Paris bus, Métro, RER and Transilien (SNCF) (French only)
Vélib' station maps : #01014 Rivoli-Musee du Louvre, 5, rue de L'Echelle
Métro: Line 1 or line 2,  stop: Palais-Royal-Musée du Louvre.
Bus: 21, 24, 27, 39, 48, 68, 69, 72, 81, 95, Paris Open Tour bus
Batobus: Louvre stop, quai François Mitterrand
2011 hours: Mon, Thu, Sat, Sun 9am-6pm, Wed, Fri 9am-10pm
Context Travel small group & family tours
Find a tour theme you like or build your own itinerary based on your interests
Louvre inside looking out at queue ©chrisjbarker
Children at Tomb of Akhethotep ©Mira Saxena
All other photos courtesy of Musée du Louvre
Mira Saxena has been a Francophile since her first visited Paris at the age of ten and today is the mother of two young Francophiles. To learn more about Mira and to read more of her writing for BonjourParis, click on her name.
Subscribe for free so you don't miss a story & don't forget our searchable library of 7,000+ stories about France travel & Paris events, dining, lodging, shopping, French lifestyle, book news, recipes, photography & more.
Shop our Amazon.com Boutique for the very latest books, travelers essentials & everything else available at Amazon.com. New items added daily. BonjourParis has been published since 1995 thanks to your support.
Search hint: start at the back pages for the most recent stock.
Short-cut to our 100 TOP SELLING ITEMS

(please wait for widget to load)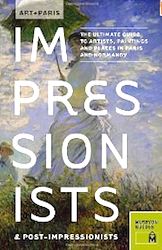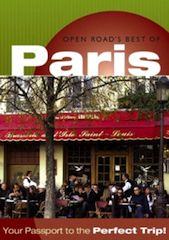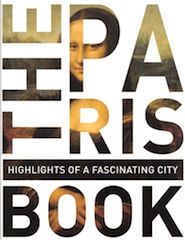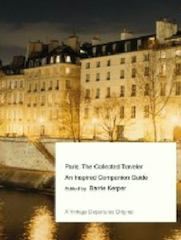 Art + Paris Impressionists & Post-Impressionists: The Ultimate Guide to Artists, Paintings and Places in Paris & Normandy [July 2011; beautifully illustrated…a BonjourParis bestseller]
Open Road's Best of Paris 3E [9/20/2011] by Andy Herbach, bestselling author of Open Road's 'Eating & Drinking' menu-translator guides to Paris
Paris Book: Highlights of a Fascinating City[October 12, 2011 release—save 34% with advance order]
Paris: The Collected Traveler (Vintage Departures) [July 2011 release, collections features writers Alexander Lobrano, Patricia Wells, Susan Herrmann Loomis, Ina Garten & many more… BonjourParis bestseller.]
Right Bank hotels near the Louvre and Champs-Elysées: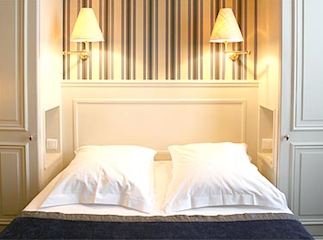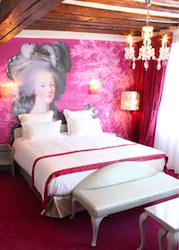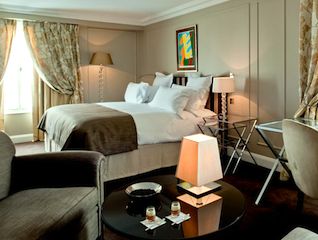 Photos left to right:
Hôtel Thérèse, 3-star, rated 8.4 of 10
Hôtel Konfidential, 4-star, rated 8.4 of 10
Le Burgundy, 5-star, rated 9.2 of 10
Bookmark this

Booking.com link

& use it every time you shop for a hotel anywhere in the world.

Your preferences & BEST PRICE GUARANTEE details will be stored & updated when you return.

Discount code for Auto Europe car rentals:
Auto Europe is your best choice for car rentals in France and Europe. Most competitive rates, no drop fees.
Bookmark & use our link for a 5% code discount here:  Auto Europe Car Rental
Don't overlook Auto Europe for international flights, click Auto Europe Flights