Le Banke Hotel, Paris 9th
Hôtel Le Banke launched in 2009, a magnificent "Eiffel style" Belle Epoque building that formerly housed the CCF bank. The exciting and eclectic interior design, avant-garde and antique, by architects Paul Fresse and Cassien Bernard is worth the detour. A mix of styles, colours and lots of space will really turn you on. Force yourself out of Galeries Lafayette and swing by Lola, the circular bling bar serving cocktails and tapas, then discover Josefin, the Mediterranean-style brasserie with dishes created by chef George Pierre (ex-Robuchon, Maison Blanche).
On the menu, starters include Carpaccio de homard + algues. Raviolis de cabillaud farcis de gambas de palamos + vinaigrette de tomate basilic. Oeuf cassé + jambon bellota + huile de truffe blanche. There are Iberian influences in the dishes, so choose a Spanish wine Finca la Estacada 2009 (30€) or the robust red Miranda, Crianza, Rioja, 2005 (35€).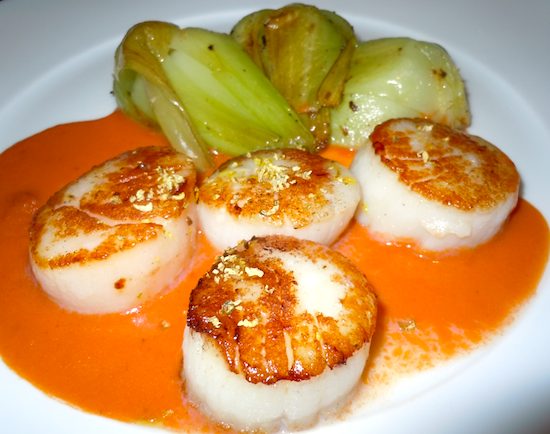 For mains: Riz crémeux aux cèpes + huile de truffe blanche. Noix de Saint-Jacques + citron vert + pak choy + émulsion au lime (see photo) or Onglet de boeuf Wagyu aux échalotes, poêlée de légumes faҫon ratatouille gratinée. The patissier was head-hunted from the Ritz, so save space for desserts: Millefeuille tradition + glace vanille. Crème Catalane + tuile Canelle + biscuit à l'Orange; La Pêche faҫon Melba, served in a tall glass and Tartelette aux fraises. The contemporary space buzzes with a hip young crowd and couples who don't seem in a hurry to leave.
The Banke project is by Jordi Clos, director of Derby Hotels Collection, with exciting addresses in Barcelona, Madrid, London, and now Paris. 94 rooms and suites, with spectacular bathrooms, views over the Sacré-Coeur. Eclectic art everywhere, Jordi Clos is a big collector and expert Egyptologist. What a great place to hang your sombrero. With the world economy in crisis the banque did well to transform itself into a fantasy hotel—check in and forget everything.
Le Banke Hotel featuring Bar Lola & Restaurant Josefin
Tél: 01 5533 2222
20, rue Lafayette, Paris 9th
Métro: Chausée d'Antin
Lunch: Banke Express 29€ + A La Carte
Dinner: about 55€ + wine
Open 7/7
Valet parking
Eric Kayser, Paris 13th
Eric Kayser is a baker of biblical proportions: he feeds the world with his beautiful baguettes at 60 Eric Kayser boutiques, from the Arab Emirates via Senegal, Greece, Lebanon, Morocco, Russia, Taiwan, Ukraine, and NYC in 2012.
Son, great-grandson and grandson of bakers, Kayser's got yeast running through his veins. "I've been baking since I was four," he admitted one day last week in the bakery of his eponymous Port de Tolbiac boutique/restaurant, opposite the Seine.
"The secret's in the Fermentolevain machine," he says pointing to a massive tublike object. "I opened the first bakery on rue Monge, Friday 13th April, 1996," he said with a grin. "I've created many new recipes but always respect the traditions of my trade learned during five years' apprenticeship with Les Compagnons de France," he explained.
"For the French a day without bread is not possible, it's part of our 'patrimoine,' and as such has place of honor at the table. It's not difficult, good bread is a bit of flour, water, salt, levain, and oodles of love," he added, hauling piping-hot baguettes from the four.
If you're not already a fan, find a Kayser, but make sure you're hungry: there's so much to enjoy—not only bread but quiches, tartes, sandwiches, tuiles, cookies, madeleines, financiers, and sablés, to eat in or take-away. In each bite taste the passion Kayser has for his profession, an artisan with a new idea every time he blinks those twinkling eyes.
77, Quai Panhard et Levassor, Paris 13th
Métro: Bibliothèque François Mitterrand
Shut Sunday

(find other Paris, France & international locations at site)
A Life in the Day of BUZZ: Fête de la Gastronomie
You think you're the only one who never stops thinking about food? Well, you should be French! They never, ever for one nanosecond forget they are the leaders of the pack where gastronomy is concerned, confirmed by UNESCO. Bless 'em they'll go to the opening of a tin of sardines (millésimées bien sûr, "the foie gras of the mer, chérie"), the laying of a table!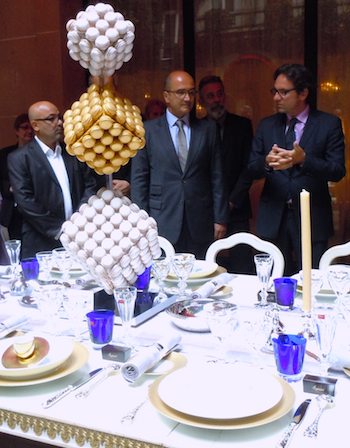 Last week, during the celebrations for Fête de la Gastronomie which tookin 4,441 mouthwatering events throughout France, gastronomically heralding the first, mellow, day of autumn, Hôtel Plaza Athénée showcased Une Table d'Exception. In my book this comes under the sardine/envelope-opening heading. It was, however, quite magnificent, the courtyard of the Plaza, in the early evening, the light, magic.
The Table d'Exception, honoured by Fréderic Lefebvre, Secrétaire d'Etat chargé du Tourisme auprès du Ministère de l'Economie et des Finances, was set with handsome eating irons by Christofle, covetable Baccarat crystal, candles by Ciergerie des Prémontrés , and pretty porcelain by JL Coquet. We were rewarded with  champagne and pastry by Lenôtre and Christophe Michalak, Plaza's Duke of Desserts. Table linen was by Tissage Moutet, wacky chairs from Henryot & Cie and chocolate by Puyricard. The Table d'Exception will spend next week on display at Bercy in the Hôtel des Ministres.
"From casse-croute to restaurants etoilés we must remember that the art of gastronomy is to make the ephemeral, unforgetable," said the delightful Monsieur Lefebvre, declaring the table, Patrimoine Vivant, open.
25, avenue Montaigne, Paris 8th
Métro: Alma-Marceau
Maison Prunier, Paris 8th & 16th
Maison Prunier celebrates 20 years of producing caviar in France, l'esturgeon Acipenser baeri, from the Gironde Estuary, with a splendid caviar-based menu. Crème de champignons au caviar; Carpaccio de bar à l'huile de noix et caviar; Papillote d'esturgeon au foie gras et caviar. Figues de Solliès rôties, jus de framboises, glace d'amande douce. The menu's by Prunier Victor Hugo's chefs Renata Dominik and Eric Coisel.
"After 20 years of research and innovation we have caviar of a remarkable quality produced in France," agree the chefs.
Bring it on, guys.
Menu "Vingt ans Prunier Manufacture" 150€ + wine, until December.
Tél: 1 4417 3585
16, avenue Victor Hugo, Paris 16th
Café Prunier (and Boutique Prunier)
Tél: 01 4742 9891
15, Place de la Madeleine, Paris 8th
Métro: Madeleine
This story is a 2011 Readers' Favorite.

Margaret Kemp is a Cordon Bleu graduate who spent a year traveling the world, working and watching in the kitchens of top chefs from Sydney, Australia via Bangkok, Hong Kong, California, New York and France. Her Sunday columns for BonjourParis premium members include the latest European trends, interviews with internationally acclaimed top chefs, and reviews of restaurants, hotels and hot spots. Please click on her name to see her weekly stories dating back to 2003 . . . et merci, Margaret.

Merci

, les abonnés 

premium

, 

nous vous apprécions

.
BonjourParis has been a leading France travel and French lifestyle site since 1995.
Readers' Favorites: Top 100 Books, imports & more at our Amazon store
Consider these additions to your DVD and book collections…click on an image for details.
Thank you for using our link to Amazon.com…we so appreciate your support.