The Top 6 Most Romantic Paris Hotels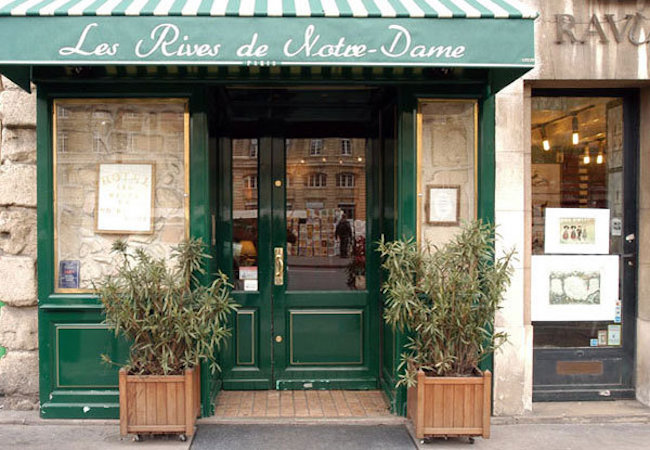 If you're freshly in love or wanting to spend a romantic weekend with your partner, the first romantic destination that comes to mind is Paris, the city of love. What sounds better than watching the sun set from Pont Neuf, strolling around arm in arm on the banks of the Seine, looking at Notre Dame beautifully lit by night and getting lost discovering hidden wonders in the side streets. Perhaps you've already learnt that France's most beautiful city unfortunately offers a wide range of nasty yet expensive hotels, and what could be worse for sensual lovers' days than a hotel that does not offer the charm and je ne sais quoi corresponding to the beauty of the surrounding quartiers? You should be guaranteed a great place to stay, especially if you're treating or surprising your partner. That's why we've tested boutique and luxury hotels for you in Paris – here is our choice of the Top 6 romantic Paris hotels for naughty weekends, romantic hideaways and even honeymoons:
1.  Hotel Les Rives de Notre Dame
Quai Saint Michel 15
75005 Paris
As the name implies, this 4-star hotel is situated near Paris's famous cathedral, and each and every room has a view of Notre Dame. Country house style interiors, Mille Fleurs fabrics and the charm of a 16th-century building make this place so cosy and romantic. Just out of the door you can set off on romantic walks on the Ile de la Cité and the banks of the Seine (do not forget to leave your names at the mur de l'amour), have a fab ice cream at Berthillon or a coffee in one of the cute little cafés where minuscule marble tables simply insist you huddle close together – this most antique part of Paris is not to miss for lovers!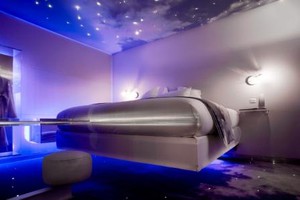 2.  One by The Five
3 Rue Flatters
75005 Paris
In the Latin Quarter with its jazz clubs, students and bouquinistes, you find that this spacy, extraordinary hotel consists of just one gorgeous suite inviting to uninhibited surrender with a levitating designer bed and an atmosphere just encouraging dirty deeds and the boldest of fantasies. The big bed seems to float in the room, and sensual colours give you a warm, erotic feeling. Not far from here, you find the Jardin de Luxembourg with children playing happily, and lovers hand in hand can envisage a joint future and a deep happiness of being together.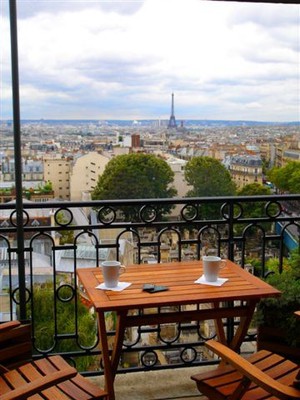 3.  Terrass Hotel
12 Rue Joseph de Maistre
75018 Paris
Many Parisian lovers consider Montmartre with Sacré Coeur, Place du Tertre and the narrow historic streets to be one of Paris's most romantic quarters. Why not have breakfast on a nice little balcony with an impressive view across the city? This is possible at the 4-star Terrass Hotel. The rooms are furnished and decorated with care and a superbly harmonized colour scheme. If you want the balcony, make sure to reserve rooms in the higher categories. From June to September, enjoy your meals at the Terrace Restaurant which boasts marvellous views of twinkling Paris.
4.  Hotel Des Archives
87 rue des Archives
75003 Paris
One of the most stylish and oldest quarters of Paris is the Marais with its historic buildings, chic cafés and boutiques including the famous store Colette (where you could pick up an exclusive gift for a lover). Culture vultures should make time for the Picasso Museum and the Place des Vosges, both highlights of any Paris trip. In the middle of the Marais you find the pretty little boutique Hotel Des Archives with warm colours in red and purple, artworks on the wall and a creative, individual interior design in every room.
5.  L'Hotel
13, Rue des Beaux-Arts
75006 Paris
Are you looking for a relaxed, stylish and centrally located 5-star hotel in Paris that has the perfect atmosphere for a honeymoon? Then choose this ultimate hotel on the Left Bank, where many celebrities have slept. Who else could dare to name a hotel as simply as this one – only places that are as special as L'Hotel. Opulent décor, warm colours and sensual fabrics make this house so special – and most of Paris's sightseeing hot spots such as the Louvre are just a few steps away.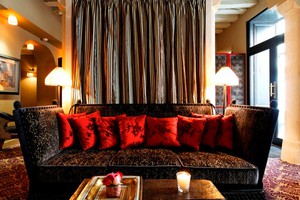 6.  Hotel Odéon St Germain
13 Rue Saint Sulpice
75006 Paris
This intimate and very Parisian hotel is situated in the heart of the St Germain district with its distinctive charm and its rich cultural life. Paris's most famous cafés like the Café Flore and Les Deux Magots, where Jean-Paul Sartre and Simone de Beauvoir once discussed their philosophy over a café crème, are just around the corner, along with galleries and boutiques. You will also love the rooms newly redesigned by famous architect Jacques Garcia and the staff's attentive service.
Book one of these romantic Paris boutique hotels and you're guaranteed Paris's seductive streets will lead you home to nights of passion and pleasure.
Lead photo credit : Hotel Les Rives de Notre Dame - Paris. Photo credit: Hotel Hotel Les Rives de Notre Dame - Paris, Facebook
More in Bonjour Paris, Left Bank hotels, Paris hotels, Paris lodging, Paris sightseeing, Right Bank hotels, romance
---
---