Ralph's, Paella at Prunier & Bocuse D'Or Qualifying Buzz
Ralph Lauren officially opened his restaurant Ralph, located on Boulevard Saint-Germain, on a recent trip to Paris with his family. He picked up a "Légion d'Honneur" from President Sarkozy, so it was a busy week. OK he's not exactly in the kitchen, but it's not only about the restaurant, there's the new Ralph Lauren flagship store and the first Ralph Lauren watch salon in France. In the grand scheme of things Ralph's had his hands full. Of the restaurant he says: "I want Ralph's to be the best of its kind in Paris, offering great American food in the most beautiful and romantic setting". Housed inside a historic limestone Hotel Particulier built, in French Rococo style,  for King Louis X1V's secretary Edmé Robert, the building was once the Dutch Embassy. It boasts a rich history: in 1923 Carnegie Endowment bought it to house something called International Peace, the building modified to hold the centre's administration offices, lecture rooms, a library and even a movie theatre. The rather crumbling 173 Boulevard St. Germain was recently rented to Ralph Lauren, who fell in love with the location and wanted to restore it to its original splendour. It now houses the largest Ralph Lauren store in Europe. Renovations were carried out in close collaboration with historical advisers and numerous compagnons artisans to ensure the authenticity and integrity of the architecture, style and finish. The building is accessed through a grand Passage Cochère leading to a private courtyard. Inside the courtyard, originally the stables and carriage houses, is Le Ralph's. Come early and take a tour of the house – it's so magnificent they could charge an entrance fee. Beautiful paintings line the walls of the staircase; there's a lift but you'll miss out on the atmosphere if you use it. I imagine this is how RL lives, you're in his house and oh yes there are to-die-for clothes and accessories, but they're not in your face, they're part of the décor. No sign of a cash till anywhere – how discreet. Book outside in fine weather. The cobblestone courtyard features lots of greenery and olive trees, a horse fountain, comfy teak banquettes with soft cushions, shady parasols and wonderful white plants decorate the tables. Pay attention to smokers who are allowed to puff away as it's outside, and tell the Maitre d'Hotel when you arrive if you hate Marlboros blowin' in the wind. The interior dining room features a high stone fireplace: it's Ralph Lauren meets Ralph Lauren, his classy signature of glamour and informality. The menu is a reflection of what Ralph Lauren likes to eat. Imported Maine lobster, Maryland crab-cakes, clam chowder, salads for the ladies who do, grilled chicken, fish and chips, sauce tartare, and of course the burgers. Classic, tuna or vegetarian. All translated by Nicolas Castelet (ex-Le Bristol and Renoma Cafe Gallery). But rather than the Ralphburger try the succulent tenderloin and strip steaks from Lauren's Colorado Ranch RRL. Cool. Drink Mint Juleps, Whisky Sours and RL's favourite Frozen Margarita. There's American wines from Francis Ford Coppola's vineyards, as well as an extensive world wine list. Cheesecake for dessert, carrot cake or chocolate tart with caramel popcorn and toffee ice-cream. Frozen yogurt and red berries for the ladies who do. My French lunch partner was a little disappointed, not with the food but that she couldn't get a menu in French! Ralph's 173 Boulevard Saint Germain, 6th Metro: Saint Germain des Pres T: 01 44 77 76 00 Open every day/night + Sunday Brunch 11.30-15.30 Average spend from 40-75€ + wine
www.ralphlauren.fr
This summer so far the weather's not great, but sometimes you feel like eating outside, need to breathe. Prunier's ivy-covered very private terrace is buzzing. This beautiful listed art-deco address opened in 1902 and everyone's been, or comes for the fabulous food and the unique atmosphere, from Salvador Dali, who brought his pet leopard on a lead, to Jean Cocteau, Yves Saint Laurent and Pierre Bergé, Catherine Deneuve, Johnny Depp and Vanessa Paradis. The menus, created by Eric Coisel, are exceptional. Now each Thursday evening you can have a terrace moment and taste Coisel's spin on paella. Presented in an elegant gleaming oval copper pan there's all the ingredients required for paella with a few changes: replacing the rice is orzo, a rice-shaped pasta but fatter and juicier, sitting in splendour on top of fat chunks of monkfish and cod, mussels, shrimp, spanish chorizo, delicious! Follow with Pot de crème Emile Prunier, Mille-Feuille caramelisé aux fraises des bois or Delice de rhubarbe et fraises faҫon tiramisu. Pure delight on a summer night. Restaurant Prunier, 16 avenue Victor Hugo, 16 Metro: Etoile or Victor Hugo, T: 01 44 17 35 85 Menu Paella – 35€ Menu simone 65€ Menu Homard 85€ Lunch Formula 45€ Menu All Caviar – 150€
www.prunier.com
As part of Gourmet in Geneva, presided over by 3- Michelin star Swiss chef Philippe Rochat, twenty European chefs took part in a gastronomic cook-off to win places at the Bocuse d'Or, the Oscars of the Culinary World, which take place in Lyon on January 25th-26th 2011 during the SIRHA Food, Catering and Hotel Trade Fair. Bearing in mind that precise time-keeping is of the essence in cooking and with the fact that maybe it would be nice to have a new watch, Bocuse invited Hublot to sponsor the event. The chefs worked in tiny 18 square meter kitchens set up facing the public, their goal to produce two perfect dishes in 5 hours 35 minutes and not a nanosecond more. Hublot clocks were omnipresent. And the winner is: Rasmus Kofoed, Restaurant Geranium, Denmark
www.geranium2.dk
and he's taken 12,000€ prize money and a Big Bang Watch presented to him by Hublot CEO, Jean-Claude Biver who said: "Watchmaking and cooking share the same passion, precision and love of detail". The judges included Bocuse, Frédy Giradet, Philippe Rochat and Daniel Boulud who was mobbed like a rock star. Watch the event on
http://www.hublot.com/site/#/EN/NEWS
.   If you're coming to France (or for that matter anywhere) you can 
reserve your…
SUBSCRIBE
ALREADY SUBSCRIBED?
BECOME A BONJOUR PARIS MEMBER

Gain full access to our collection of over 5,000 articles and bring the City of Light into your life. Just 60 USD per year.

Find out why you should become a member here.

Sign in

Fill in your credentials below.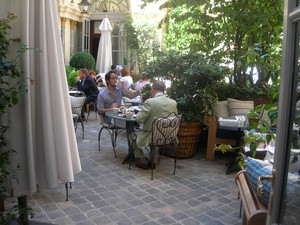 Ralph Lauren officially opened his restaurant Ralph, located on Boulevard Saint-Germain, on a recent trip to Paris with his family. He picked up a "Légion d'Honneur" from President Sarkozy, so it was a busy week. OK he's not exactly in the kitchen, but it's not only about the restaurant, there's the new Ralph Lauren flagship store and the first Ralph Lauren watch salon in France. In the grand scheme of things Ralph's had his hands full.
Of the restaurant he says: "I want Ralph's to be the best of its kind in Paris, offering great American food in the most beautiful and romantic setting". Housed inside a historic limestone Hotel Particulier built, in French Rococo style,  for King Louis X1V's secretary Edmé Robert, the building was once the Dutch Embassy. It boasts a rich history: in 1923 Carnegie Endowment bought it to house something called International Peace, the building modified to hold the centre's administration offices, lecture rooms, a library and even a movie theatre.
The rather crumbling 173 Boulevard St. Germain was recently rented to Ralph Lauren, who fell in love with the location and wanted to restore it to its original splendour. It now houses the largest Ralph Lauren store in Europe. Renovations were carried out in close collaboration with historical advisers and numerous compagnons artisans to ensure the authenticity and integrity of the architecture, style and finish.
The building is accessed through a grand Passage Cochère leading to a private courtyard. Inside the courtyard, originally the stables and carriage houses, is Le Ralph's.
Come early and take a tour of the house – it's so magnificent they could charge an entrance fee. Beautiful paintings line the walls of the staircase; there's a lift but you'll miss out on the atmosphere if you use it. I imagine this is how RL lives, you're in his house and oh yes there are to-die-for clothes and accessories, but they're not in your face, they're part of the décor. No sign of a cash till anywhere – how discreet.
Book outside in fine weather. The cobblestone courtyard features lots of greenery and olive trees, a horse fountain, comfy teak banquettes with soft cushions, shady parasols and wonderful white plants decorate the tables. Pay attention to smokers who are allowed to puff away as it's outside, and tell the Maitre d'Hotel when you arrive if you hate Marlboros blowin' in the wind. The interior dining room features a high stone fireplace: it's Ralph Lauren meets Ralph Lauren, his classy signature of glamour and informality.
The menu is a reflection of what Ralph Lauren likes to eat. Imported Maine lobster, Maryland crab-cakes, clam chowder, salads for the ladies who do, grilled chicken, fish and chips, sauce tartare, and of course the burgers. Classic, tuna or vegetarian. All translated by Nicolas Castelet (ex-Le Bristol and Renoma Cafe Gallery). But rather than the Ralphburger try the succulent tenderloin and strip steaks from Lauren's Colorado Ranch RRL. Cool. Drink Mint Juleps, Whisky Sours and RL's favourite Frozen Margarita. There's American wines from Francis Ford Coppola's vineyards, as well as an extensive world wine list. Cheesecake for dessert, carrot cake or chocolate tart with caramel popcorn and toffee ice-cream. Frozen yogurt and red berries for the ladies who do. My French lunch partner was a little disappointed, not with the food but that she couldn't get a menu in French!
Ralph's
173 Boulevard Saint Germain, 6th
Metro: Saint Germain des Pres
T: 01 44 77 76 00
Open every day/night + Sunday Brunch 11.30-15.30
Average spend from 40-75€ + wine
This summer so far the weather's not great, but sometimes you feel like eating outside, need to breathe. Prunier's ivy-covered very private terrace is buzzing. This beautiful listed art-deco address opened in 1902 and everyone's been, or comes for the fabulous food and the unique atmosphere, from Salvador Dali, who brought his pet leopard on a lead, to Jean Cocteau, Yves Saint Laurent and Pierre Bergé, Catherine Deneuve, Johnny Depp and Vanessa Paradis.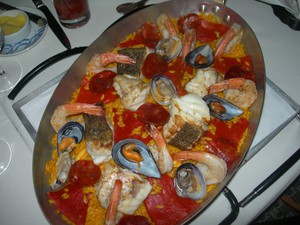 The menus, created by Eric Coisel, are exceptional. Now each Thursday evening you can have a terrace moment and taste Coisel's spin on paella. Presented in an elegant gleaming oval copper pan there's all the ingredients required for paella with a few changes: replacing the rice is orzo, a rice-shaped pasta but fatter and juicier, sitting in splendour on top of fat chunks of monkfish and cod, mussels, shrimp, spanish chorizo, delicious! Follow with Pot de crème Emile Prunier, Mille-Feuille caramelisé aux fraises des bois or Delice de rhubarbe et fraises faҫon tiramisu. Pure delight on a summer night.
Restaurant Prunier,
16 avenue Victor Hugo, 16
Metro: Etoile or Victor Hugo,
T: 01 44 17 35 85
Menu Paella – 35€
Menu simone 65€
Menu Homard 85€
Lunch Formula 45€
Menu All Caviar – 150€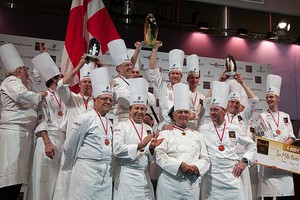 As part of Gourmet in Geneva, presided over by 3- Michelin star Swiss chef Philippe Rochat, twenty European chefs took part in a gastronomic cook-off to win places at the Bocuse d'Or, the Oscars of the Culinary World, which take place in Lyon on January 25th-26th 2011 during the SIRHA Food, Catering and Hotel Trade Fair.
Bearing in mind that precise time-keeping is of the essence in cooking and with the fact that maybe it would be nice to have a new watch, Bocuse invited Hublot to sponsor the event.
The chefs worked in tiny 18 square meter kitchens set up facing the public, their goal to produce two perfect dishes in 5 hours 35 minutes and not a nanosecond more. Hublot clocks were omnipresent.
And the winner is: Rasmus Kofoed, Restaurant Geranium, Denmark www.geranium2.dk and he's taken 12,000€ prize money and a Big Bang Watch presented to him by Hublot CEO, Jean-Claude Biver who said: "Watchmaking and cooking share the same passion, precision and love of detail".
The judges included Bocuse, Frédy Giradet, Philippe Rochat and Daniel Boulud who was mobbed like a rock star.
Watch the event on http://www.hublot.com/site/#/EN/NEWS.
If you're coming to France (or for that matter anywhere) you can reserve your hotel here. To rent a car, Bonjour Paris recommends Auto Europe.
More in Bocuse d'or, culinary travel, Food Wine, France restaurants, French chefs, Paris, Paris restaurants
---
---