Paris Restaurant Trends – Chapter 5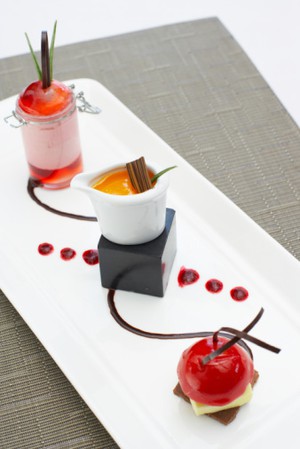 I've written before about the long history of Parisian restaurants succumbing to waves of fads in foods. Just think back to Joel Robuchon's proportion of butter to potatoes, the invasion of purees, millefeuilles and moelleux of chocolate. Then there are the goofy juxtapositions of meats and exotic fruits when we were subjected to the excesses of the nouvelle cuisine. Well, today is no different. Just as Indians sent smoke signals from hilltop to hilltop to warn of the white man's coming, any chef worth his salt in any restaurant in Paris responds to a new fad within two turns of his tables. One new/old-fashion example is classic onion soup. I recall the 1950's, especially around the old Les Halles, when any self-respecting joint offered up a rich version of this traditional dish, topped with cheese lightly bubbling on delivery. Amazingly, places all over town have begun to return to this delight – which I naively thought was unique to Chez Grenouille when I had it this winter-spring for the first time in years. Then there are the new coffee rituals. The first is the now seemingly ubiquitous café gourmand, the overkill of teeny-tiny desserts and an espresso. Often, it's rather mediocre. But at times, it's a great way to sample the pastry chef's breadth of skill. Another new trend is multiple coffees. In the United States, fancy places often offer you a second espresso after a meal if you're hanging around talking. Now Paris places are increasingly imitating this practice. Perhaps it's because Americans convey they expect it. But, since I'm usually eating in new places not yet populated by visitors, it seems to be a French food fad rather than American-imitative one. Finally, there's the bio, natural, unfiltered wine trend. I recall going to wine bars etc., 5-10 years ago with a critic who knew his wines as well as his bistrots, and he'd say, let's go to X, they have the usual bio, unfiltered, blah blah blah, stuff. Now, though, the most humble to the most pretentious places offer such libations. While I've been focusing on food and wine trends, have you also noticed that there's been a replacement of the Oakland, Timberland and North Face wearing apparel/backpacks in favor of Franklin and Marshall gear? How the deuce this came to be seen as trendy is beyond me. Places I like that stimulated this trend-spotting theme. Chez Grenouille 52, rue Blanche in the 9th (Metro: Trinite) T: 01.42.81.34.07 Closed Saturday lunch and Sundays Lunch menus at 15 and 25 and a 40 E carte but they're cool about mix & matching L'Agapé 51, rue Jouffroy d'Abbans in the 17th, (Metro: Wagram) T: 01.42.27.20.18 Closed weekends Lunch menu = 35 € and 90 & 120, a la carte 90+. Le Comptoir des Mers 1 rue de Turenne in the 4th, T: 01.42.72.66.51 Closed Mondays, Formula at 20 E (2 courses), a 29 E all you can eat oyster feast Thursdays, a la carte 35-60 E. ©by John Talbott 2010 Looking for something sweet? Try
zChocolat
's exclusive selection of handmade French chocolates. Please post your comments or questions and let them flow. Register 
HERE
to do so if you need a Bonjour Paris user name and password.
SUBSCRIBE
ALREADY SUBSCRIBED?
BECOME A BONJOUR PARIS MEMBER

Gain full access to our collection of over 5,000 articles and bring the City of Light into your life. Just 60 USD per year.

Find out why you should become a member here.

Sign in

Fill in your credentials below.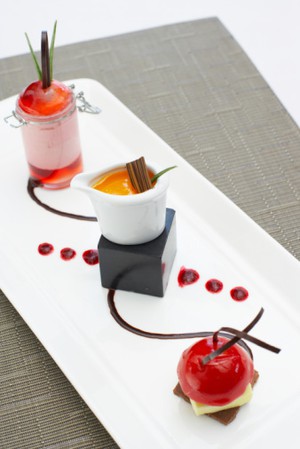 I've written before about the long history of Parisian restaurants succumbing to waves of fads in foods. Just think back to Joel Robuchon's proportion of butter to potatoes, the invasion of purees, millefeuilles and moelleux of chocolate. Then there are the goofy juxtapositions of meats and exotic fruits when we were subjected to the excesses of the nouvelle cuisine.
Well, today is no different. Just as Indians sent smoke signals from hilltop to hilltop to warn of the white man's coming, any chef worth his salt in any restaurant in Paris responds to a new fad within two turns of his tables.
One new/old-fashion example is classic onion soup. I recall the 1950's, especially around the old Les Halles, when any self-respecting joint offered up a rich version of this traditional dish, topped with cheese lightly bubbling on delivery. Amazingly, places all over town have begun to return to this delight – which I naively thought was unique to Chez Grenouille when I had it this winter-spring for the first time in years.
Then there are the new coffee rituals. The first is the now seemingly ubiquitous café gourmand, the overkill of teeny-tiny desserts and an espresso. Often, it's rather mediocre. But at times, it's a great way to sample the pastry chef's breadth of skill.
Another new trend is multiple coffees. In the United States, fancy places often offer you a second espresso after a meal if you're hanging around talking. Now Paris places are increasingly imitating this practice. Perhaps it's because Americans convey they expect it. But, since I'm usually eating in new places not yet populated by visitors, it seems to be a French food fad rather than American-imitative one.
Finally, there's the bio, natural, unfiltered wine trend. I recall going to wine bars etc., 5-10 years ago with a critic who knew his wines as well as his bistrots, and he'd say, let's go to X, they have the usual bio, unfiltered, blah blah blah, stuff. Now, though, the most humble to the most pretentious places offer such libations.
While I've been focusing on food and wine trends, have you also noticed that there's been a replacement of the Oakland, Timberland and North Face wearing apparel/backpacks in favor of Franklin and Marshall gear? How the deuce this came to be seen as trendy is beyond me.
Places I like that stimulated this trend-spotting theme.
Chez Grenouille
52, rue Blanche in the 9th (Metro: Trinite)
T: 01.42.81.34.07
Closed Saturday lunch and Sundays
Lunch menus at 15 and 25 and a 40 E carte but they're cool about mix & matching
L'Agapé
51, rue Jouffroy d'Abbans in the 17th, (Metro: Wagram)
T: 01.42.27.20.18
Closed weekends
Lunch menu = 35 € and 90 & 120, a la carte 90+.
Le Comptoir des Mers
1 rue de Turenne in the 4th,
T: 01.42.72.66.51
Closed Mondays,
Formula at 20 E (2 courses), a 29 E all you can eat oyster feast Thursdays, a la carte 35-60 E.
©by John Talbott 2010
Looking for something sweet? Try zChocolat's exclusive selection of handmade French chocolates.
Please post your comments or questions and let them flow. Register HERE to do so if you need a Bonjour Paris user name and password.
More in Bonjour Paris, culinary, Food crtitics, Food Wine, French food, French wine, John Talbott Paris, Paris bistros, Paris restaurants
---
---