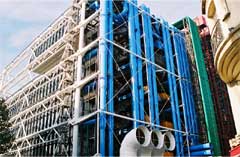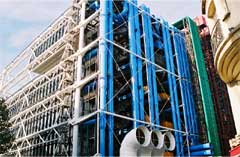 How do you explain a building that looks like it was built inside out? Consider the pipes for electrical wires, water, warm & cool air, etc, on the outside of a structure, each color-coded. Consider too large pipe-like glass elevator conduits where people enter and depart.
This rectangular building is held together on the outside with these pipes and steel struts. Yet, inside, you are in a normal multilevel building which boasts a wonderful collection of Modern Art, an Art library and Industrial Design Centre. Some say it's the ugliest building in Paris. Others say it is unique. But, like it or not, it grows on you and it shouldn't be missed.
Minimum Time to Allow:
If you are doing research or seeing an exhibition you will need at least an hour and a half. If you require more time, get there early. There is always a great deal to see. Even the Art Museum requires at least an hour.
Offered:
It offers one of the best and most complete Modern Art exhibits in the world, but it is not for everyone. There are about 1,500 works on four floors including works by Picasso, Matisse, Miro, Giacometti, Dubuffet, Andy Warhol, Oldenburg, Jackson Pollack and Cesar. Be sure to see the Braque painting of Man with a Guitar, Matisse's Sorrow of the King, Chagall's To Russia and the Portrait of Journalist Sylvia von Hardon by Otto Dix.
There are many unusual sculptures including Le Cheval Majeur by Duchamp-Villon, a wonderful Cubist work.
The centre was built on land once occupied by part of the great Les Halles market. On the west side, where one enters, there is a large piazza where magicians, singers, jugglers and other street performers entertain the crowds.
Walk around the outside of this unusual and ultra modern structure. There is no building like it.
On the south end is Place Igor Stravinsky. Here there are souvenir shops and an unusual Parisian fountain created by Niki de Saint Phalle and Jean Tinguely. The fountains are in constant movement, painted in bright colors, and appear to be floating on the water. They are different but magical. Next to the fountain is the St Merri church with a stunning pulpit dating to the 18th century. If you are interested in music, the IRCAM underground research center is dedicated to new ways of creating music. It is in the modern building next to the statue.
Just west of the piazza you'll see the Fountain of Innocents, the last Renaissance fountain in Paris. The tiny street to the south (rue de La Ferronnerie) was the site of the assassination of Henri IV in 1610.
Caution:
This can be a very crowded area with not the
most desirable people milling around. A friend had his back pack stolen as he sipped coffee at a café nearby. Watch your personal possessions, and that applies to anywhere there are many people milling around. The center is open after dark so keep alert.
The region has narrow streets, interesting bars and hotels leading up to the underground Forum des Halles. It's lively, colorful and filled with sights and sounds.
Modern Art is not for everybody. Those who see Dada sculpture may wonder why it's called art. One piece on exhibit a while back was a small cart with rocks that was emptied in the middle of a large room. Wherever the rocks landed, they stood. That was the art.
Our Opinion:
This is a highly recommended way to spend an evening or a few hours. There are even interesting bistros in the neighborhood. Nearby is the old Les Halles and interesting underground shopping.
The Façade:
There is nothing like it anywhere. The glass escalator tunnels are red. Air ducts are blue, water pipes are green and electricity is yellow. Look at the building from a distance or look out over the city from the top.
Best Time to Go:
Anytime, or when it's least crowded. But remember they open at 11am during the week and closed on Tuesdays
Centre d'Art et de Culture Georges Pompidou
Intersection of Rue de Renard & Rue St Merri, Paris 4th
Tél: 01 4478 1233
Métro: #11 Rambuteau; # 1, 4, 14 Chatelet; #4 Les Halles; #1 & 11 Hotel de Ville
Bus: 21, 29, 38, 47, 58, 69, 70, 72, 74, 75, 76, 81, 85, 96
Parking: There is a garage nearby. Street parking is generally prohibited.
Hours: Closed Tues. Open every day except Tuesdays and May 1st. 11am-9pm, last admission at 8pm
Cost: €12 Ticket entitles you to the Musée National d'Art Moderne & special exhibits.
Guides: Tours of the collections are provided in English every Sunday at 12 a.m. No reservations are required. Tours in French are conducted more frequently. Ask at the desk for times and prices of guided tours.
Handicapped Accessibility: Provisions are made. Telephone in advance for information about accessibility: 01 4478 1673
Eating: On Level 6, Restaurant Georges has some of the finest panoramic views of Paris. To reserve a table: 01 4478 4799. Two fast food options are also available in the centre: the café in the Forum on level 1 and the Bpi Kiosk on level 2.
Toilet Facilities: On each floor. Well indicated.
Leave a reply
Your email address will not be published. Required fields are marked *