Market ho! Saturday morning in Sarlat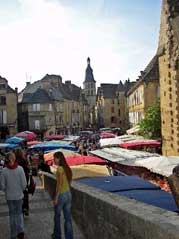 "Does everybody have their maps, market bags and menu guides – and a jacket?" The morning sky is clear and the sun is warm here on the terrace outside our B&B, however I know it will be colder in Sarlat among all the old stone buildings. We're getting an earlier than usual start today, but arriving no later 9am is a must if you hope to snag a parking spot anywhere near the area where the huge Saturday market is held. Today, luck was on our side, and my husband Dan spotted a small parking space on a side street. After a bit of maneuvering, he squeezed the van into the space with just inches to spare. I was impressed, as I'm parallel-parking "challenged" if driving anything larger than a VW Beetle.    On this end, the market begins in the Place de al Grande Rigaudie, a large tree lined area that is normally a parking lot. Today it holds booths selling clothing and table linens, as well as a flea market. Crossing that, we enter the Rue Tourney and stop to arrange a time and place for the group to reassemble after lunch. We then split up, allowing everyone in our tour group to explore the narrow streets and passages of this fascinating medieval part of the town at their own pace.  Predictably, Dan heads for the internet café as soon as I pull out my list. The need to "check in" is always a convenient excuse to avoid shopping. At one end of the street I pause to take in the scene. Fresh cheeses, sausages, Agen prunes, breads, and spices are offered by vendors all around me, many drawing potential customers to their tables with offers of samples. In the large square near the church local farmers are selling fruits & vegetables, foie gras, meats, and walnut products. On other streets you can find toys, leather goods, copper pots, shoes, and more… The pale lavender of the beautiful old wisteria vines blooming on the walls of some of the buildings catches my eye, as do the rich hues of the geraniums that fill window boxes on balconies. Groups of tourists photograph one another in front of the vendors' carts and near the beautiful old buildings around the square. One of these, an ornate building with gables and mullioned windows, was once the home of poet Etienne La Boétie. For those who have seen the movie "Ever After", the market scenes were filmed in this square near the church.          Local residents make a beeline to their favorite vendors, loading wheeled carts or baskets with fresh ingredients for their weekend meals. Those already finished with their shopping fill the tables of the outdoor cafés around the square, which offer a chance to relax in the sun and enjoy a cup of espresso before heading home.    Stopping to look at the window display of one of the many shops selling local delicacies, I can't help
remembering the first time my husband and I were introduced to foie gras. We had been invited to dinner at the home of a French couple who built a vacation cabin near our home in Montana. While Jean was fixing drinks, Mona offered us a plate of foie gras spread on toast points. She proudly informed us that it is a specialty of Perigord, the old name for the region where they live. My first thought was YUK, goose liver! Luckily my old flight attendant training kicked in before I opened my mouth and said anything stupid. I pasted on the smile I'd used for everything including emergency situations, and told myself to just force down one bite. I took as small a piece as possible, prepared to find it disgusting. Instead the rich, buttery, and smooth flavor was delicious. When Mona offered seconds, neither Dan nor I hesitated to accept.  Glancing at my watch, I realize I've daydreamed long enough and enter the shop. Since our supply at home is dwindling, I select cans of foie gras, rillettes de canard, and confit de canard. Just down the street is what I call the "walnut shop". Here the shelves are filled with walnut candies, oils, cakes, and mustards containing walnuts. I've found that these make great gifts for friends and family, so a few are added to my bag. The strap is beginning to dig into my shoulder –enough shopping. Oh no, there's the copper pot salesman! The last time I stopped to "just look"; my credit card took quite a hit. As I do with chocolate shops, I avert my eyes and speed walk past. Speaking of chocolate – a rumbling from my stomach tells me that it's time to entice Dan away from the computer screen with the offer of lunch. I'll also get my revenge for his desertion by letting him carry the bag that's getting heavier by the minute. We stroll past several restaurants, deciding on one with a few sunny outdoor tables. If the weather is cool, I'll almost always opt for a bowl of Cassoulet (a wonderful bean soup containing sausages and chunks of duck or goose). Running a close second would be Confit de Canard with Pommes de Terres Sarladaises (a leg/thigh of duck that is served with sliced potatoes crispy-fried in duck fat, and often with bits of garlic, parsley or mushrooms). It sounds like a Cardiologist's nightmare, but tastes delicious! The local residents have been eating these dishes and drinking wine for centuries, and most of them still live to a ripe old age. Of course the abundance of fresh fruits & vegetables in their diet, and the lack of high fat snack foods & sodas probably helped. A lighter option is one of the huge local salads made up of greens, walnuts, lardons (small chunks of bacon), onions, etc… Some of the salads…
SUBSCRIBE
ALREADY SUBSCRIBED?
BECOME A BONJOUR PARIS MEMBER

Gain full access to our collection of over 5,000 articles and bring the City of Light into your life. Just 60 USD per year.

Find out why you should become a member here.

Sign in

Fill in your credentials below.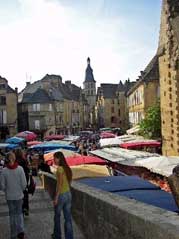 "Does everybody have their maps, market bags and menu guides – and a jacket?" The morning sky is clear and the sun is warm here on the terrace outside our B&B, however I know it will be colder in Sarlat among all the old stone buildings. We're getting an earlier than usual start today, but arriving no later 9am is a must if you hope to snag a parking spot anywhere near the area where the huge Saturday market is held. Today, luck was on our side, and my husband Dan spotted a small parking space on a side street. After a bit of maneuvering, he squeezed the van into the space with just inches to spare. I was impressed, as I'm parallel-parking "challenged" if driving anything larger than a VW Beetle.   
On this end, the market begins in the Place de al Grande Rigaudie, a large tree lined area that is normally a parking lot. Today it holds booths selling clothing and table linens, as well as a flea market. Crossing that, we enter the Rue Tourney and stop to arrange a time and place for the group to reassemble after lunch. We then split up, allowing everyone in our tour group to explore the narrow streets and passages of this fascinating medieval part of the town at their own pace. 
Predictably, Dan heads for the internet café as soon as I pull out my list. The need to "check in" is always a convenient excuse to avoid shopping. At one end of the street I pause to take in the scene. Fresh cheeses, sausages, Agen prunes, breads, and spices are offered by vendors all around me, many drawing potential customers to their tables with offers of samples. In the large square near the church local farmers are selling fruits & vegetables, foie gras, meats, and walnut products. On other streets you can find toys, leather goods, copper pots, shoes, and more… The pale lavender of the beautiful old wisteria vines blooming on the walls of some of the buildings catches my eye, as do the rich hues of the geraniums that fill window boxes on balconies. Groups of tourists photograph one another in front of the vendors' carts and near the beautiful old buildings around the square. One of these, an ornate building with gables and mullioned windows, was once the home of poet Etienne La Boétie. For those who have seen the movie
"Ever After", the market scenes were filmed in this square near the church.         
Local residents make a beeline to their favorite vendors, loading wheeled carts or baskets with fresh ingredients for their weekend meals. Those already finished with their shopping fill the tables of the outdoor cafés around the square, which offer a chance to relax in the sun and enjoy a cup of espresso before heading home.   
Stopping to look at the window display of one of the many shops selling local delicacies, I can't help
remembering the first time my husband and I were introduced to foie gras. We had been invited to dinner at the home of a French couple who built a vacation cabin near our home in Montana. While Jean was fixing drinks, Mona offered us a plate of foie gras spread on toast points. She proudly informed us that it is a specialty of Perigord, the old name for the region where they live. My first thought was YUK, goose liver! Luckily my old flight attendant training kicked in before I opened my mouth and said anything stupid. I pasted on the smile I'd used for everything including emergency situations, and told myself to just force down one bite. I took as small a piece as possible, prepared to find it disgusting. Instead the rich, buttery, and smooth flavor was delicious. When Mona offered seconds, neither Dan nor I hesitated to accept. 
Glancing at my watch, I realize I've daydreamed long enough and enter the shop. Since our supply at home is dwindling, I select cans of foie gras, rillettes de canard, and confit de canard. Just down the street is what I call the "walnut shop". Here the shelves are filled with walnut candies, oils, cakes, and mustards containing walnuts. I've found that these make great gifts for friends and family, so a few are added to my bag. The strap is beginning to dig into my shoulder –enough shopping. Oh no, there's the copper pot salesman! The last time I stopped to "just look"; my credit card took quite a hit. As I do with chocolate shops, I avert my eyes and speed walk past. Speaking of chocolate – a rumbling from my stomach tells me that it's time to entice Dan away from the computer screen with the offer of lunch. I'll also get my revenge for his desertion by letting him carry the bag that's getting heavier by the minute.
We stroll past several restaurants, deciding on one with a few sunny outdoor tables. If the weather is cool, I'll almost always opt for a bowl of Cassoulet (a wonderful bean soup containing sausages and chunks of duck or goose). Running a close second would be Confit de Canard with Pommes de Terres Sarladaises (a leg/thigh of duck that is served with sliced potatoes crispy-fried in duck fat, and often with bits of garlic, parsley or mushrooms). It sounds like a Cardiologist's nightmare, but tastes delicious! The local residents have been eating these dishes and drinking wine for centuries, and most of them still live to a ripe old age. Of course the abundance of fresh fruits & vegetables in their diet, and the lack of high fat snack foods & sodas probably helped. A lighter option is one of the huge local salads made up of greens, walnuts, lardons (small chunks of bacon), onions, etc… Some of the salads also contain gizzards, another specialty. Roast chicken and fish dishes are also plentiful on the menus, but I tend to opt for the dishes I can't easily find at home. Some of our neighbors in Montana would be shocked to find that the only dressing available is vinaigrette, as "ranch" is the dressing of choice there for everything from salads to fries to mozzarella sticks.
Since I'm not driving, my lunch can be accompanied by a glass of hearty Cahors wine or lighter Bergerac. Our designated driver has to settle for water and espresso. Dan usually treats himself to a cheese plate rather than dessert at the end of our meals. He's really enjoying gradually working his way through the almost unlimited varieties of French cheeses – the smellier the better. Once we've "refueled", we make our way back to the square to rendezvous with our group.  As usual, at least one person is late, but that gives the others time to exchange stories about their experiences, and show off their "finds".  
Our next stop will be La Roque Gageac. This picturesque village is one of the starting points for   cruises down the Dordogne River. We'll ride on flat bottomed boats called "gabares" which are replicas of the traditional boats used long ago to transport goods up and down the Dordogne. Today they allow tourists a spectacular view of the villages and medieval castles scattered along the banks and hillsides. The river scenes in "Chocolat" were filmed just below Beynac Castle, and Beynac castle itself was featured in the movie "Ever After".   
If you want to find out more about the Dordogne Valley, watch for my next article or go to my website www.westwindtours.us.  Better yet, join us on a tour and see it for yourself!
---
---