Take Care with the Knives: Videlice Knives Sold at Paris Markets & Online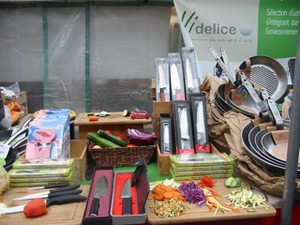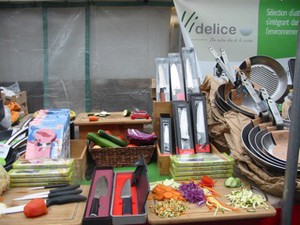 The Marché des Batignolles is one of two organic markets held once a week in the city. This wintry Saturday, I stroll with my camera for shots that will comfort me through an upcoming extended absence from Paris. First, snaps of the marvelous pastries—counters displaying the galettes des rois, those tasty almond concoctions with favors (fèves) hidden inside. Next, a few shots of butchers from whom I've purchased in the past, their quick gazes warning me that a photo is not without its price, and I'd better 'make the line' and purchase something too if I want angles and lighting of any worth. They joke with patrons as their oversized blades swoop down onto animal body parts, the insides of which are of more interest to the French than the flesh. Midway, I am greeted, as usual, by the knife and pot man.
"Bonjour, Madame! Our best knives at a discount today! Accessories of high quality!"
He is tall, dark, and handsome. His fur-lined Aigle cap and black-rimmed glasses keep me staring, digesting this vision of typical French masculinity crossed with salesman hype and booming voice, a power to arrest even the most disinterested kitchen maven (like me!). Approaching, I calculate a snapshot of intriguing white-bladed knives that sit amidst cutting boards covered with green, orange, and purple vegetables. Like the butchers, however, these largely country-based and reticent vendors rail at the invasive photographer, especially when no purchase is made. You need to meet them halfway. Perhaps a knife or two for the kitchen, I reason.
"Here we have today the latest porcelain!" he exclaims, lifting a black handle with white blade. Brandishing the 10-inch blade, he proceeds to chop away at veggies, eyes darting from me to the cutting and back.
"White?" I ask.
"Not the high-end Japanese like over here (he points to other blades). They go for much more. But, for forty euros, it's a steal! I'll give it to you today for 35."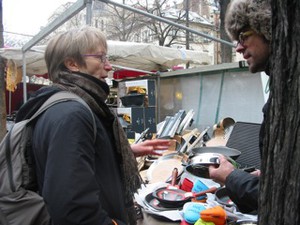 A woman approaches. "That's the one I bought last week," she says to me. Then to the vendor, "You know, the handle shakes now."
Gently easing away, I decide maybe no knives today, when the lady looks to me. "Oh, it's a great knife, don't get me wrong. I love it!"
Already the vendor hands a replacement to the lady, whereupon they launch into a banter about other sizes. She's starting a collection and wants all, from the 4-inch version to the 15-inch carver.
I chop, then chop again, here a simple potato, there a thick stubborn purple beet. The knife slices like they were butter.  Absorbed, I try carrots, then onions, each surrendering in paper-thin sheaves to the blade.
"If you buy two, I'll throw in another for free," he says, raising a 4-inch job. "Thirty-five total. My best offer!"
I nod. "OK." He reaches for packaged knives for me as he continues to discuss cutting techniques with the lady. "May I take a picture, too?" I ask.
A look of horror dispels as he realizes I am now on the "other side" of the sale. "Well," he says slowly, "not of me!"
"OK. Not of you, but your table here. The knives and veggies. Pretty colors."
I manage one or two shots of the veggies, then sneak a side view of my vendor as he chats away with another potential buyer.
Videlice, the company this salesman represents, is an online specialist in the sale of quality kitchen cutlery, accessories, pots and pans. They carry brands like Aladdin, Berard France, de Buyer, and Epicurean. You can also find their stand Saturdays at the Marché des Batignolles, Paris 17e, and on Sundays at the Marché de Raspail, Paris 6e.
Or to order some of the best knives at a deep-discounted price:  click here.
Kathleen Burke is a writer and lover of France, who lives in Paris and Massachusetts. Her most recent book on France is "Vieilles Filles and Other Tales from France".
Please visit our Amazon affiliate store for your shopping. Bonjour Paris has hand-selected some of our favorite travel gifts and gadgets for our readers… plus many Paris- and France-related books for children, travelers, scholars, and dreamers.
Please spread the word about Bonjour Paris and send an invitation to your friends to receive the newsletter.   In advance, thank you.
Leave a reply
Your email address will not be published. Required fields are marked *