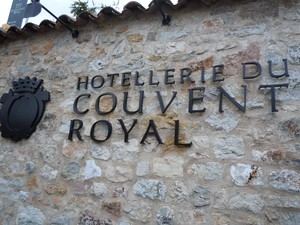 "Since 1987, the aim of France Patrimoine has been promoting and supporting French cultural heritage", explains Olivier Gourio, the group's dynamic President. The sites they transform are influenced by Spanish paradores and Portuguese pasadas. "At present there are eleven hotels throughout France, all located in listed historical buildings such as convents and castles", adds Gourio. "These are great value hotels in absolutely unique historic locations. There's usually about sixty rooms and the product offers a multitude of options, spas, culture, business meetings, etc." Gourio says that the concept attracts a diverse clientele who flock to these areas for cultural events, art exhibitions, festivals, to visit vineyards, local markets, follow the route de l'Olivier, play golf, mountain bike, trek.
France Patrimoine is now a prestigious brand, always seeking out interesting properties to restore. For example, Le Couvent Royal was a crumbling relic before FP stepped in. www.hotels-francepatrimoine.com
Just 35 minutes from the TGV station Avignon, Couvent Royal was originally the gothic Basilica and the Royal Convent of Saint Maximin la Sainte Baume, built in 1295 by Charles II of Anjou, King of Sicily and Count of Provence, to preserve the relics, read bony bits, of Sainte Marie-Madeleine. The Hotel stands next to the Basilica and is built around a cloister used by the Dominican order until 1959. There are 67 rooms, all overlooking the cloisters or the convent garden, so you're sleeping in the former Dominican Fathers' quarters. Not in penitence you have TV, WiFi, minibars, heat, room service. A spa and pool are planned for the future. "We have to go really slowly; because of the listed building we can't risk destroying the history of these precious gems", says Gourio.
The Couvent Royal's gastronomic restaurant, in the vaulted Salle Capitulaire, moves out into the shady, fragrant Cloisters in summer. There's a lush garden and large spaces for events, say, weddings, film-making, exhibitions and more.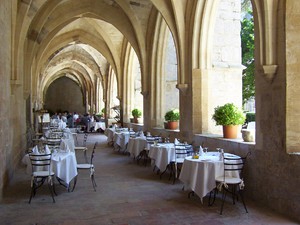 The bounty of Provence and the Mediterranean are reflected in the delicious menus. Begin with Salade Niҫoise or Artichauts à la Provenҫale et ses petites légumes. Continue with Filets de Rouget grillés, ratatouilles et sa panisse à l'anchois or Suprême de volaille contisé à la tomate séchée et écrasée de pomme de terre à l'huile d'olive, jus aux éclats d'olives noires. Local goats cheese and salade de mesclun, pain de campagne. Desserts include Tart Tropézienne, crème anglaise au muscat (St. Tropez is a short hop away).
Provence wines are showcased here where the 11th Fête de Saint Vincent is celebrated at the end of January. Winemakers from Provence gather to present their products, blessed during a mass. And who was Saint Vincent? Legend has it that a "traveller" called Vincent stopped in the area one day with his donkey. While he was chatting with some winemakers in the vineyards, the donkey nibbled all the vines. Next year, the wine harvest produced the best wine ever and Vincent became Saint Vincent, the patron saint of the vines. The mass is to thank him and to make sure he keeps looking out for their vines.
Place Jean Salusse,
83470 Saint-Maximin La Saint-Baume
T: 04 94 86 55 66
67 rooms and one suite from:
140-345€ + buffet breakfast 14€
"It's the miracle of Paris where the feast is permanent", said Gilles Pudlowki, acclaimed food writer, at the launch of his Pudlo Paris 2011.
Taking "Chef of the Year" is Frédéric Simonin, a talent formed by Joel Robuchon, whose eponymous restaurant is in the 17th arrondissement. Revelations of the Year are the Gilbert & George of Paris: Guillaume Gurdj and Shinichi Sato (ex-Astrance) whose resto Passage 53 is 100% Japanese. Young Chef of the Year is Le Crillon's Christopher Hache, "a worthy successor to Bouchet, Constant and Piège", thinks Pudlo.
Best foreign table goes to Il Carpaccio and chef Roberto Rispoli at the newly transformed Raffles Royal Monceau in the 17th.
And, as a tribute to 50 years in the business, a special "Bistro d'Or" prize for the gregarious Jean-Paul Arabian of Caméléon, rue de Chevreuse, 6th.
Rapport Qualité Prix – Philou, Phillipe Damas' cute space near Canal St. Martin (10th).
Maître d'hotel is Jean-Marie Ancher at Taillevent 8th. The sparkling Estelle Touzet is Sommelière of the year at Le Meurice. Ms Touzet's wine matchings with Yannick Alleno's food are considered phenomenal, and she's only 28 years old!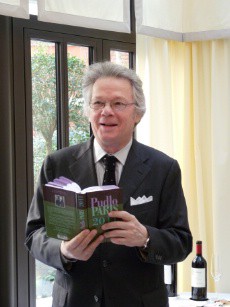 "My lauréats are young, dynamic, and I am convinced that Paris is still the food capital of the world", said a very delighted Pudlo. Taking a special award for Event of the Year is Jean-Francois Piège; beg borrow or steal a table chez Thoumieux Brasserie, at his apartment-style gastro-dining-room or stay the night at Hotel Thoumieux – because you're worth it.
An excellent addition to the bookshelf.
Editions Michel Lafon 18€ 50.
Diary Date:
"Ailleurs" (Somewhere Else), the latest exhibition at Espace Louis Vuitton, showcases the "somewhere else" of 18 so-called "Expeditionist Artists", all probably setting off with some must-have pieces of LV luggage. It goes to the point of reaching, like Andreas Angelidakis, the ultimate form of creation, setting off to explore virtual worlds generated by digital civilisation. When you've done the exhibition, drift on down into the flagship store and dream on.
Thru 8th May 2011.
60 rue de Berri, 8th
Metro George V
Open 7/7
Entry Free
Bonjour Paris has assembled an extensive store for your shopping needs.  Please check it out.
To book Boutique Hotels throughout the world, voila.