Table d'Eugene: Big Flavors, Small Prices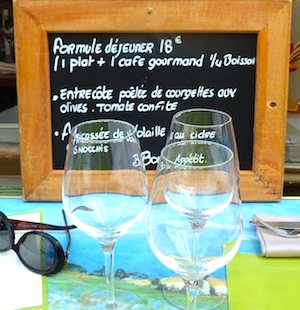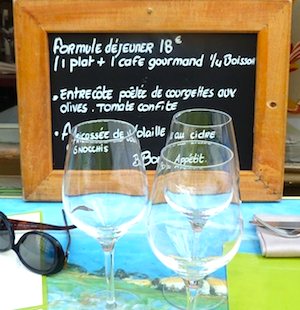 The plan was to shop for upholstery fabric in the Paris 18th, work up an appetite and go someplace delicious for lunch—a quest one would think simple in Paris, but don't be fooled, it is not difficult to be disappointed even in some of the more well-known establishments.
Two of us had heard of La Table d'Eugène, but there was another place with a stunning view that was on the top of the list. Thankfully, they were closed. So we headed back down the hill to find Eugène.
We arrived late in the lunch service with my little dog, who was pas permis in this teeny place, which is understandable as they have at most 30 seats inside. We were nicely installed on the small terrace, which gave us the chance to admire the lovely, vintage enameled exterior.
The menu—which is not large—impressed with its seasonal variety from entrées (€12) to desserts (€10). The plats (€21) all sounded tempting, from the canette served with chestnuts and mirabelle in a white porto sauce to the unilateral salmon with fish eggs and cocos de Paimpol in vinaigrette, but this was more than we wanted to spend on a plat at lunch.
Two menus offered are during lunch service: an Entrée-Plat / Plat-Dessert option at €27, or the Plat du jour – café gourmand – 1/4 beverage menu at €18 that every person in the place seemed to be eating. We opted for that one.
The offerings on that day were an entrecôte with a sauté of courgettes, olives and tomato or fricassée of chicken with gnocchi in a cider sauce. The entrecôte was sold out, so we all ordered the chicken.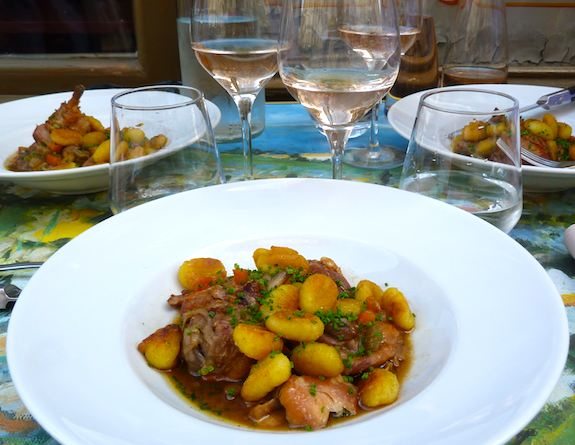 I did not have high expectations for a lunchtime chicken dish, but, wow, I was 100% mistaken. All three (hot) plates were placed on the table at exactly the same time and the presentation was absolutely beautiful. The flavors were balanced and rich; the chicken was moist, tender and perfectly seasoned. The gnocchi were surprisingly, wonderfully, crispy on the outside yet soft on the inside, lending perfectly to the color and texture of the dish. We were more then impressed. We had each selected rosé as our 1/4 beverage, a perfect match for the chicken.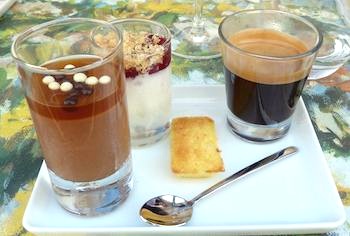 Generally, a café gourmand is a disappointing affair: random sweets haphazardly plunked on a plate with a tepid espresso. Not so at La Table d'Eugène.
A perfect, piping hot espresso with plenty of spuma was accompanied by a lighter-than-air mocha confection with little crispy bubbles of white and dark chocolate, a semi-frozen vanilla blanc-mange with red berries and crumble topping, and an exquisitely delicate lemon financier.
This was truly one of the better meals, from start to finish, that I've had in Paris for some time, and for only €18! Judging by the laughter and joking going on inside, it would be easy to say that much of the clientèle eats at La Table d'Eugène frequently. If I lived or worked nearby, so would I.
In a word: Go.
PRACTICAL INFORMATION:
La Table d'Eugène
Tél: 01.42.55.61.64
18, rue Eugène Sue, Paris 18th
Métro: Jules Joffrin or Marcadet-Poissonniers
Closed Sunday & Monday
Lunch for 3: €54

Marie Z. Johnston was taught well by her Parisienne maman to appreciate good food, good wine and the good people who nurture it, sell it and serve it at restaurants around the world. Click on her name to learn more about the French Market Maven and a list of other stories she's written for BonjourParis.

Subscribe for
FREE

weekly newsletters with subscriber-only content.
BonjourParis has been a leading France travel and French lifestyle site since 1995.
Readers' Favorites: Top 100 Books, imports & more at our Amazon store


Update your library…click on an image for details.
Thank you for using our link to Amazon.com…we appreciate your support of our site.
Leave a reply
Your email address will not be published. Required fields are marked *