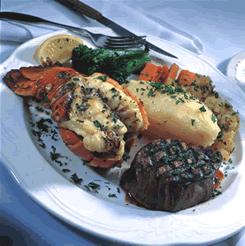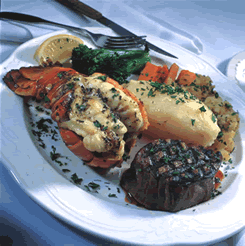 I wrote an essay a while back on fads in French restos and I think I'm onto a few more.
First, a few weeks ago we saw an unmistakable fish and meat combo at Pierre a la Palais Royale, then later, en route to Thierry Burlot, where I ordered foie gras with gambas, we looked over the menu at the Bistro d'Hubert, one of our very oldest favorites in Paris and there in black and white, on the French menu was a dish labelled "Surf and Turf."   "Surf and Turf" in France?
The second fad, as I've noted before, the new trendy serving platter (not for cheese, or charcuterie or nems) is slate; everyone is into it.  So, like pumpkin soup, purees, mille-feuilles, etc. once two or three chefs go for something, the rest plunge in.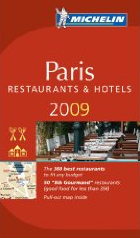 The final trend I've noticed is the serving of very big portions of dessert.  Surely, in the old days, especially in brasseries and country inns, one was presented with a big baba for the table to share or a big bowl of chocolate mousse to take a portion from/of.  Now, however, desserts are listed as individual portions but are simply too big for one person to finish.  Examples of the former are the mousse at Bouclard and rice pudding at l'Ebauchoir – the latter are represented by Rech*'s XL éclair, the Table Lauriston's baba geant, La Maree Denfert's "baba for two or more." (for more like 8, I'd venture) and Vaudeville's oeufs a la neige.
Again I wonder, where do these guys all get these ideas and what is the herd instinct that leads them all to fall inline with some silly fad?
*My last meal at Rech was 3 January 2008, fully paid for.
My favorite from the above is:
Rech
62, ave des Ternes,17th (Metro: Ternes)
T: 01.45.72.29.47
Closed Saturday lunch and Sundays
A la carte about 50-60 €.
©2008 John A. Talbott
Leave a reply
Your email address will not be published. Required fields are marked *