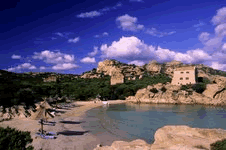 Murtoli what? Murtoli, Southern Corsica, where Paul Canarelli the cool Corsican inherited 3,000  acres from his grandfather. Instead of flogging it off to Four Seasons, Sofitel or even Alain Ducasse, Canarelli created Domaine de Murtoli, in a location of incredible beauty where sea, maquis and mountains meet. Welcome to heaven.
Canarelli is a Hemingway type who lives a Hemingway hunting, shooting, fishing existence.
His guests are "confidentiel" his gamekeepers warn off prying paps with hunting rifles.
Arriving on the winding road from Figari airport, there's no sign, Canarelli gives you a code to open the gate to paradise, will talk your driver there, or send a 4 x 4 to meet you. Note: there is a helipad.
Now you're inside, Canarelli should give you a ball of string, do note the phallic shaped rocks, the sheep, donkeys, goats, wild game, and white horses roaming, use them as your markers. Best not to arrive at night then.
You'll have reserved your stone villa ahead, at present there are 12 to choose from, some have their own pools. "All are decorated with "material de recuperation" found by Canarelli on the island, nothing is wasted. ""I wanted it to be the same as in my Grandfather's time, but with modern comforts, it's essential to keep the soul of the place n'est pas"?"  They take their environment seriously on Corsica, the island is almost 40% national parkland, with tight controls on development, much to Canarelli's joy.
Where you stay depends how many you are and if you want to be by the sea, or in the fragrant maquis. Canarelli's concept has transformed all the shepherd's houses, from Grandfather's era, into Ralph Lauren meets Murtoli designer dream villas, complete with Cornu stoves, wi-fi, plasmas, fully equipped kitcehns,  if you want to bring your own chef he/she'll feel at home. If not Canarelli's team will shop for you, bring hot croissants and fresh bread, jam, charcuterie for breakfast.
If you take beach-side, you can breakfast on your private beach, swim, snokel, have a massage.
Whether you're a hiker, a mountain-biker, a sea-kayaker or a scuba diver there's a protected space for you. After all the activity there's a paillotte/restaurant on an adjacent beach, where the morning's catch is grilled for lunch and, in warm weather dinner's pieds dans l'eau" (with your feet in the water).
Canarelli, a rugged man for all seasons, says he loves summer best because he's a sea-faring man.  Last summer he recalls landing an 180 kilo tuna. " It took three of us, now it's interdit, only  pro-fisherman are allowed to fish them", he sighs. So he's got to be content with Pagre, Barracuda, Daurade and, La Seriole, "they only weigh about 50 kilos, they're babies", he grins. There's also Denté, sardines and oursins, all of which they cook on the beach. No problem with seasonings, herbs grow everywhere, there's trillions of olive trees and, each villa has its' own vegetable garden.
And, talking herbs, local herb maven Stéphane Rogliano will take you by the hand and lead you through the maquis (wild bush and forest land), introduce you to unique herbs and plants only found on the island such as the piquant L'Immortelle, curry plant".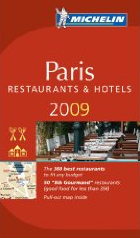 Many herbs and plants are used in essential oils for cosmetic and healing purposes. There's cedarwood, citronelle, cypress, eucalyptus, fennel, hyperium, juniper, parsley, sage, rosemary and thyme!   And don't forget the trees, berry, fruit, nut trees. elder, cork and fragrant pine. "Napoleon never forgot the perfume of his island of birth", says Rogliano, who has a Garden Centre in Portoveccio where he researches and grows aromatic plants.
When you've finished with Rogliano, Canarelli will take you fishing, or hunting in the winter, and then you'll return to your villa and a cooling swim or, in winter, a huge blazing log fire, to roast chestnuts, or your toes.
At night eat your catch by candle-light at Canarelli's table d'hote La Grotte" an authentic old stone restaurant, with a spectacular glass wine cellar. Jean Menconi and his Cosican Musica add to the incredible atmosphere.
Chef Jean Neel comes from "the continent" (that's what Corsicans call mainland France), has worked for the greats, but since he met Canarelli decided island life is for him. Before he took over  Murtoli's kitchens (only residents have access to the restaurant and the panoramic terrace), Neel took lessons from local grandmeres, who taught him their recipes. "I've revised and corrected some, some I've left well alone, he admits.
In the rustic restaurant outsize casseroles reveal slow cooked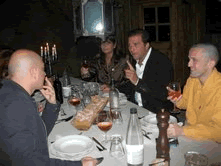 sanglier, the starter is local charcuterie, a steaming cauldron of Soupe Paysanne Corse, Moules from Murtoli, Risotto de crevettes de Bonifaccio, Herbed ravioli de Bruccio, Baby partridge on tartines. There's  red, white and excellent rosé wines from brother Yves Canarelli (he's even making a kosher one next year!). Plenty of choice from the cellars.
Trout and Seiches "cooked comme à Porto-Vecchio" and, from where the land where streams meet the turquoise sea. Murtoli veal roasted with Murtoli honey, or a rib-sticking ragout.  "Paradise for a chef", grins Neel. Local cheese, warm bread and then clafoutis aux pruneaux or warm chestnut cake with clementine caramel, before a starry stroll back to the villa.
Canarelli's life would make an excellent book/film (Brad Pitt darling, and Angelina to play Ms C.) "I'd love to write it all down, but I don't have time, I'm up at dawn, by night I'm done", he grins. After a visit to Murtoli you'll know what this extraordinary man means.
Address Book:
20100, Sartene
T: 04 95 71 69 24
In Paris find Clos Canarelli Wines at:
La Villa Corse,
141 avenue Malakoff, 16th
(Metro: Porte Maillot)
T: 01 40 67 18 44
Leave a reply
Your email address will not be published. Required fields are marked *