Since the departure of Jean-Francois Piège last August (alert readers know he's at Hotel Thoumieux and was recently judged "Top Chef"), everyone's been wondering not only who's going to buy the Palace, otherwise known as the Hotel de Crillon. But more important for most is who's going to head the kitchens at Les Ambassadeurs. Since early April, young maverick Christopher Hache has taken over and is doing very nicely, thank you. Only 28, and a graduate of Lycée Auguste Escoffier, he's done time chez Bernard Loiseau, Saulieu at Les Elyseés du Vernet, with Eric Briffard, Lucas Carton with Senderens, Le Bristol with Eric Frechon and La Grande Cascade with Fréderic Robert. "He's a lovely boy, works well with a team and his culinary skills are exceptional. He has an excellent understanding of technique and the classics from which he's building his repertoire", says Frechon. "This is a big transition for me; I never dared dream I would one day work in a palace", admits the shy guy from the Yvelines region outside Paris, where he helped his grandmother in her auberge at Saint-Nom-la-Breteche. His father had a restaurant, "Le Paris-Dieppe". "That was my first "maison" and my dad really gave me a hard time. But it didn't do me any harm," he admits. His team of 60, mostly chosen by Hache, are responsible for L'Obé brasserie, room service, banquets, the patio terrace, etc. The elegant Franco-British Pierre Jung is the new Restaurant Director, and his sparkling domaine is the former ballroom of Le Crillon; Jung worked with Hache chez Senderens. Amandine Chaignot, Hache's second in the kitchen, worked with the new main man chez Eric Frechon at Le Bristol. Don't worry, Hache hasn't swept house and David Biraud, the savvy MOF 2004, just back from Santiago, Chile, where he watched the UK's Gérard Basset become 2010's Meilleur Sommelier du Monde, is still Chef Sommelier. Antoine Pétrus is his assistant.  Hache is not fazed by his illustrious predecessors, Dominique Bouchet, Christian Constant, and Piège and said, "I'll just put my mark on my dishes". A first tasting was a delicious revelation of a new talent. Hache has designed a lunch menu at 68€ with two starters, two mains, and two desserts. And going off into the realms of A La Carte, try Le Caviar Impérial de Sologne, transparence de brocolis et crème acidulé. A light geometric composition served with waffles and two types of Bordier butter to spread on them (see photo). Or, La Morille, crinkly spring mushrooms stuffed with Iberian ham, drizzled with hazlenut sauce. You could order the Romanée Conti '61 at 10,000€ but maybe go for the Orléans L'Excellence Le Clos St. Fiacre 2007 at 55€. Continue with Le Pigeon from a tiny farm in the Vendée, glazed onions, a side of broth and paper-thin ravioli stuffed with the pigeon's succulent thighs – sexy. Rack of Lamb is wrapped in crispy chinese angel-hair noodles, served with tender aubergines. Beaujolais Morgon Côte du Py JM Burgaud (50€) goes well. Hache loves the ladies who do and gives them an edgy plate of seasonal organic veg with an infusion of coriander. There's everything you want on the menu. Blue lobster, sole, sweetbreads, chicken, langoustine, monkfish. And then cheese by Marie-Anne Cantin. Desserts by Jérôme Chaucesse are as original as Hache's mains. Pity his name's not engraved on the menu of pudds. He sends out refreshing palate teasers of grapefruit, rose lychee and grenadine, wrapped as sweeties (see photo). Chaucesse's version of brownies must be tasted. A triumph then, don't hesitate. And don't forget Les Ambassadeurs closes Saturday lunch, Sunday lunch and Monday. The weekend Brunch is still going great guns and it's best to reserve. And for warm days, the patio terrace serves a light, bright menu of  burgers (the bit hit of the moment), focaccia, club sandwiches (veggie too), salads, homemade ice creams, desserts and exotic cocktails. L'Obé, the Crillon's neo-brasserie, formerly L'Obélisque, re-launched last year is the secret sleb address. Discreet and elegant where they (shhh no names please) go to eat when they don't want to be seen.  The menu, presented like a colour chart has been re-worked by Hache, includes such fare as tartare de boeuf, tout simple and "some dishes of my grandmother".  All matched with perfect sommelier suggestions, Sancerre blanc AOC "Florès" 2007 Vincent Pinard. It's worth ordering coffee for the warm madeleines and chocolates. Les Ambassadeurs & L'Obé Hotel de Crillon, 10 place de la Concorde, 8th (Metro: Concorde) T: 01 44 71 16 16 Open 7/7 Les Ambassadeurs lunch 68€ + A La Carte Tasting Menu 140€ + wine L'Obé average spend 50€
www.crillon.com
If you're coming to France (or for that matter anywhere) you can
reserve your hotel here.
To rent a car, Bonjour Paris recommends
Auto Europe
. Please post your comments or questions and let them flow. Register 
HERE
to do so if you need a Bonjour Paris user name and password.
SUBSCRIBE
ALREADY SUBSCRIBED?
BECOME A BONJOUR PARIS MEMBER

Gain full access to our collection of over 5,000 articles and bring the City of Light into your life. Just 60 USD per year.

Find out why you should become a member here.

Sign in

Fill in your credentials below.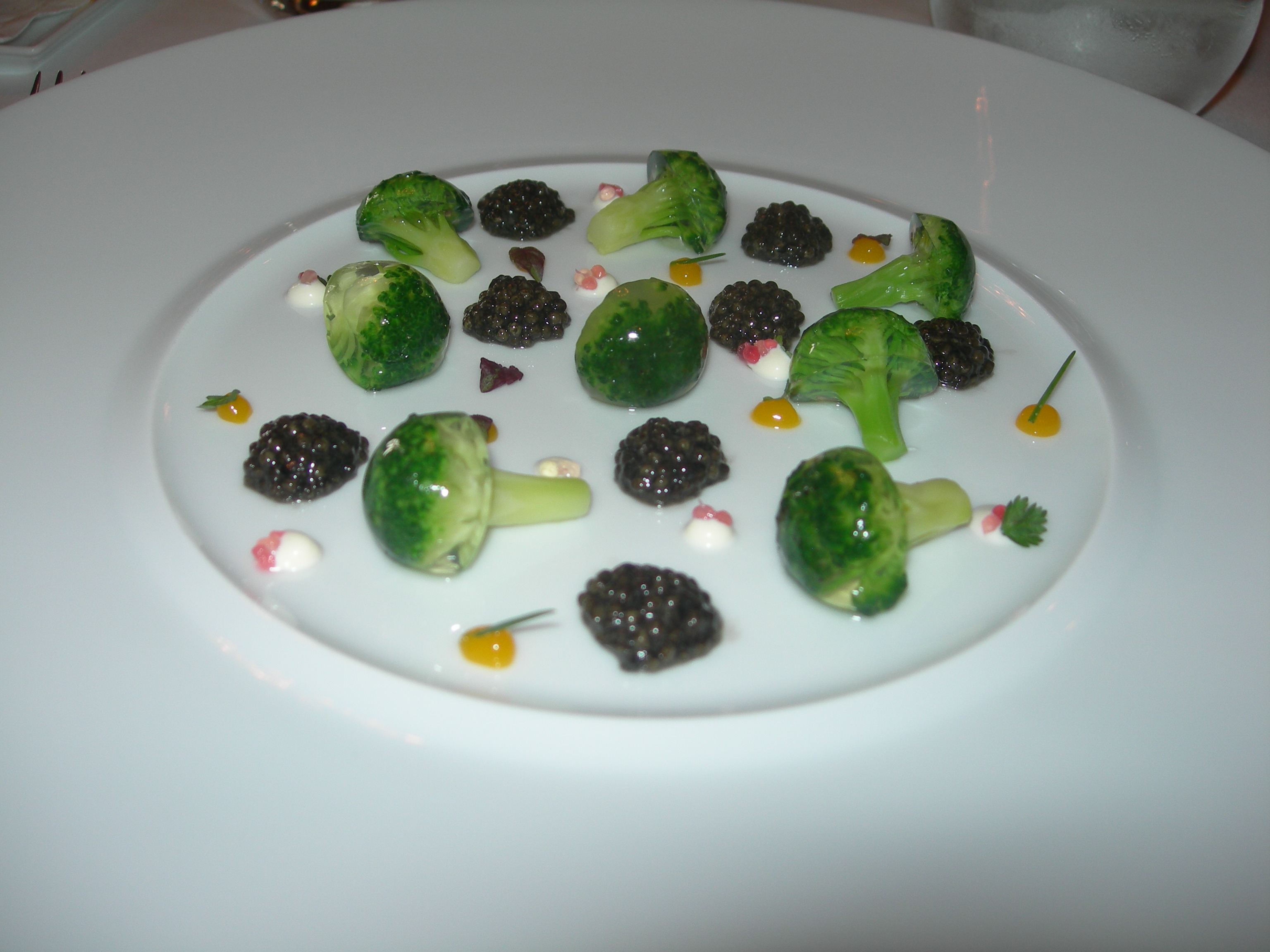 Since the departure of Jean-Francois Piège last August (alert readers know he's at Hotel Thoumieux and was recently judged "Top Chef"), everyone's been wondering not only who's going to buy the Palace, otherwise known as the Hotel de Crillon. But more important for most is who's going to head the kitchens at Les Ambassadeurs.
Since early April, young maverick Christopher Hache has taken over and is doing very nicely, thank you. Only 28, and a graduate of Lycée Auguste Escoffier, he's done time chez Bernard Loiseau, Saulieu at Les Elyseés du Vernet, with Eric Briffard, Lucas Carton with Senderens, Le Bristol with Eric Frechon and La Grande Cascade with Fréderic Robert. "He's a lovely boy, works well with a team and his culinary skills are exceptional. He has an excellent understanding of technique and the classics from which he's building his repertoire", says Frechon.
"This is a big transition for me; I never dared dream I would one day work in a palace", admits the shy guy from the Yvelines region outside Paris, where he helped his grandmother in her auberge at Saint-Nom-la-Breteche. His father had a restaurant, "Le Paris-Dieppe". "That was my first "maison" and my dad really gave me a hard time. But it didn't do me any harm," he admits.
His team of 60, mostly chosen by Hache, are responsible for L'Obé brasserie, room service, banquets, the patio terrace, etc. The elegant Franco-British Pierre Jung is the new Restaurant Director, and his sparkling domaine is the former ballroom of Le Crillon; Jung worked with Hache chez Senderens. Amandine Chaignot, Hache's second in the kitchen, worked with the new main man chez Eric Frechon at Le Bristol. Don't worry, Hache hasn't swept house and David Biraud, the savvy MOF 2004, just back from Santiago, Chile, where he watched the UK's Gérard Basset become 2010's Meilleur Sommelier du Monde, is still Chef Sommelier. Antoine Pétrus is his assistant.  Hache is not fazed by his illustrious predecessors, Dominique Bouchet, Christian Constant, and Piège and said, "I'll just put my mark on my dishes".
A first tasting was a delicious revelation of a new talent. Hache has designed a lunch menu at 68€ with two starters, two mains, and two desserts. And going off into the realms of A La Carte, try Le Caviar Impérial de Sologne, transparence de brocolis et crème acidulé. A light geometric composition served with waffles and two types of Bordier butter to spread on them (see photo). Or, La Morille, crinkly spring mushrooms stuffed with Iberian ham, drizzled with hazlenut sauce. You could order the Romanée Conti '61 at 10,000€ but maybe go for the Orléans L'Excellence Le Clos St. Fiacre 2007 at 55€. Continue with Le Pigeon from a tiny farm in the Vendée, glazed onions, a side of broth and paper-thin ravioli stuffed with the pigeon's succulent thighs – sexy. Rack of Lamb is wrapped in crispy chinese angel-hair noodles, served with tender aubergines. Beaujolais Morgon Côte du Py JM Burgaud (50€) goes well. Hache loves the ladies who do and gives them an edgy plate of seasonal organic veg with an infusion of coriander. There's everything you want on the menu. Blue lobster, sole, sweetbreads, chicken, langoustine, monkfish. And then cheese by Marie-Anne Cantin.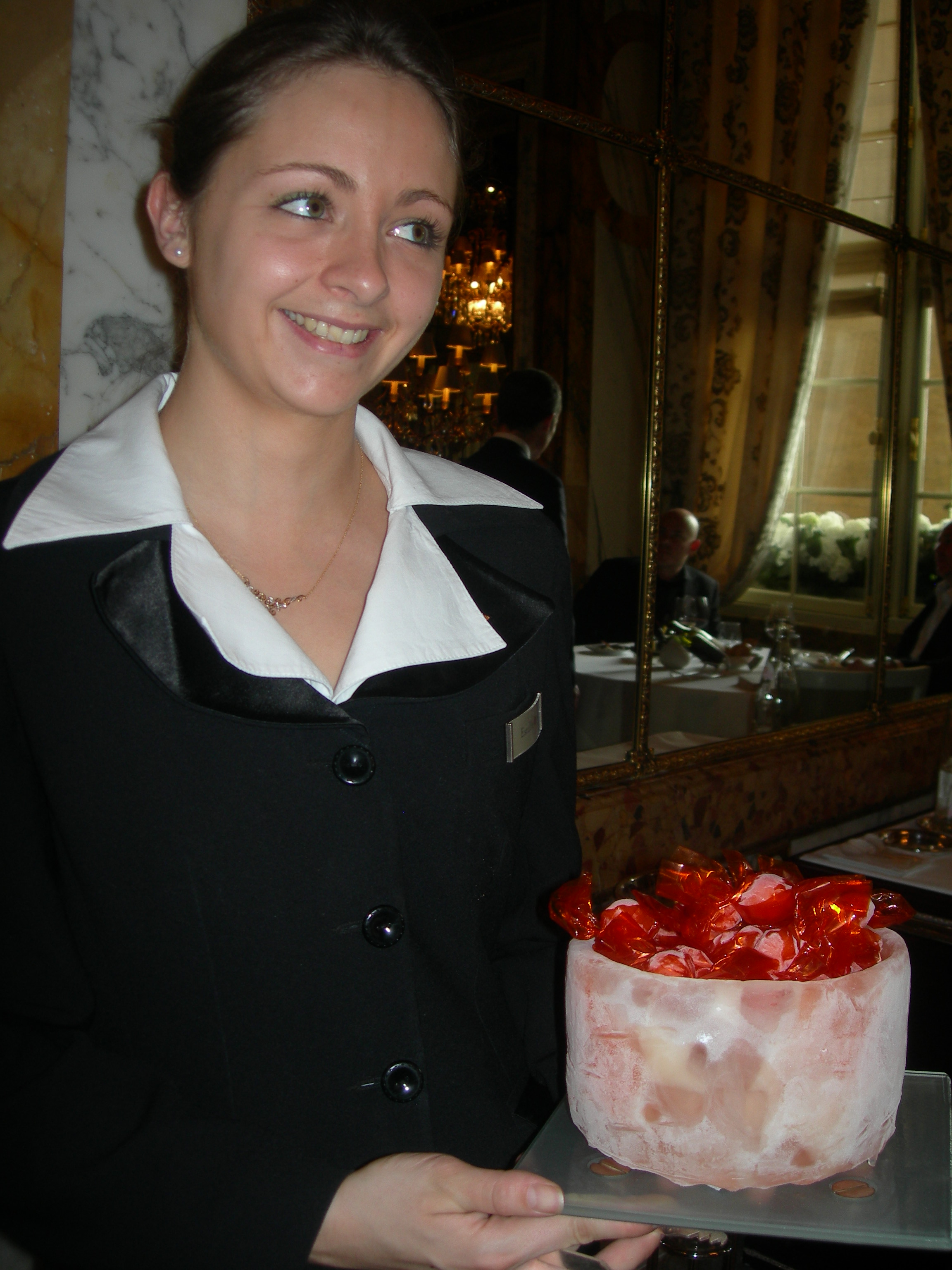 Desserts by Jérôme Chaucesse are as original as Hache's mains. Pity his name's not engraved on the menu of pudds. He sends out refreshing palate teasers of grapefruit, rose lychee and grenadine, wrapped as sweeties (see photo). Chaucesse's version of brownies must be tasted. A triumph then, don't hesitate. And don't forget Les Ambassadeurs closes Saturday lunch, Sunday lunch and Monday. The weekend Brunch is still going great guns and it's best to reserve. And for warm days, the patio terrace serves a light, bright menu of  burgers (the bit hit of the moment), focaccia, club sandwiches (veggie too), salads, homemade ice creams, desserts and exotic cocktails.
L'Obé, the Crillon's neo-brasserie, formerly L'Obélisque, re-launched last year is the secret sleb address. Discreet and elegant where they (shhh no names please) go to eat when they don't want to be seen.  The menu, presented like a colour chart has been re-worked by Hache, includes such fare as tartare de boeuf, tout simple and "some dishes of my grandmother".  All matched with perfect sommelier suggestions, Sancerre blanc AOC "Florès" 2007 Vincent Pinard. It's worth ordering coffee for the warm madeleines and chocolates.
Les Ambassadeurs & L'Obé
Hotel de Crillon,
10 place de la Concorde, 8th
(Metro: Concorde)
T: 01 44 71 16 16
Open 7/7
Les Ambassadeurs lunch 68€ + A La Carte
Tasting Menu 140€ + wine
L'Obé average spend 50€
If you're coming to France (or for that matter anywhere) you can reserve your hotel here. To rent a car, Bonjour Paris recommends Auto Europe.
Please post your comments or questions and let them flow. Register HERE to do so if you need a Bonjour Paris user name and password.
More in Bonjour Paris, Dining in Paris, Eating in Paris, Food Wine, France cuisine, Hotels, Paris cuisine, Paris restaurants
---
---