Riquewihr in Alsace: Cremant d'Alsace and Alsatian Wine Tour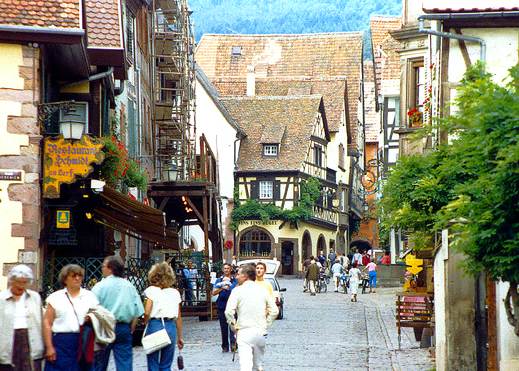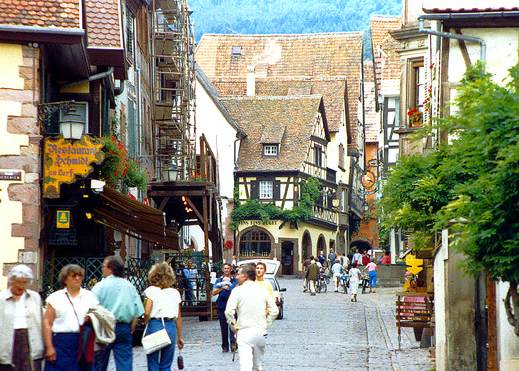 Alsace is the scenic eastern French region that borders Germany along the Rhine River. There is a geographic fault here and the area is one of the driest in France, which combined creates varying soil conditions perfect for growing grapes used to make some of France's finest wines.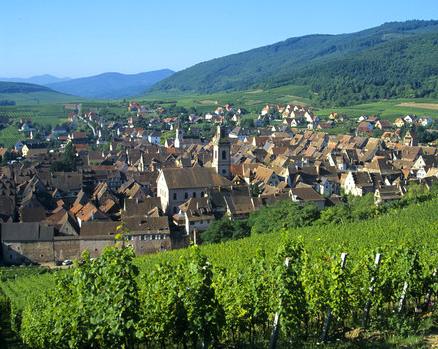 Two Alsatian departments, Haut-Rhin (Upper Rhine) and Bas-Rhin (Lower Rhine), produce Alsatian AOC (Appellation d'Origine Controlée) wines. The Haut-Rhin department is the smaller of the two and over time has been under Swiss, French and German control. The French recovered the area in 1944, but the Germanic influence remains in architecture, food preparation and wine.
Alsatian AOC wines have three categories: AOC Alsace white, rosé and red wines, AOC Grand Cru white wines and Crémant d'Alsace sparkling wines. About half of all AOC white wines and 30% of sparking wines are produced in Alsace.
Crémant d'Alsace is the Alsatian sparkling wine known well around the world. Do not confuse it with Champagne, the other French bubbly beverage. Your wallet will know and appreciate the difference in price and your palate may well prefer the delicate, natural sparkle of the Alsatian bubbly. Alsatian vineyards are some of the oldest in France, but Crémant d'Alsace has only been manufactured since about 1913 when Julien Dopff perfected processing Alsatian grapes in the "méthode champenoise."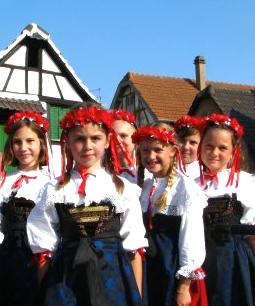 Spring visits are uncrowded, summer ideal weather cooler than in Paris and then there's the  Fêtes du Vin . . . but autumn harvest and Christmas markets are also highly recommended. We were advised that the 2011 harvest Pinot Blanc grapes used to make Crémant d'Alsace at Dopff au Moulin in Riquewihr matured beautifully and good things are expected.
Dopff au Moulin vineyards and tasting rooms near Riquewihr are "must-stop" when touring the 50-some Alsatian vineyards. Allow an hour or so to tour the property and enjoy some samples.
Riquewihr is a member of the exclusive association called Les Plus Beaux Villages de France, so you'll definitely want to take some time to see the village with its charming German-style architecture, some of which dates back to the 15th century. Riquewihr timbered houses and ornamental signs are a trip back in time. If steps aren't an issue, climb to the top of the 13th-century Dolder Tower for panoramic views of the valley.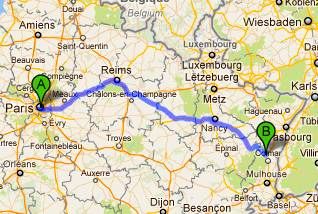 PRACTICAL INFO
A car is recommended for this scenic trip. Riquewihr is about 461 km or a six-hour drive headed east of Paris via the A4 toll highway. Driving map.
Ribeauville-Riquewihr Tourism Office
More re: the AOC Crémant d'Alsace Appellation
Harvest festivals calendar
Guided car tour of Alsatian vineyards stretched over about 160 km: map
Rail travel from Paris to Strasbourg takes about 2 hours, 20 minutes (fare is €65, on average). Then rent a car and drive the hour south to Riquewihr.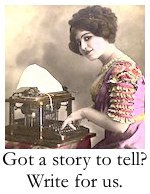 PHOTO CREDITS: Ornamental sign (intro) ©Russ Bowling; Riquewihr village photo from Ribeauville-Riquewihr Tourism Office; Riquewihr street ©PhillipC; and Alsatian children in folk costume ©PaP67
©Dali Wiederhoft 2011

Dali Wiederhoft is the executive editor of BonjourParis. Please click on her name to read her profile and more of her stories published in BonjourParis.

Subscribe for
FREE

weekly newsletters with subscriber-only content.
BonjourParis has been a leading France travel and French lifestyle site since 1995.
Readers' Favorites: Top 100 Books, imports & more at our Amazon store
We daily update our selections, including the newest available with an Amazon.com pre-release discount of 30% or more. Find them by starting here at the back of the Travel section, then work backwards page by page in sections that interest you.
Prepare for your travel to Riquewihr and the Alsace region….click on image for details.
Thank you for using our link to Amazon.com…your purchases support our free site.
Leave a reply
Your email address will not be published. Required fields are marked *