Recipe: Salmon Filet in Maple + Mustard Seed Sauce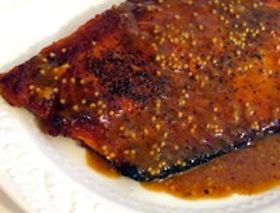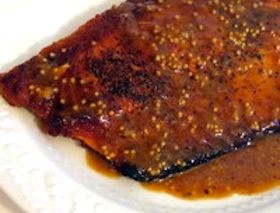 Salmon filet is seared over high heat and served with a maple/mustard seed sauce.
INGREDIENTS:
4 (6-7-oz) center-cut salmon filet
1 Tablespoon vegetable oil
3 Tablespoons water
2 Tablespoons Dijon mustard
2 Tablespoons maple syrup
2 garlic cloves, finely chopped
2 teaspoons mustard seeds
1/4 cup chopped scallion
PREPARATION:
Heat the oil in a non-stick skillet until very hot.
1. Pat the fish dry, remove the skin and season both sides with salt and pepper.
2. Put the fish, skin (now skinless) side down and cook for about 4 minutes. Turn over and sear on the other side, another 3-4 minutes.
3. While the salmon is cooking, mix the water, mustard, maple syrup, garlic, mustard seeds and scallions together.
4. Remove the salmon and place on a covered plate. Cover to keep warm.
5. Remove the skillet from the heat for one minute. Return to the heat and pour in the mustard/maple mixture. Whisk the ingredients into the skillet and allow to reduce slightly.
To serve:
Pour the sauce over the fish and serve.
PHOTO CREDIT: Salmon filet in maple + mustard seed sauce by ©Debra Fioritto
Et voilà!
Debra Fioritto contributes delicious French recipes to Wednesday issues of BonjourParis. Click on her name to read more about her Tour de Forks culinary tours or to collect the many recipes she has shared here.
NEW:
Subscribe for free
exclusive content for subscribers in every newsletter.
Click on image for more info about these favorites.
Want more? View our recommended France-themed books & items. Most recent listings at last pages.
Thank you for using our link to Amazon.com…your purchases support our free site.
Leave a reply
Your email address will not be published. Required fields are marked *