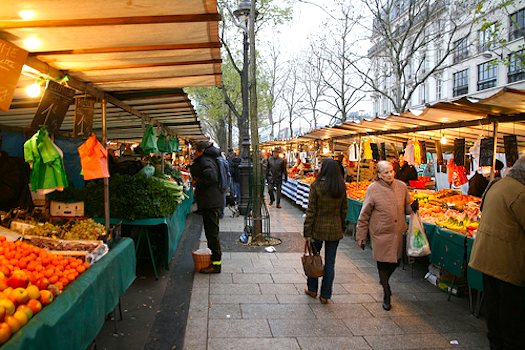 Visiting a neighborhood Paris marché is not to be missed, especially if you want to experience real life in Paris. Everyone is there: very early in the morning, chefs from restaurants get just what they need for that day. Later in the morning, the neighbors appear: young mothers with their children, nannies with their charges, and older Parisians buying their supplies for the next few days.
Last week I bought my produce at Marché Richard Lenoir, which starts at the Bastille monument at place de la Bastille.
Vendors call out from their stalls and try to charm you into buying more than you need, which is so easy to do because everything sold there is so fresh and inviting. There are the fruit and vegetable stalls stocked with produce you have never seen before. You'll find olives in every color and size. Butchers and fishmongers, including Jacky Lorenzo, a world-famous poissonnier, also are stocked with a seemingly infinite variety of top-quality cuts of meat and fish.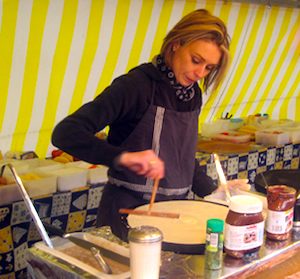 A crémerie sells milk, cream and all sorts of cheeses. If you feel like a snack, there is often a crêpe maker there to serve you a fresh, hot crêpe with your choice of Nutella, butter and sugar or jam fillings. You will be enthralled.
I always have a great time at the markets because I enjoy a chat and a joke, and the markets give opportunities for both. They call it "le charme du marché" (the charm of the market). The vendors seem to really enjoy being there as they joke with you and other patrons, who in turn smile and talk to you, too—something that doesn't happen everywhere in Paris.
For example, I asked one vendor for the French name for a Jerusalem artichoke and he said topinambour. When I asked, in English, for the cost of a Jerusalem artichoke, he said, "Two euros a kilo for topinambours or three euros a kilo for Jerusalem artichokes!" As we finished our transaction, he said, "Goodbye, Mad'moiselle," implying I am younger than I am.
The Jerusalem artichokes looked so good that I bought some with a big bunch of bay leaves and garlic to make a fabulous accompaniment to a meal.
With Christmas coming up, this would make a great side dish with turkey or you can combine it with a salad.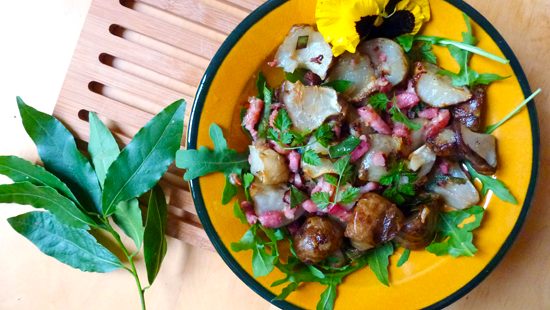 Roasted Jerusalem artichokes with lardons, arugula and bay leaves
INGREDIENTS:
1 lb Jerusalem artichokes
1/2 lb lardons, chopped (you can substitute bacon)
1/2 lb of arugula greens
3 small onions, diced
3 ounces good quality olive oil
3 cloves of garlic, peeled and minced
6 fresh bay leaves finely chopped (save some whole leaves for decoration; dried will do if you don't have fresh bay leaves)
salt and pepper to taste
PREPARATION:
Preheat the oven to 350 degrees
Peel the Jerusalem artichokes and chop them into bite-size pieces.
Pour the olive oil into a large, deep baking dish and place into a preheated 350-degree oven just until hot.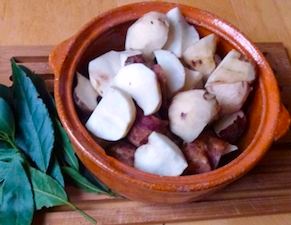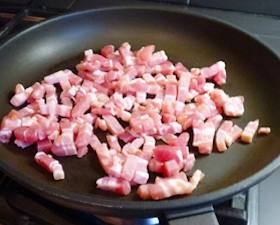 Remove the baking dish from the oven and add the chopped Jerusalem artichoke pieces.
Return the baking dish to oven for 20 minutes or until the Jerusalem artichoke pieces are browned on outside, soft on inside.
On the stove top, use a large, deep fry pan to sauté a mix of the lardons, garlic, onions, and bay leaves. Stir and toss the lardons around so all sides are nicely browned and crispy. Add salt and pepper to taste.
FINISHING:
Remove the Jerusalem artichokes from the oven and place into a serving dish, trying not to bring too much oil with them—pat them with a paper towel to absorb oil if necessary.
Top the Jerusalem artichokes with the crispy lardons mixture.
Toss and decorate with arugula and the bay leaves previously set aside.
PRACTICAL INFORMATION TO VISIT THE RICHARD LENOIR MARKET:
Marché Richard Lenoir, the largest Paris outdoor farmers' market
Place de la Bastille, Paris 11th
Métro: Bastille
Open: 8am-1pm Thursdays and 8am-2pm Sundays.
Arrondissement-by-arrondissement map of Paris markets
City of Paris market information
Day-by-day Paris market schedule
Photo credits: all photos by Jacqui Guglielmino except opening photo of Richard Lenoir Market ©Mairie de Paris.
Jacqui Guglielmino is a lifelong Francophile with what she calls "an overwhelming" love for Paris. Please click on her name to read her profile and find more recipes at her blog, Everyday Cook in Paris.
Would you like to submit a story or request a story topic? Your stories & ideas welcome.
NEW: exclusive content for subscribers in every newsletter. Subscribe for free.

Direct airport transfer service
PARIS SHUTTLE is a leading Paris airport transfer service. Book your airport transfers in advance online for direct to-your-door service and check the current discount available to BonjourParis readers who book using our link.