The Re-Birth of Le Royal Monceau, Raffles Paris (with video)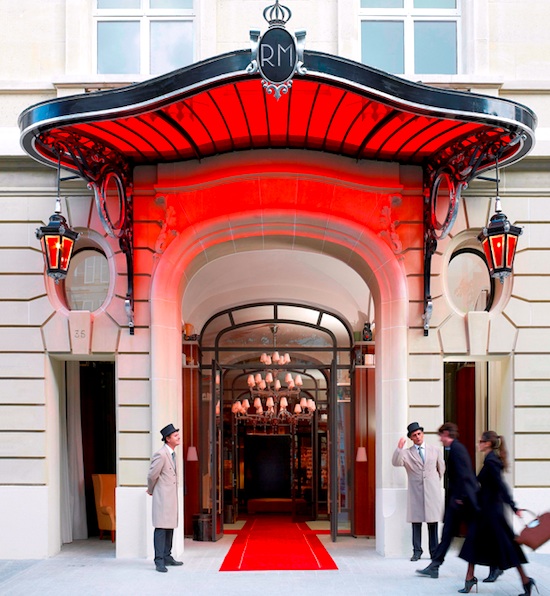 Le Royal Monceau, Raffles Paris.
"There's no war of the palaces, each has its own place in the grand scheme of things, each Parisian palace hotel has something to offer their clients," assures Sylvain Ercoli, Hôtel Raffles Royal Monceau General Manager. Monsieur Ercoli, ex-The Ritz, Le Crillon, George V and other glittering addresses was quoted just before the October 2010 reopening of the legendary Royal Monceau with the added prestige of Raffles added to their title.
Monsieur Ercoli worked in tandem with Alexandre Allard and Groupe Allard, Philippe Starck and the hotel owners Qatar Diar to re-create and re-think the hotel as a "machine à rever," according to Starck.
"I'm on a plane nearly every day, in a hotel every night, so I know what I want, I know what you want," Starck insists. "Of course you can't please everyone," he adds.
In June 2008, the Royal Monceau's goods and chattels were auctioned off by French auction house Cornette de Saint-Cyr, raising 3.3 million euros. Talk is that a hundred million euros were spent on the renovations, but Monsieur Ercoli prefers not to talk about it.
At the demolition party organized to celebrate the beginning of construction work, le tout Paris, led by construction workers, partied until dawn and, finally, wearing hard hats, trashed everything left.
Today mammoth renovation works started the next day are finished. There are now 150 bedrooms instead of 260: 54 suites and 10 prestige apartments, as well as the largest swimming pool in Paris (28 meters) and a 1,500 square meter Spa My Blend By Clarins. All are located in the attached building at 41, avenue Hoche, now part of the hotel.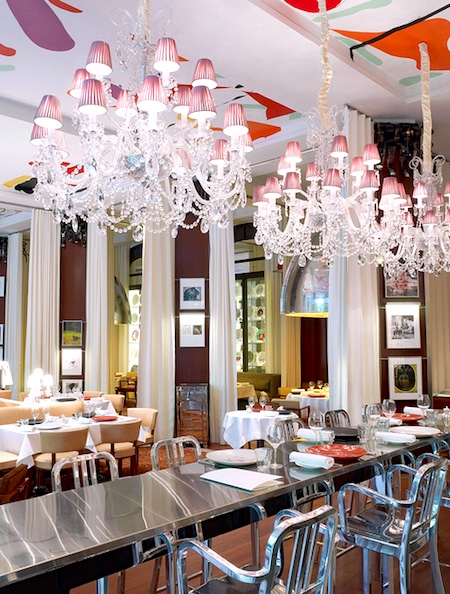 La Cuisine at Le Royal Monceau, Raffles Paris. Publicity photo.
Arrive at the hotel and you're in Le Grand Salon, which replaces the former stuffy lobby. This is now a large reception, snacking and lounge area. Facing you is La Cuisine restaurant, a contemporary space for 140 covers with a table d'hôte for 16, plus little alcoves, all the better to taste the cuisine of executive chef Laurent André and chef Gabriel Grapin.
The "Picasso of pastry" Pierre Hermé is taking charge of desserts.
"He takes an original approach and has some unique spins on the most long-standing traditions, such as the use of salt to create flavor," says Ercoli.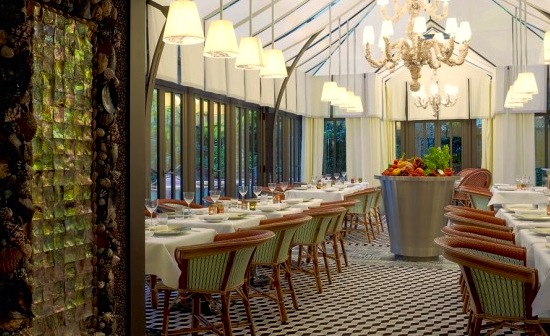 Il Carpaccio at Le Royal Monceau, Raffles Paris. Publicity photo.
The second, Il Carpaccio, restaurant Italiano (64 covers) is directed by Tuscan chef Roberto Rispoli and his all-Italian team. The extravagant kitsch shell décor is by artist Thomas Boog, working with Starck.
The third space is Le Jardin, a wild-looking bucolic garden for 100 guests, accessed from La Cuisine, created by Starck and landscape gardener Louis Benech. Starck wants it to be a place of "contemplation et d'inspiration."
There's a well-stocked library/boutique where television screens beam live feeds from important art auctions and a blog of significant happenings Art for Breakfast. The hotel will host art exhibitions curated by celeb art-expert Hervé Mikaeloff and art concierge Domoina de Brantes is available to advise on purchasing art work from the hotel or visiting galleries and exhibitions.
A first for a Paris hotel is the 100-seater cinéma serving ice-cream, gourmet bento-box snacks and popcorn by Pierre Hermé. "It's designed to accomodate an entire movie promotion in one place, from red carpet premieres and champagne receptions to media interviews and, of course, accommodation," explains Monsieur Ercoli.
Plenty of spaces are dedicated to les arts et les lettres, the main reason people come to Paris in the first place.
"The hotel is set to become the rendez-vous for artists and intellectuals, attracting a new generation of gentlemen travellers, similar to the original establishment created in the 1930s," said Mr Starck.
And if they've left anything behind, Le Royal Eclaireur, specialising in la mode, la mode, la mode, should be able to fill the void.
"Call it a non-boutique," pleads creator Armand Hadida. "This concept is all about breaking the codes".
Even the kids have a dedicated club—it's never to early to begin networking!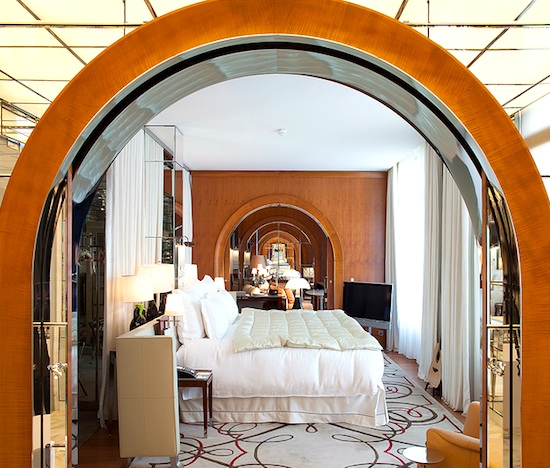 Suite at Le Royal Monceau, Raffles Paris. Publicity photo.
Philippe Starck's vision for the rooms and suites is inspired by past illustrious guests of Le Royal Monceau: Dwight Eisenhower, Churchill, Hemingway, Josephine Baker, Madonna, Michael Jackson, Robert de Niro. Each room, in honey and warm grey tones, with paintings and mirrors stacked against the walls, has an acoustic guitar, a map of favourite places on the desk, TV projected onto the mirrors, glass fronted mini-bars, WIFI, safe, etc.
The rooms are a contrast from the big bold colour combinations of the public spaces. Starck says he's used noble materials, designed one-off pieces of handmade furniture and wants guests to appreciate his work as quality craftsmanship rather than luxury.
"I want guests to add personal touches to their rooms, write a poem, leave a drawing, a billet-doux, even a Métro ticket, as if they're staying with friends."
"Arrive as a guest, leave as a friend and return as part of the tribe" is Starck's credo.
Watch video of the transformation, by Le Royal Monceau, Raffles Paris.
Le Royal Monceau, Raffles Paris 5-star hotel
Tél: 01 42 99 89 90
37, avenue Hoche, Paris 8th
Métro: Étoile
Rooms from 780€ – 20,000€

Margaret Kemp is a Cordon Bleu graduate who spent a year traveling the world, working and watching in the kitchens of top chefs from Sydney, Australia via Bangkok, Hong Kong, California, New York and France. She reports for BonjourParis on the latest European trends, restaurants and hot spots. Please click on her name to see her weekly stories dating back to 2003 . . . et merci, Margaret.
You are reading an updated excerpt from PREMIUM CONTENT sent first to Premium Members who read our Sunday BUZZ column for the latest top chef news, restaurant openings, trends and happenings in Paris, London, Nice, Cannes, New York and other international destinations. If you're a culinary traveler, please consider an annual Premium Membership with exclusive content and members-only benefits.

Subscribe for
FREE

weekly newsletters with subscriber-only content.
BonjourParis has been a leading France travel and French lifestyle site since 1995.
Readers' Favorites: Top 100 Books, imports & more at our Amazon store


We daily update our selections, including the newest available with an Amazon.com pre-release discount of 30% or more. Find them by starting here at the back of each section, then work backwards page by page.
Spas, sweets and suites…please click on an image for details.
Click on this banner to link to Amazon.com & your purchases support our site….merci!
Leave a reply
Your email address will not be published. Required fields are marked *