Multi-Cultural Dining in Paris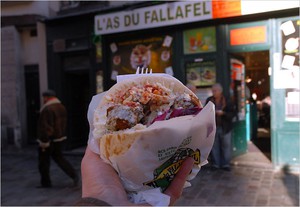 As sacrilegious as it might sound, there comes a point, even for the most devout consumer of cassoulet, when you just can't stomach any more French food. Living or traveling in Paris is like being led into daily temptation, if not force-fed, the greatest but richest ingredients in the world. So it's only a matter of time before you overdose and begin to crave a detox— anything from tagliatelle to taco. For the sake of the palate and waistline aside, Americans seem to find this monotony especially challenging, cultural omnivores that they are. But in the past, Paris, understandably obsessed with its own heritage, has turned the international food market into a sort of neglected stepchild. Fortunately, these days the diversification of restaurants is unbelievable, especially compared to even a few years ago, when an "exotic" meal probably meant a half-hearted and suspiciously French-ified pizza, topped with jambon and brie in lieu of prosciutto and mozzarella. While Paris is still far from offering authentic street dumplings delivered to your front door at 2 a.m., the appearance of these high-quality, authentic establishments is a welcome addition to the local food chain. The change hasn't been entirely sudden. Some of these places have actually been around for ages, hiding behind the misunderstanding that the only fare worth eating in Paris is covered in sauce and butter. L'As du Fallafel, the infamous kosher hole-in-the-wall, serves a range of dishes, but earned its name by spoiling all other forms of fried chickpea forever. There are people (the author included) who now refuse everything else. Anahuacalli has also long occupied its spot, its presence made ever more shocking by the quality of its mole and tamales. It's far from the typical Tex-Mex joint you would find in the States, and their burritos draw more discerning diners than homesick American students. Crispy Duck Diary Then there are the eateries that offer solutions to previous, misguided—and sometimes painfully unfortunate—attempts at international cuisine. Le 404, more movie set than Moroccan restaurant, proves with its moist olive and lemon-infused chicken tagines just how bland Chez Omar really was all along—so much so that even Sofia Coppola and Madonna have defected to this sleeker, more aromatic alternative. Caffé dei Cioppi provides a similar favor for Italian, showing that it is in fact possible to get fresh burrata without Farnesina prices—perhaps this cheese is secure enough that it doesn't need a private escort. Between precisely cooked vegetarian risotto and simple but rich mains, you'll be hard-pressed for a reason to cross the border again. François Simon One of the biggest remaining culinary challenges in Paris is finding a little heat, as anything even resembling chili powder remains practically illegal, making it difficult for Asian chefs to find their footing. Yet at Yugaraj, cumin, coriander and many other spices find a home in Indian plates such as tandoori and curries. Au Coin des Gourmets expertly covers Vietnam, Laos and Cambodia, offering nostalgic and curious diners alike everything from basil chicken to coconut-curried fish wrapped in banana leaves. The warm family who runs both locations makes the experience even more memorable. Restaurants such as Anahuacalli and Caffé dei Cioppi prove that Paris is only maturing as a dining destination, embracing the ever-increasing spread of international cuisine. Of course, it's the residents and tourists who benefit.  Between these foreign takes on comfort food, blanquette de veau at a cozy bistro might not be your only craving as the weather grows colder. L'As du Fallafel34 rue des Rosiers, 4th Arr.M: Saint-PaulTEL: 01-48-87-63-60
Anahuacalli
30 rue des Bernardins, 5th Arr.M: Maubert-MutualitéTEL: 01-43-26-10-20
Le 40469 rue des Gravilliers, 3rd Arr.M: Arts et MétiersTEL: 01-42-74-57-81 Caffé dei Cioppi159 rue du Faubourg Saint-Antoine, 11th Arr.M: Ledru-RollinTEL: 01-43-46-10-14 Yugaraj14 rue Dauphine, 6th Arr.M: Pont-NeufTEL: 01-43-26-44-91 Au Coin des Gourmets38 rue Mont-Thabor, 1st Arr.M: ConcordeTEL: 01-42-60-79-79 AND 5 rue Dante, 5th Arr.M: Cluny- La SorbonneTEL: 01-43-26-12-92 If you're coming to France (or for that matter anywhere) you can 
reserve your hotel here.
To rent a car, Bonjour Paris recommends 
Auto Europe
.    
Subscribe
for FREE weekly newsletters. BonjourParis has been a leading France travel and French lifestyle site since 1995.
SUBSCRIBE
ALREADY SUBSCRIBED?
BECOME A BONJOUR PARIS MEMBER

Gain full access to our collection of over 5,000 articles and bring the City of Light into your life. Just 60 USD per year.

Find out why you should become a member here.

Sign in

Fill in your credentials below.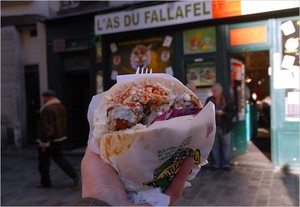 As sacrilegious as it might sound, there comes a point, even for the most devout consumer of cassoulet, when you just can't stomach any more French food. Living or traveling in Paris is like being led into daily temptation, if not force-fed, the greatest but richest ingredients in the world. So it's only a matter of time before you overdose and begin to crave a detox— anything from tagliatelle to taco. For the sake of the palate and waistline aside, Americans seem to find this monotony especially challenging, cultural omnivores that they are.
But in the past, Paris, understandably obsessed with its own heritage, has turned the international food market into a sort of neglected stepchild. Fortunately, these days the diversification of restaurants is unbelievable, especially compared to even a few years ago, when an "exotic" meal probably meant a half-hearted and suspiciously French-ified pizza, topped with jambon and brie in lieu of prosciutto and mozzarella. While Paris is still far from offering authentic street dumplings delivered to your front door at 2 a.m., the appearance of these high-quality, authentic establishments is a welcome addition to the local food chain.
The change hasn't been entirely sudden. Some of these places have actually been around for ages, hiding behind the misunderstanding that the only fare worth eating in Paris is covered in sauce and butter. L'As du Fallafel, the infamous kosher hole-in-the-wall, serves a range of dishes, but earned its name by spoiling all other forms of fried chickpea forever. There are people (the author included) who now refuse everything else. Anahuacalli has also long occupied its spot, its presence made ever more shocking by the quality of its mole and tamales. It's far from the typical Tex-Mex joint you would find in the States, and their burritos draw more discerning diners than homesick American students.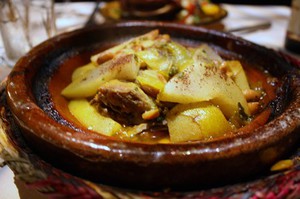 Crispy Duck Diary
Then there are the eateries that offer solutions to previous, misguided—and sometimes painfully unfortunate—attempts at international cuisine. Le 404, more movie set than Moroccan restaurant, proves with its moist olive and lemon-infused chicken tagines just how bland Chez Omar really was all along—so much so that even Sofia Coppola and Madonna have defected to this sleeker, more aromatic alternative. Caffé dei Cioppi provides a similar favor for Italian, showing that it is in fact possible to get fresh burrata without Farnesina prices—perhaps this cheese is secure enough that it doesn't need a private escort. Between precisely cooked vegetarian risotto and simple but rich mains, you'll be hard-pressed for a reason to cross the border again.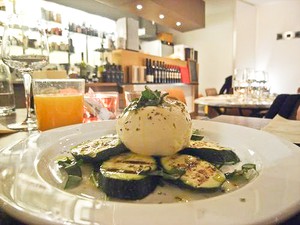 François Simon
One of the biggest remaining culinary challenges in Paris is finding a little heat, as anything even resembling chili powder remains practically illegal, making it difficult for Asian chefs to find their footing. Yet at Yugaraj, cumin, coriander and many other spices find a home in Indian plates such as tandoori and curries. Au Coin des Gourmets expertly covers Vietnam, Laos and Cambodia, offering nostalgic and curious diners alike everything from basil chicken to coconut-curried fish wrapped in banana leaves. The warm family who runs both locations makes the experience even more memorable.
Restaurants such as Anahuacalli and Caffé dei Cioppi prove that Paris is only maturing as a dining destination, embracing the ever-increasing spread of international cuisine. Of course, it's the residents and tourists who benefit.  Between these foreign takes on comfort food, blanquette de veau at a cozy bistro might not be your only craving as the weather grows colder.
L'As du Fallafel
34 rue des Rosiers, 4th Arr.
M: Saint-Paul
TEL: 01-48-87-63-60
Anahuacalli
30 rue des Bernardins, 5th Arr.
M: Maubert-Mutualité
TEL: 01-43-26-10-20
Le 404
69 rue des Gravilliers, 3rd Arr.
M: Arts et Métiers
TEL: 01-42-74-57-81
Caffé dei Cioppi
159 rue du Faubourg Saint-Antoine, 11th Arr.
M: Ledru-Rollin
TEL: 01-43-46-10-14
Yugaraj
14 rue Dauphine, 6th Arr.
M: Pont-Neuf
TEL: 01-43-26-44-91
Au Coin des Gourmets
38 rue Mont-Thabor, 1st Arr.
M: Concorde
TEL: 01-42-60-79-79
AND
5 rue Dante, 5th Arr.
M: Cluny- La Sorbonne
TEL: 01-43-26-12-92
If you're coming to France (or for that matter anywhere) you can reserve your hotel here. To rent a car, Bonjour Paris recommends Auto Europe.

Subscribe for
FREE

weekly newsletters.
BonjourParis has been a leading France travel and French lifestyle site since 1995.
More in Bonjour Paris, Eating in Paris, Food Wine, Paris restaurants
---
---