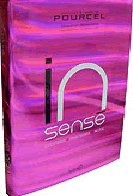 Lovely lads the Freres Pourcels, sleek chic canteens not only in France, but Shanghai, Bangkok, Tokyo, Marrakech, Casablanca, the twins from Montpelier (Le Jardin de Sens) have their fingers on the pulse of what we want to eat and drink. Last week at the launch of their neat cocktail- bar tome IN SENSE (in English too!) at the achingly trendy White Bar of La Maison Blanche, Paris, the lads showed us the way forward.
"IN SENSE is all about cocktails and snacking, when gastronomy meets the world of the night, and it's inspired by our sensational barman Sebastian Bonnefoi", explains Jacques. (Laurent was in Japan, minding one of the stores).For the last three years Bonnefoi has been head mixologist at the Pourcel's hip Bar Rouge, Shanghai. He met the boys on a beach in Saint Tropez, where else? "The basic skill needed to make a great cocktail is to be extremely confident in your own taste, and always use the best ingredients, finest liquor and freshest fruits", says Bonnefoi, Asian Ambassador for Stolichnaya and, by the time you read this he'll be back in his adopted city.
,
It's all very well having great cocktails with names like Cocaine Champagne Tube, Shanghai Mojito, Chocolate Desire, but you need some "snacking" to go with it", continues Jacques. Sweet or sour you choose. More than just a book of recipes and cocktails IN SENSE is a glimpse at the sparkling world of the night, and you don't even have to go out – get the book and it's all there. Make mine Caviar Champagne cocktail (P.94) with Foie gras de canard, fine gelée d'abricots/melisse (P.116) and let's get ready to party guys. The general opinion at The White Bar is that there's a big revival in cocktail parties – invite everyone you know and get mixing, you know its makes sense.
So what are they doing for Christmas then?
The Pourcels are in Montpelier, "it's the one time of the year we can all be together", says Jacques. Laurent has a five year old, "and since Mathilde was born, we've re-discovered the magic of Christmas".
So, what's on the menu?
A huge platter of oysters. "Le Bassin de Thau" is ten minutes away, we may do bouillabaisse with the catch from the fishermen at Cap d'Agde, rascasse, vive, rouget grondin, rouget. Or turkey from our friends' nearby farm. For this we bring in Grandpa who cooks it over an open fire in fragrant vine leaves, the aroma is divine! There's truffles from the Var, and wines from the Languedoc, our brother Gilles is a wine- maker, we are from three generations of wine-makers".
Dessert is Buche, "there's everything in it from chestnuts to crème chibouste. And we always begin and end the meal with champagne. We keep our decorations going until the end of January, and yes, bien sur, we all believe in Father Christmas!"
You adore Le Buisson Ardent the warm, cosy bistro in the 5th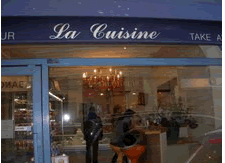 , with original 1920's frescos and delicious cuisine. "We needed something extra, not open at night, for our next project", says Jean-Thomas Lopez at his just launched La Cuisine. "We" includes a talented team and Stephen Maudit, Buisson's chef, Lopez's best friend since the schooldays when they played restaurants.
Either pop in eat at the counter (silver knives and forks, nice touch) dishes you adore from Buisson such as Langue du Boeuf, sauce piquante, herbes fraiche, purée of pates doux. Sandwiches, wraps, plat du jour, lentilles with saumon, gratin de penne, crumbles, mousses. Wash down with Lao Tsu Say teas, or wines selected by Maitre-Sommelier Jean-Michel Deluc. And if you don't feel like shlepping over there, let La Cuisine deliver to you, "of course I made it", you'll say of the Verrine de pois gourmands, Parmentier de canard confit et tomate, and Tarte amandine aux fruits rouges.
You'll be hard pushed to find a warmer welcome than at Nacera Gabriel's just open Le Kenze. It's a genuine old brasserie given a hip-hop look with bright colours and an interesting multiculturel menu created by Nacera.
"Many of the dishes are inspired by my family's recipes from Algeria, so I have a menu that's either traditional French or spicy and oriental", says this delightful young woman who has a passion for cooking and people.
For the French dishes chef Gérard de Berliner suggests la piece de boeuf sauce foie gras. Grilled sea bass with vegetables, and his plats du jour are on the blackboard, say Caviar d'Aubergines, Saint Jacques, and Nacera's home made desserts. Useful wine list includes the fruity red Algerian Medea Chateau Telach 2001 (22€) White Loupiac AOC Chateau Grand Peyruchet (26€).
For lunch on the run choose Boureks (think wraps) filled with chicken, ground beef, tuna, fresh salmon, cheese eggs. Tagines feature as do fluffy couscous, and even vegetarian couscous for the ladies who do. Do not on any account ignore the warm fragrant bread, made fresh daily by Nacera, sign off with Théà la menthe et pignons.
Address Book:
IN SENSE Cocktails&Snacking,
Editions Solar 29€
www.solar,fr
Bar Rouge, Shanghai,
Music, Dinner, Food,
8th floor of Bund 18,
7/F 18 Zhongston Dong Yi Lu
(near Nanjing Road)
T: +86 (021) 6339 1199
Au Buisson Ardent,
25, rue Jussieu, 5th (Metro: Jussieu)
T: 01 43 54 93 02
(La Buisson Ardent's) La Cuisine,
44 rue Saint-Honore, 1st (Metro: Louvre Rivoli)
T: 01 42 36 42 60
Shut 25th December and 1st January
12-13€ Starter, main, dessert.
Delivery menus from 29.90€ + wine
Le Kenze,
4 rue Bargue 15th (Metro:Volontiers)
T: 01 43 06 37 19
From 11.50€ – 30€ + wine
New Years Eve Menu 45€
including aperitif, starter, main, dessert and wine.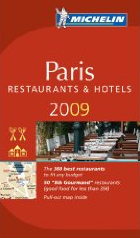 (Book now it's a bargain they're paying 700€ elsewhere!)
Diary Date:
For all Christmas Shopping: One Stop:
Salon des Plaisirs Gourmands.
Espace Champerret 17th (Metro: Porte de Champerret M3)
10am – 20hrs daily – 8€
7-10th December 2007
http://www.cooking2000.com/fr/event/salon-saveurs.htm