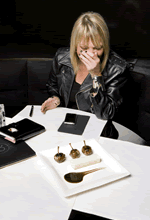 Alert readers already know, from former BUZZ's, that the only place in town for late dinner (upstairs) and to
rock the night away (downstairs) is Black Calavados.
The shiny black space, inspired Serge
Gainsbourg's ballard "On Va à Calavados ce Soir" was
once the favourite haunt of Christian Dior, Rita Hayworth, Orson Wells, Eartha Kitt, Jacques Brel, Fellini,. During renovations a sexy ceiling fresco circa 1780 was uncovered – they kept it
– it looks great.
What you may not know is that FeGH (Frederick e Grasser-Herme, Pierre's ex) re-styled the menu, "it's good
sexy food, with rock 'n' roll attitude", she says.
Expect dishes from "FeGH the food agitator"
unlike any others you know. "Call it "gourmet fast-food", dishes come to the
table for sharing, eating with your fingers, forks, whatever", she grins. Of
course the theme is shiny black lacquer, begin with a shared (two massive black
patent straws) black cocktail, say Black Kiss, Black Caramel or Gateau Liquide which is champagne, vodka, fromage blanc sorbet and mini
shortbreads blitzed to a froth.
"It's not easy to cook in black", says FeGH whose recent cookbook, "Serial Colours" was packaged in a pot by
uber-designer Matali Crasset. Black Vinyl is your aubergine
starter. Follow with Dali's soft noodles, "without the watch", insists FeGH. Then mile long macaroni, cheese and black truffles, food for hard-
rocking the night away. Hommage to Manhattan, read, skyscraper leeks,
blackberry vinaigrette. Square Eggs: oeuf mayo with rice crackers, dark
black truffle pizza and the essential mini-lobster burgers.
BC's owners are Chris Cornell,
singer/guitarist of cult band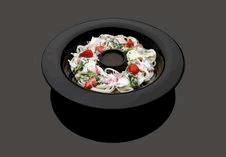 Soundgarden (his current band is Audioslave). Cornell makes no bones about the fact he once worked
as a fishmonger for a Ballard seafood wholesaler in Seatlle. "I
dreamed of opening a restaurant one day, but rock 'n' roll got in the way", he
says.
Married to Vicky (a Paris based publicist) Cornell's partners are Alexandre de Betak, who dreams up wacky
sceneography for Dior and Galliano's runway shows, what goes
around comes around n'est pas? And Mr. DJ Nick Blast (Cornell's brother-in-law) with Addy Baktior.
"They blasted us in Figaroscope", says FeGH. "But they've a right to their own opinions, it's up to people to
come and judge for themselves n'est pas?"
Apparently Sean Penn, Audrey Marnay, John
Galliano, Natalia Vodianova and Co. adore the place. Paris Fashion
Week is the time to go and gawp. "Black old sun, black old sun won't you
come and wash away the rain", goes Cornell's riff. See you there then
babe.
This week saw publication and "sold-out" of the first
ever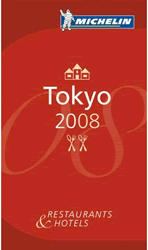 Michelin Guide, Tokyo. A serious blow to French culinary
self-esteem as Tokyo gets an amazing total of 191 stars, more than twice
as many as Paris (91) easily out-shining both London (50) and NYC (49). What's even more surprising, considering how Franco-centric Michelin choices can be, is that two-thirds of Tokyo's newly
star-spangled restaurants serve Japanese food. Of the eight Tokyo three-stars, five are Japanese. Try getting a table, they're off the
charts expensive and booked until years end – maybe a little breakfast darling!
Or try www.bespoketokyo.jp
Score so far: Robuchon 17* – Ducasse 15* – Gordon Ramsay 12*
If you've always wanted to eat in your
favourite chef's kitchen check out www.lefooding.com through 3 December. If you can stand the heat Fooding Week is in full
flow with the likes of Michel Roth (The Ritz) Frederick Anton (Pre
Catalan),Flora Mikula, Christian Constant & Co. strutting
their stuff.

Address Book:
www.cartesguides.michelin
Black Calavados & Club Privé bc,
48 avenue Pierre 1er de Serbie,
8th (Metro: George V)
T: 01 47 20 77
Open for dinner only
Shut Christmas and New Years Eve
Average spend from €70 to the sky's the
limit.
Menu des Fetes de fin d'Année – 140€ for 2 + wine