Photography: Chartres Cathedral by Photojournalist Clay McLachlan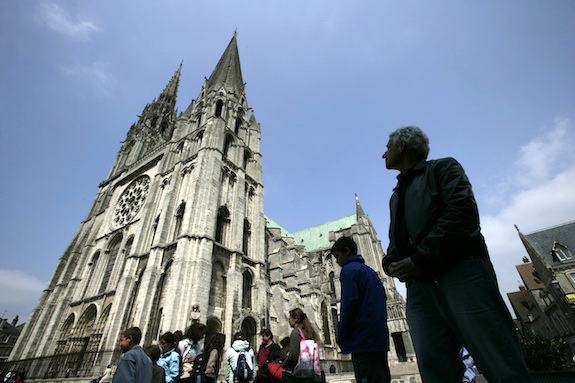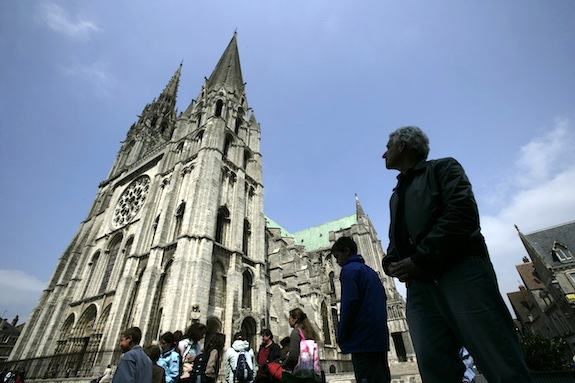 Cathédrale Notre-Dame de Chartres by photojournalist Clay McLachlan
Want to go? Chartres is an easy day trip from Paris, here are two more stories to guide you there:
Chartres Cathedral, Markets, Museums and a U.S. Connection
PRACTICAL INFORMATION:
Rail travel from Paris: Start at Gare Montparnasse, direction: Chartres. 10 minute walk from station to Cathedral.
Rail fare in 2011: 22.70 euros round-trip; takes up to 75 minutes each way.
Cathedral Notre-Dame of Chartres (Cathédrale Notre-Dame de Chartres)
Tél:  02 3718 2626
Cloitre Notre Dam, 28000 Chartres
Open: Daily 8:30am-7:30pm
Mass schedule: Mon-Fri 11:45am & 6:15pm. Sat: 11:45am & 6pm. Sun: 9:15am Gregorian Mass, 11am, 6pm in Crypt
The North Tower:
September–April, Mon-Sat: 9:30am-12pm and 2-4:30pm. Sundays: 2-4:30pm only.
May-August: Mon-Sat: 9:30a-12pm and 2-5:30pm. Sundays: 2-5:30pm only.
Entry: €7 fee to climb 300 steps to top of the North Tower; under 18 free. Free for all first Sunday of every month.

Clay McLachlan is a Paris-based photojournalist with a clientele that includes internationally acclaimed top chefs, resorts and restaurants. His work has been published in award-winning books you can learn about at Clay McLachlan.com. Clay shares a slice of life in France and beyond in a photo published weekly in BonjourParis.

Subscribe for
FREE

weekly newsletters with subscriber-only content.
BonjourParis has been a leading France travel and French lifestyle site since 1995.
Readers' Favorites: Top 100 Books, imports & more at our Amazon store


Check out Clay's latest book and these guides to Paris…click on an image for details.
Thank you for using our link to Amazon.com…your purchases support our free site.
Leave a reply
Your email address will not be published. Required fields are marked *