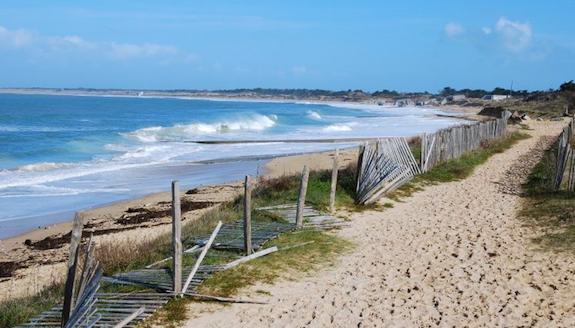 L'avenir
The present: a beach in Normandy
My boyfriend and I are in Île de Ré on vacation. Most days we slumber on the sand while waves gently fray the silence. Here it's easy to wade through the flotsam of our minds where we can take the future at our own pace.
The beaches of Saint-Clément-des-Baleines have a curve similar to Omaha Beach. Bunkers built during World War II are still a part of the landscape, though now derelict and overgrown with bushes. Such elements of the Île de Ré landscape proved useful when they were immortalized in what's considered the greatest war movie ever made, The Longest Day. The Oscar-winning 1962 war film tells the story of the June 1994 D-Day landings.
The French have a lovely word for the future: l'avenir—literally "what is to come." It is a word that swells with promise and the unfamiliar.
1943: a young man enlists in the British Army to defend France in World War II
Whatever future my grandfather had he surrendered willingly when the 18-year-old joined the British Army in 1943. He was a British member of the U.S. support elements that landed on Omaha Beach. The Allied troops were imperative after a generation of young French men were decimated in World War I.
After he landed, he moved to a small village, Brix, a few miles south of Cherbourg. That first night the raid started and he took refuge in an abandoned château. He remembers the cramped quarters underneath the staircase. Through broken panes, he saw the light and smoke of enemy shells painted the blackness. The next morning he emerged into the unsettling quiet and swiftly returned to his duties.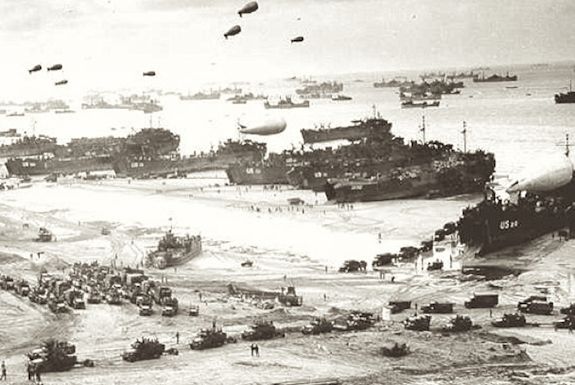 After months spent working on a fuel pipeline and assorted jobs, the port was finally liberated. He was transferred to Calais, a city that had been destroyed by the heavy bombardments of World War II and was one of the last towns in France to be freed.
The first time he went into town, he met my grandmother; three years later, they were married. They would have celebrated their 62nd anniversary last year.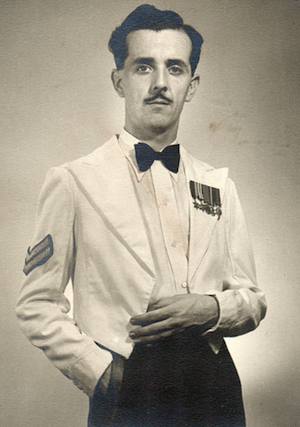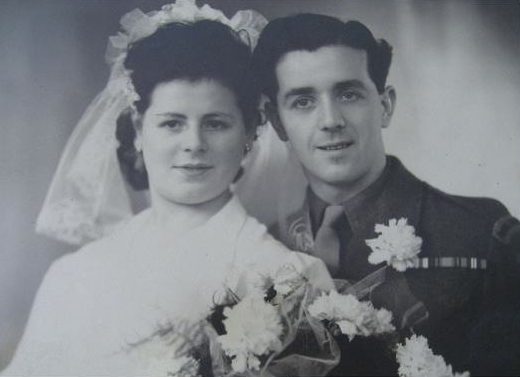 2004: an honored veteran returns to France for the D-Day 60th anniversary
In 2004 my grandparents took the ferry from Portsmouth to Le Havre to attend the 60th Anniversary of D-Day celebrations. Hundreds of other veterans also retraced the steps of Operation Overlord. The number dwindles every year, but my grandfather still recognized a few friendly faces among the masses.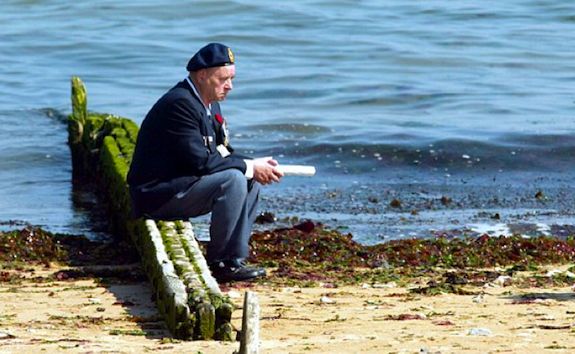 There was a lack of tiered seating, but the youth supplied the saving graces: adolescent British soldiers fretted over handicapped veterans and the lack of wheelchairs while winsome French cadets refilled glasses with tepid water.
Military music drifted across the throngs of Normandy veterans, but God Save the Queen had been recorded—just in case. Mayors from the surrounding areas were there, bedecked in tricolour sashes. A legion of primary school children gingerly held roses during the ceremony.
Each veteran received an insignia and two kisses; the schoolchildren proffered their roses. Pigeons, not doves, were released into the air and immediately engulfed by the sky.
L'avenir
The sun rusts the evening sky before sliding into the sea. There is a light dusting of stars on the water's surface tonight.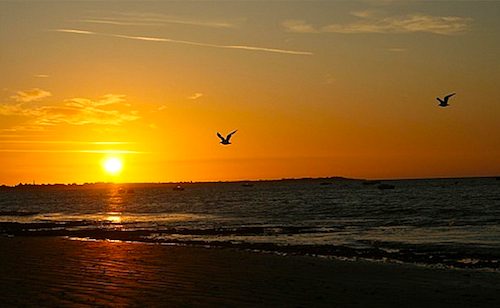 We have stolen away to the ramparts in Saint-Martin-de-Ré, but we are not alone—other couples have staked their claim on these walls; diamonds of light catch the corners of the citadel. The remnants of war have become romantic perches.
We sink into the quilted darkness, content to be together in this miraculous, flawed world.
PRACTICAL INFO
For train schedules within France, visit Voyages-sncf.com.
For more information on the D-Day landings and the Battle of Normandy, visit the Caen-Normandy Memorial Centre for History and Peace.
For more information on Calais, visit Calais-cotedopale.com.
2011 Armistice de la Première Guerre mondiale ~ 2011 Armistice (Remembrance) Day Events
November 11 is a national holiday throughout France to honor the sacrifices of soldiers who fought in World War I before the November 11, 1918 Armistice and all wars since.
Military parade from the Arc de Triomphe to the Hôtel des Invalides, wreath laying and vigil
Remembrance Day Ceremony
On Armistice Day, the dead of two world wars are remembered. The President and others lay wreaths during a ceremony at the Tomb of the Unknown Soldier under the Arc de Triomphe, Paris.
Fri, Nov. 11
11:00am: wreath-laying; 9:00pm: vigil
Tél: 01 4450 7527
9:30am memorial and tribute
4, place du Louvre, Paris 1st
11am ceremony
lobby, City Hall
5-7, place Armand Carrel, Paris 19th
Commemorations and other events in France on November 11, Armistice Day
Most towns and villages in France will hold Armistice Day commemorations, for example:

Photo credits: Images of Major Philip Kenyon provided by author; Saint-Clément-des-baleines and Saint-Martin-de-Ré beaches: L'Île de Ré Tourist Office; D-Day 2004 veteran on beach: Reuters.
Cara Waterfall aspires to a Parisian state of mind—their manifesto for life, their appreciation for les petits plaisirs. A former Paris resident, writing for BonjourParis sparks her dreams of Paris. Please click on her name to read more about her and to see other stories she written for BonjourParis.
Subscribe for free and never miss a story. Search our library with 7,200+ stories and 50 original stories published monthly. BonjourParis has been a leading online France travel and French lifestyle site since 1995.

Thank you for using our direct link to Amazon.com every time you shop the world's largest online retailer.
View our Top 100 Bestselling Amazon.com Items. (Wait for Amazon.com widget to load)

PARIS SHUTTLE is a leading Paris airport transfer service…book your airport transfers in advance online and save up to 30%.