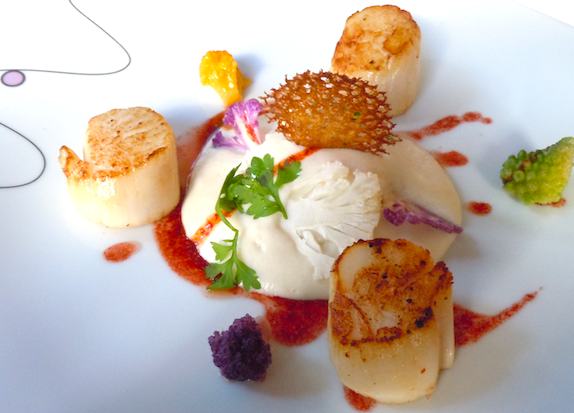 Le Fouquet's and Restaurant Le Diane at Hôtel Fouquet's Barrière, Paris 8th
Hôtel Fouquet's Barrière, in the heart of "The Golden Triangle" has taken its place in the hearts and minds of chic Parisians since it opened in 2006. The 50 million euro building sits just behind Le Fouquet's, the legendary restaurant with names of César-winning celebs engraved on copper plaques in the entrance. Always buzzing, it's opposite the Louis Vuitton flagship store, where there's usually an orderly line of shoppers waiting to be let into the HQ of conspicuous consumption.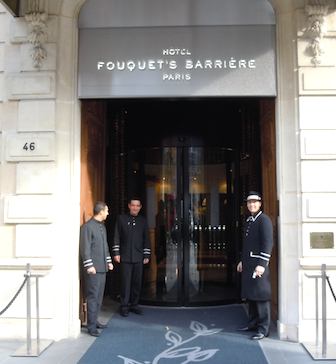 To greet you are the hotel's Clooney look-alike doormen wearing sexy livery. Once inside there are 81 rooms, 31 of which are sumptuous suites with names like Backgammon. Barrière is, after all, darling, famous for its legendary up-market casinos, and each room/suite comes with its own butler.
The "silent building" is constructed around an internal garden courtyard designed by brilliant French architect Edouard Franҫois with interior décor by Jacques Garcia. It's also big on sustainable development that offers "eco-friendly lifestyle choices throughout your stay," the most intelligent, in my opinion, being Pommery's vineyard creation of POP Earth Champagne, sitting in an ice bucket in your room/suite. Everybody gets one. When you leave, no paper is wasted, your invoice comes on an iPad, no you can't take it with you dear. The gorgeous gardens are watered with saved raindrops, so they won't be falling on your head. And, below stairs is the state-of-the-art spa with 8 treatment rooms and a 15-meter pool, steam room, sauna, etc.
Restaurant Le Diane and Le Lucien Bar
Restaurant Le Diane is an homage to Diane de Barrière, who never fully recovered from a 1995 air crash before she died in 2001. Subsequently her husband, Dominique Desseigne, took over direction of the group. A beautiful woman, there are tributes to her throughout the hotel and she will never be forgotten.
Wearing the whites at Le Diane are a talented team headed by MOF (Meilleur Ouvrier de France) Jean-Yves Leuranguer (ex-17 years in the kitchens of Le Martinez, Cannes) with Christian Willer. Add Christophe Schmitt (ex-Crocodile, Strasbourg, Le Rosenmeer in Rosheim, Alsace under Herbert Maet and Maison Lameloise, Chagny) plus talented pastry chef Claude Ducrozet, whose version of cupcakes are available at Le Lucien Bar along with other wicked creations. Chill out in the bar after a hard day's night and let Stéphane Ginouvés mix an exotic or classic drink—he's "MOF" Best Barman in France 2011.
Holiday laser light show starts December 2
From December 2nd, Fouquet's Barrière celebrates the holiday season by lighting up for Christmas. The magnificent interior courtyard showcases an innovative light display: the "mapping building" technique using projected 3D images gives new life to the 19th-century façade. The exceedingly realistic effects are awesome and the illuminated façade takes on new colors and seems to come to life. Expect surprising daily entertainment from 6:30pm from December 2, 2011 to January 9, 2012.
Holiday menus
For both Christmas and New Year's Eve Chef Jean-Yves Leuranguer has composed delicious menus for the traditional Le Fouquet's restaurant and Le Diane. Claude Ducrozet's magical sweet treats will round off festive dinners. Le Fouquet's has planned menus specially designed for young gastronauts, to be enjoyed while waiting for Father Christmas on Christmas Eve…
Le Fouquet's & Restaurant Le Diane at Hôtel Fouquet's Barrière
Tél: 01 4069 6060
46, Avenue George V, Paris 8th
Métro: George V
Lunch 60€ including a glass of wine
Dinner from 70€-140€
Shut Sunday-Monday and Saturday lunch
Le Lucien Bar & Garden are open daily from 7hrs until very late for breakfast, lunch, afternoon tea and evening drinks
Rooms and Suites from 700€
U Spa, Pool Open 7/7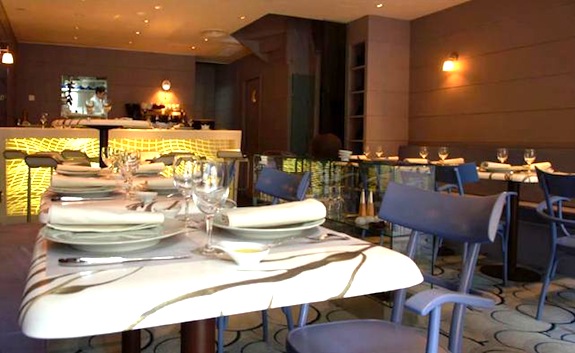 Restaurant Gaya, Paris 7th
Three-star legendary super-chef Pierre Gagnaire heads 12 restaurants from Paris via London, St. Tropez, Tokyo, Hong Kong, Dubai, and Seoul. Gagnaire created molecular cuisine with his friend, physicist Hervé This, the man who unboils eggs. Heston, Marx, Anton, Barbot, etc., followed the leaders. PG's dishes are presented as a constellation surrounded by satellite components. He can make a silk purse from a sow's ear; in his hands simple turnips become precious edible jewels.
In 2005 PG, whose Michelin 3-star couture flagship restaurant is on rue Balzac, off the Champs-Elysées, launched the Left Bank bistro Gaya. State-of-the-art décor is by architect Christian Ghion and fish is the theme.
At night choose from spectacular dishes, created by PG and interpreted by chef Nicolas Fontaine, say, Pétales de lieu jaune; fenouils grillés, pommes vertes, shiso. Poêlée de gambas du Mozambique au poivre vert and Reine de reinette rhubarbe dessert. During the week lunch "La Semainier" changes daily, read: plat du jour Gagnaire style. Monday: Côte de Cochon fermier de Monsieur Ospital rôtie à la sauge. Tuesday: Turbot saisi au grill, sauce Béarnaise. Wednesday: Steamed langoustines, velouté vert. Thursday: Sole grillé, beurre fondu au pamplemousse and Friday: Coquillages et crustacés, légumes d'automne.
Gaya is oyster central, so just pop in for Six Spéciales Y Madec served with pâté de maquereau à la coriandre fraîche/gingembre frais/banane/pomme verte and a glass, from 6€ or a bottle of, say a zesty Saint Péray "Cuvée les Pins" from B. Gripa (49€). The crowd are cool gastro-nomads. Today a couple arrived, at lunch, schlepping the Vuitton suitcase, "we're too excited to go to the hotel, this is our third visit, we can't get enough of Gaya," they said. "When is Gaya coming to Maryland?" they asked a puzzled waiter.
Tél: 01 4544 7373
44, rue du Bac, Paris 7th
Métro: rue du Bac
3-course Market-driven Lunch 60€
From Mon-Friday 60€
Le Semainier 48€ – 1 generous dish + lots of freebie tastes.
Michelin Red Guide San Francisco 2012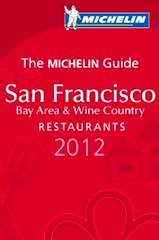 Michelin Guide San Franciso: Bay Area & Wine Country 2012 confirms three stars for Thomas Keller's French Laundry and Christopher Kostow's Meadowood (off the Silverado Trail, Napa Valley). There are three new two-stars: Benu, Saison and Baume. Thirty-nine restaurants each earned one star with five new entries in this galaxy/category.
The guide covers San Francisco proper and a comprehensive spread of the Bay Area stretching from Los Gatos in the south to Geyserville in the north. Each region is prefaced with a pocket history of the area. Being included in the Michelin Guide means excellence and quality, and a total of 543 restaurants and 75 hotels are listed this year plus places to go for brunch. If you're veggie you'll be excited by the 1-star Ubuntu (page 331). Anyone want Afghan? Included also are 77 "Bib Gourmands" serving two courses and a glass of wine or dessert for $40 or less (excluding tax and gratuity).
Always innovative, 2012 showcases a new symbol indicating restaurants serve breakfast, which includes 40 establishments. How useful to list an "Under $25" category, of which there are 113 addys.
SFBA & Wine Country divides into six sections: San Francisco City, East Bay, Marin, Peninsula, South Bay and Wine Country. Forty-six distinct cuisines are represented,  reflecting the spectacular culinary diversity of the region. This little gem is a 3-star read.
Work up a bon appétit with a visit to the San Francisco Museum of Modern Art at 151 Third Street (between Mission & Howard).
This story is a 2011 Readers' Favorite.

Margaret Kemp is a Cordon Bleu graduate who spent a year traveling the world, working and watching in the kitchens of top chefs from Sydney, Australia via Bangkok, Hong Kong, California, New York and France. Her Sunday columns for BonjourParis premium members include the latest European trends, interviews with internationally acclaimed top chefs, and reviews of restaurants, hotels and hot spots. Please click on her name to see her weekly stories dating back to 2003 . . . et merci, Margaret.

Merci

, les abonnés 

premium

, 

nous vous apprécions

.
BonjourParis has been a leading France travel and French lifestyle site since 1995.
Readers' Favorites: Top 100 Books, imports & more at our Amazon store
We think you'll like the latest in fine French dining, home cooking, wine and Champagne books…click on an image for details.
Thank you for using our link to Amazon.com…we appreciate your support of our site.