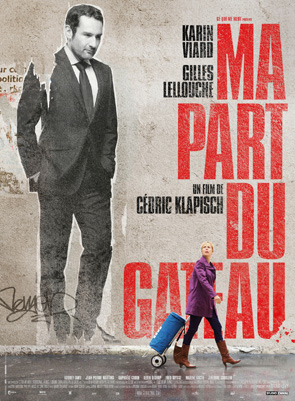 A mainstay genre of contemporary European movies is the film social, which dramatizes the effects of globalization and neo-liberalism. Ma Part du Gâteau (literally "My Piece of the Cake," though "piece of the pie" might be more à propos) is an ambitious addition to the genre.
Cédric Klapisch is a veteran director of French social tapestries like Paris (2008)  and L'Auberge Espagnol (2002). Karin Viard (Potiche, 2010 and now showing in the U.S.) and Gilles Lellouche (Paris, 2008) are actors with enough presence to anchor a wide-ranging movie about the effects of offshore business. But the French aren't always convincing in this genre. Their Cartesian arguments tend to be too schematic and their characterizations are just this side of cuddly caricature. British directors Ken Loach and Mike Leigh (Secrets and Lies, 1996) are often more effective, because they pay attention to the stuff of working-class life.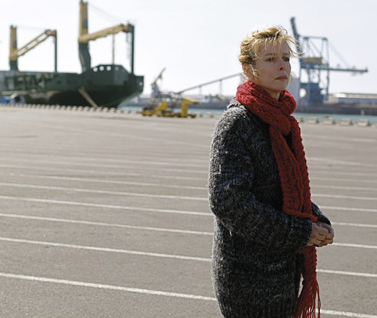 Viard plays France, a forty-something single mother who works for an industrial company in Dunkirk. When the firm closes, France is laid off with no employment prospects. Her first reaction is to attempt suicide; her second more positive, though also radical: she moves to Paris in search of work. She winds up as a maid working for Steve, played by Gilles Lellouche. Steve is a multi-tasking trader who's returned to Paris after living in London. What France doesn't know is that Steve was responsible for the délocalisation that caused the demise of her former employer in Dunkirk. France gradually insinuates herself into Steve's personal life. Complicating things even more, she deals with her three daughters on weekends as Steve is forced to care for an adorable toddler dumped on his opulent doorstep by an ex-partner.
What follows is more entertainment than dreary social realism as this traditional French comedy of manners exaggerates differences between social classes. The film draws laughs with sexual comedy between disparate classes and a bit of sentimental family comedy. Klapisch might be lambasting capitalism, but with an eye-and-a-half on the box office.
Ultimately the actors ho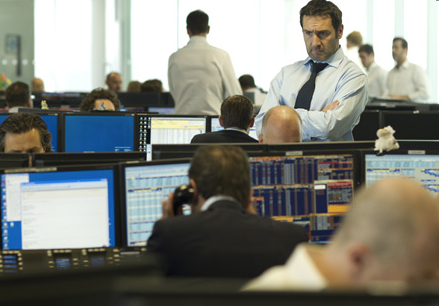 ld the film together and provide its fizzy energy. Karin Viard is beautiful but earthy, with a husky voice, entirely convincing as the uprooted France. Lellouche is just as convincing as the amoral trader; his feral eyes and curling mouth bringing to mind Jérôme Kerviel, the French trader convicted and now serving time for crimes comparable to those of Bernie Madoff in the U.S. The other actors do a good job as well, though their characters are little more than supporting-role cardboard. Unfortunately, director Klapisch nearly sinks his film. Instead of taking his characters to the logical (or illogical) ends of comedy, he lurches into social melodrama. Like other makers of the film social genre, Klapisch doesn't realize that instead of inspiring moral outrage, the excesses strike us as politically correct slumming.
Practical Information
Original Title    Ma part du gâteau
A movie by    Cédric Klapisch    
With:    Karin Viard, Gilles Lellouche, Audrey Lamy, Jean-Pierre Martins    
Category:    Drama
Runtime:    1h49mn
Year:    2010
Country:    France
Released by:  Studio Canal
Clip: trailer, courtesy of StudioCanal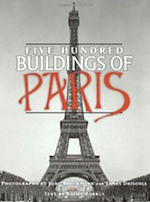 The greatest buildings, monuments, and structures of Paris come to life in these inspiring, neighborhood-by-neighborhood photographic tours. Each building is featured in a rich, fine-resolution duotone photograph. Information including the building's name, its address and location, and year of completion or renovation is included underneath the image.
Click to order your copy of: Five Hundred Buildings of Paris