Musee Jacquemart-Andre: Museum, Cafe and Tea Salon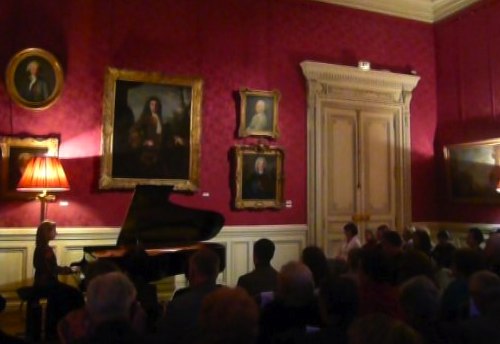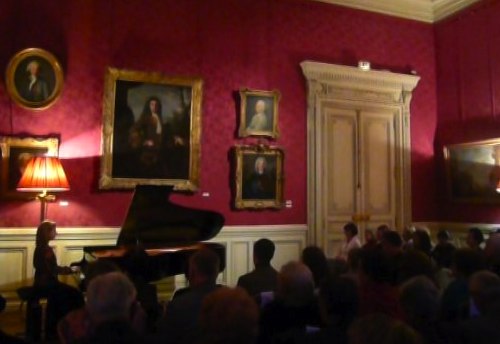 Jasmina Kulaglich concert at Musée Jacquemart-André. Photo: Jasmina Kulaglich
Concerts at the museum
January 21 through March 19, 2012
For the eleventh edition, "Jacquemart-André in music … in the respondent Salons" features 18 concerts from January to March 2012. Performances include piano recitals, chamber music, opera, duets and solos. Enjoy exceptional evenings at the Musée Jacquemart-André: a hundred music lovers can enjoy Museum masterpieces in the richly furnished apartments richly furnished, a glass of champagne in hand, before moving to the Salon Music for a wonderful concert. More about the performers.
Edouard André and Nélie Jacquemart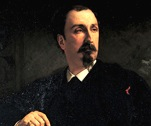 Son of wealthy Protestant bankers, Edouard André's inheritance afforded him the luxury of extensive travel. With wife Nélie Jacquemart, he made several trips to Italy to purchase artwork. In 1860, when Paris was undergoing massive reconstruction and expansion, Edouard purchased land along the newly developed boulevard Haussmann.  Over six years their massive private residence and future museum took form.
Original exterior features include an attention-drawing raised landing set back from the front entrance and facing the boulevard. Access to the home is via a partially-covered ramp that rises gradually in arc formation from front to back.  Stagecoaches would stop for guests to disembark, then advance toward the symmetrical, opposite side of the courtyard rather than retrace the arrival route, which prevented uncouth congestion during soirées and other important gatherings. Inside, this statement to classic lines comprises three levels of seamless flow, from grand reception hall to music room to dining areas and private apartments. Traversing the unique winding staircase provides a perspective of light, depth, and color with every step. Sumptuous rooms in the house showcase the couple's grand art collection.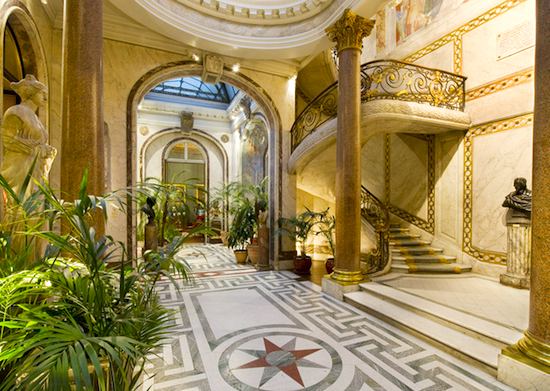 Each salle has its own theme, with art from France, Holland and Italian Renaissance period pieces comprising the large majority of paintings.  Three rooms feature Italian works. The Venetian Room, an imitation of an actual Venetian palace, is not to be missed.  Nélie commissioned Italian artist Mocetto to create a ceiling mural that depicts celestial beings and planets, all in a three-tone scheme of white, gray and blue. The design includes gilded frames around each painting. The room also contains works by Mantegna, Bellini and Carpaccio.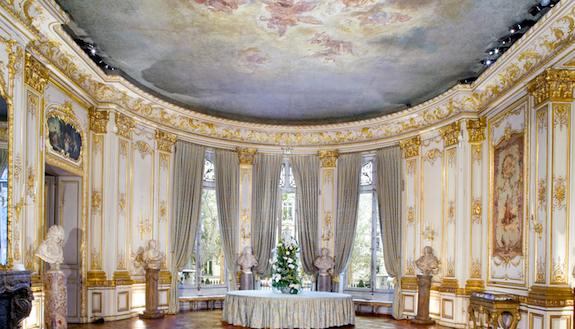 Another room of note is the first floor library with impressive china from around the world, including lovely Sèvres pots and tea service and a Rembrandt painting of a Dutch woman remarkable for its delicate intricacies, especially the lace shoulder wrap that appears real enough to touch.
Evidence of the couple's daily life also abound. The fumoir, where André retired to smoke cigars with colleagues, would be the envy of any modern-day cigar aficionado.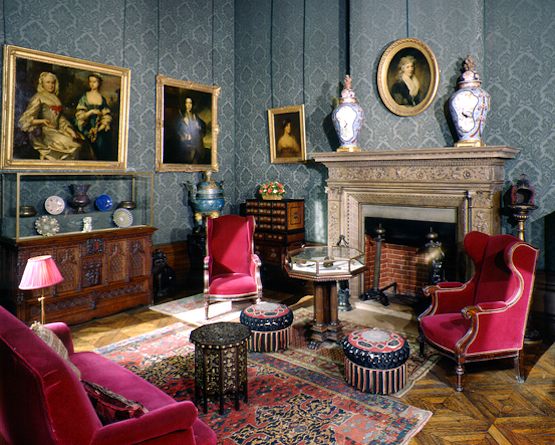 The couple slept separately, each to his or her own quarters, which were separated by an anteroom where the imagination can muse over how they managed the distances and intimacies of a marriage that by historical accounts was a flourishing and largely agreeable one.  Poised on the back wall in that "half-way place" is the portrait of André that Nélie painted at the time of their courting.
Nélie continued traveling and collecting art after André's death and, after her own death in 1912, their art and the house itself were donated to the State.

We are in France, so food remains, of course, at the fore. The elegantly decorated Jacquemart-André Café and Tea Salon offers a wonderful selection of salads, sandwiches and menus of the day. The renowned desserts come from a nearby bakery catering to the well-heeled Champs-Elysées neighbors. Save room for the imaginative macaron slices. After lunch and when gathering belongings in the coatroom, note Nélie's portrait that hangs nearby. A sweet welcoming gaze emits an aura of generosity and openheartedness, letting one wonder what it might have been like to be one of her acquaintances, to visit and chat amidst this statement to her extensive energies.
Musée Jacquemart-André annually hosts temporary collections when it's wise to prepare for crowds. Make sure to either reserve or get there early. This is also one museum open 365 days a year, so its a good option when other larger establishments may be overcrowded in summer or other peak times.
If someone were to ask how to sample Paris in a single day, I would send them to the Musée Jacquemart-André.
Practical Information:
Musée Jacquemart-André
158, bd Haussmann, Paris 8th
RER: Charles de Gaulle – Étoile
Métro: Miromesnil or Saint Philippe du Roule
Bus : 22, 28, 43, 52, 54, 80, 83, 84, 93
Télephone. : 01 45 62 11 59
Vélib': 49, rue de Berri
Hours: Open every day of the year, from 10 AM to 6 PM
Admission (2012): 10€ Individual   Child under age 7 admitted free with adult
Café hours: open daily from 11:45 AM to 5:30 PM
Accessibility: No elevator, only the ground floor is wheelchair-accessible.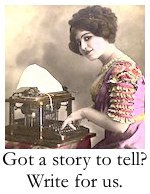 Photo credits:
Publicity photos, Musée Jacquemart-André
Kathleen Burke is a writer and lover of France who lives in Paris and Massachusetts. She has written several stories for BonjourParis.
Leave a reply
Your email address will not be published. Required fields are marked *