Best Paris Wine Bar? O Chateau, Says Marie Z. Johnston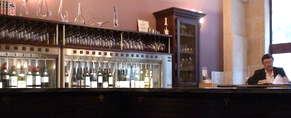 Passion. We all recognize it when we see it; there is a certain magical quality which is beautiful to behold, in particular when it reveals itself with enthusiasm and humor. This is precisely the feeling one is flooded with when first setting foot into Ô Chateau. The passion is reflected by an oversized granite bar lined with inviting green leather stools, the richly hued walls of graduated mauve and teal and especially in the well-stocked, 40-bottle by-the-glass Cuvée behind the bar. Ô Chateau opened its doors in a new, larger, brighter and more accessible location in early 2011. It's believed to have once been the home of Madame de Pompadour, which is all the more interesting given that their former digs were reputed to be the wine cellar belonging to the Louvre, more notably, Louis XV who was Madame de Pompadour's lover until the day she died. Coincidence? I think not. Vibrant and good looking, owner Olivier Magny is very easygoing and stunningly straightforward. He spoke candidly about what led to his modest beginnings in 2003. After graduating from ESSEC (a business school outside of Paris) Magny traveled a bit, eventually landing in San Diego. It was here in this city known for its laid-back living, warm weather and blue skies that Olivier perfected his English and realized that life behind a desk was not for him. After returning to Paris, Magny began giving wine tastings in his parents' living room in the 11th. Eventually he opened the original Ô Chateau in a small, one-room, 17th-century cave with a fascinating history—and became an immediate hit. In 2006 Olivier joined forces with Nicolas Paradis. They had met on the soccer fields while attending ESSEC and their complementary strengths seemed a good match for growing Ô Chateau from a fledgling wine cave to a thriving business, with a strong reputation they could both be proud of. Feeling limited by the size of Louis' wine cellar, they began combing the center of Paris for a larger space. It was Nicolas who discovered the space and after walking Olivier through it, they discussed the scale of the project over a bottle of wine. This new, significantly larger location required a great deal of renovation and a giant leap of faith. Formerly a production studio, it was full of potential, a freight elevator and not much else. Olivier and Nicolas jumped in with both feet and after 9 months of extensive remodeling (with the help of a very generous bank loan) Ô Chateau is at last ready to receive the wine-curious as well as the connoisseur. The warm, welcoming ambiance of the main room is enhanced by comfortable chairs, good music—think Nora, Elvis, Amy, Frank, Ray and Barry (White, not Manilow)—at a conversationally friendly level, congenial people and an enthusiastic selection of wines by the glass. It is not an exaggeration to state that the wine list has something for every taste and pocketbook: by the glass prices start at 1.40E, gradually rising to 239E (for a glass of 2004 Château Pétrus) and every drop of wine poured at Ô Chateau is served in Riedel crystal glasses. For the curious there are daily wine flights organized by year, color or region. And for the hungry there is a small but well-balanced menu of regional cheeses, charcuterie, daily soups, desserts and other specials created by 23-year-old chef Tiffany Depardieu. In addition to the generous and fabulous wine bar, there are three beautifully appointed private rooms for wine tastings and special events. Each room accommodates 20-30 people and features beautiful vaulted ceilings as well as shelves filled with wine, sexy lighting, comfortable chairs and an independent sound system. My suggestion? Host a girls' night out, bring your iPod, DJ your own sound mix and leave moderation behind because you'll be in excellent hands. By the way, classes are available in English, Italian, Spanish, Croatian and French, with more languages available on request. I've been to Ô Chateau three times this week and I'd like to tell you it was all research, but that would be a lie. The place is just so inviting and accommodating (free wi-fi) and perfect to go sit, have a glass of wine or two and "check email"—but really, it's all about watching the comings and goings, listening to the music and tasting the wine. Actually, it's all about soaking up the passion. Practical Details
Ô Chateau
Tél: 01 4473 9780 68, rue Jean-Jacques Rousseau, Paris 1st Métro: Etienne Marcel, Les Halles Bus: 29 (Etienne Marcel-Montmartre) Vélib: 46, rue de Montmartre Open 12:30 to midnight Monday – Thursday 12:30 to 2am Friday & Saturday    Closed Sunday Photo Credits:  Marie Z Johnston
Marie Z. Johnston
was taught well by her Parisienne maman to appreciate good food, good wine and the good people who nurture it, sell it and serve it at restaurants around the world. Click on her name to learn more about the 
French Market Maven
and a list of other stories she's written for BonjourParis. Do you have news to share with our readers?
Please send us your stories & ideas
. NEW:
Subscribe for free
to our weekly newsletters with subscriber-only content. Update your travel library, DVDs & French imported goods: 
current recommendations
.   Thank you for using our…
SUBSCRIBE
ALREADY SUBSCRIBED?
BECOME A BONJOUR PARIS MEMBER

Gain full access to our collection of over 5,000 articles and bring the City of Light into your life. Just 60 USD per year.

Find out why you should become a member here.

Sign in

Fill in your credentials below.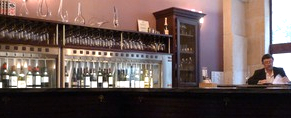 Passion. We all recognize it when we see it; there is a certain magical quality which is beautiful to behold, in particular when it reveals itself with enthusiasm and humor.
This is precisely the feeling one is flooded with when first setting foot into Ô Chateau. The passion is reflected by an oversized granite bar lined with inviting green leather stools, the richly hued walls of graduated mauve and teal and especially in the well-stocked, 40-bottle by-the-glass Cuvée behind the bar.
Ô Chateau opened its doors in a new, larger, brighter and more accessible location in early 2011. It's believed to have once been the home of Madame de Pompadour, which is all the more interesting given that their former digs were reputed to be the wine cellar belonging to the Louvre, more notably, Louis XV who was Madame de Pompadour's lover until the day she died. Coincidence? I think not.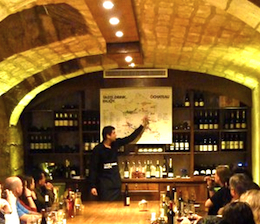 Vibrant and good looking, owner Olivier Magny is very easygoing and stunningly straightforward. He spoke candidly about what led to his modest beginnings in 2003. After graduating from ESSEC (a business school outside of Paris) Magny traveled a bit, eventually landing in San Diego. It was here in this city known for its laid-back living, warm weather and blue skies that Olivier perfected his English and realized that life behind a desk was not for him. After returning to Paris, Magny began giving wine tastings in his parents' living room in the 11th.
Eventually he opened the original Ô Chateau in a small, one-room, 17th-century cave with a fascinating history—and became an immediate hit.
In 2006 Olivier joined forces with Nicolas Paradis. They had met on the soccer fields while attending ESSEC and their complementary strengths seemed a good match for growing Ô Chateau from a fledgling wine cave to a thriving business, with a strong reputation they could both be proud of. Feeling limited by the size of Louis' wine cellar, they began combing the center of Paris for a larger space.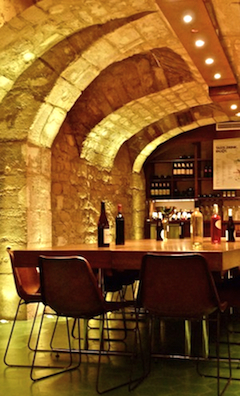 It was Nicolas who discovered the space and after walking Olivier through it, they discussed the scale of the project over a bottle of wine. This new, significantly larger location required a great deal of renovation and a giant leap of faith. Formerly a production studio, it was full of potential, a freight elevator and not much else. Olivier and Nicolas jumped in with both feet and after 9 months of extensive remodeling (with the help of a very generous bank loan) Ô Chateau is at last ready to receive the wine-curious as well as the connoisseur.
The warm, welcoming ambiance of the main room is enhanced by comfortable chairs, good music—think Nora, Elvis, Amy, Frank, Ray and Barry (White, not Manilow)—at a conversationally friendly level, congenial people and an enthusiastic selection of wines by the glass. It is not an exaggeration to state that the wine list has something for every taste and pocketbook: by the glass prices start at 1.40E, gradually rising to 239E (for a glass of 2004 Château Pétrus) and every drop of wine poured at Ô Chateau is served in Riedel crystal glasses.
For the curious there are daily wine flights organized by year, color or region. And for the hungry there is a small but well-balanced menu of regional cheeses, charcuterie, daily soups, desserts and other specials created by 23-year-old chef Tiffany Depardieu.
In addition to the generous and fabulous wine bar, there are three beautifully appointed private rooms for wine tastings and special events. Each room accommodates 20-30 people and features beautiful vaulted ceilings as well as shelves filled with wine, sexy lighting, comfortable chairs and an independent sound system. My suggestion? Host a girls' night out, bring your iPod, DJ your own sound mix and leave moderation behind because you'll be in excellent hands. By the way, classes are available in English, Italian, Spanish, Croatian and French, with more languages available on request.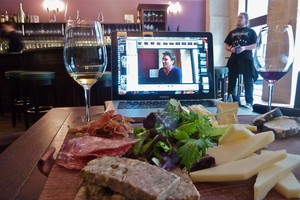 I've been to Ô Chateau three times this week and I'd like to tell you it was all research, but that would be a lie. The place is just so inviting and accommodating (free wi-fi) and perfect to go sit, have a glass of wine or two and "check email"—but really, it's all about watching the comings and goings, listening to the music and tasting the wine. Actually, it's all about soaking up the passion.
Practical Details

Tél: 01 4473 9780
68, rue Jean-Jacques Rousseau, Paris 1st
Métro: Etienne Marcel, Les Halles
Bus: 29 (Etienne Marcel-Montmartre)
Vélib: 46, rue de Montmartre
Open 12:30 to midnight Monday – Thursday
12:30 to 2am Friday & Saturday    Closed Sunday
Photo Credits:  Marie Z Johnston

Marie Z. Johnston was taught well by her Parisienne maman to appreciate good food, good wine and the good people who nurture it, sell it and serve it at restaurants around the world. Click on her name to learn more about the French Market Maven and a list of other stories she's written for BonjourParis.
NEW:
Subscribe for free
to our weekly newsletters with subscriber-only content.
Update your travel library, DVDs & French imported goods: current recommendations.
Thank you for using our link to Amazon.com…your purchases support our free site.
Click on image for more info about these selections.
More in Cafe, France, French tourism, Hotels, Monument, Museum, Neighborhood, Nightlife, Paris, Paris restaurants, Shopping
---
---