Parisian Easter Chocolates and Teas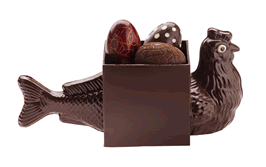 As the weeks draw down to the still point of the Easter Sunday holiday, Parisian chocolatiers work quadruple-overtime filling their shops with a glorious array of delectable seasonal chocolates.  Tempting chocolates are everywhere … in the patisseries, the speciality chocolatiers and in those sweet little candy shops called confiseries which stock speciality candies from all over France including copious selections of chocolates.   Indeed, a gift of chocolate at Easter is an absolute must for friends and family of all ages.  Not surprisingly, the vast selection available in the French capital goes way beyond cute little chicks and bunnies.  The offerings include the very traditional dark-chocolate fish of various sizes including the darling fritures which are tiny dark chocolate fish often packed into straw baskets or chocolate boxes and which resemble a school of delicious little fish.  Then there are chocolates shaped like bells symbolizing the ringing out of the good news on Easter, along with goblets, crosses and scallop shells (the symbol of St. James). Add to this bounty all manner of flavored and pure chocolate eggs in various sizes and a fantasy array of chocolate animals such as donkeys, elephants, camels, rabbits, bunnies, chicks, ducks and geese. Here is a sampler of sources to tempt any chocolate lover's tastebuds.  Master chocolatiers such as Jean Paul Hévin create stunning edible artistic masterpieces with new works released each year.  This year, a particular Hévin-stunner is a dark chocolate fish emerging from a goblet, each a timeless symbol of spring and of Easter.  There are chocolate goblets filled with gilded eggs, and fantastical animal creations, half fish, half chickens.   Jean-Charles Rochoux, in St. Germain, creates fabulous eggs that are made by piping rich chocolate praline into real egg shells, sealed with a tiny gold square and adorned with a perfect little chick made of white chocolate and artfully colored to resemble the real thing.  Nestled in straw in an egg carton just like those in which fresh eggs are sold in the markets, this is a sophisticated and understated confection.  La Bonbonnerie de la Trinité near the Gare St. Lazare is a perennially alluring top-quality neighborhood chocolate shop in the ninth arrondissement which is even more inviting at Easter-time.  The shelves are chock full of beautiful creations both traditional and innovative.  Here I found the greatest array of fantastic chocolate animals, including adorable little chocolate
donkeys pulling carts stacked with chocolate 'logs' lined up alongside endearingly fierce-looking chocolate gorillas along with the bells, balls, bunnies, variously tempting styles of candy eggs, alongside schools of chocolate fish.  One can easily envisage indulgent French grandmothers or parents taking delight in stocking up on their Easter gifts here for beloved children and chocolate fanciers of all ages.  Natier is another charming little premium quality chocolate shop that serves a savvy family clientele in a bustling residential quarter just south of Pigalle.  Here you will find gorgeous chocolate baskets filled with fanciful Easter treats all made with premium milk and high cocoa-content chocolates. Consider their delectable versions of traditional bunnies or small praline eggs,  (some of them covered with nougatine), hens, bells, fish in several sizes either filled or plain, plus the beloved fritures 70% dark, milk, white and orange flavors.  Natier also offers small nests made of gianduja with pistachio, real egg-shells filled with chocolate, several kinds of eggs for children, and numerous chocolate medallions.  Madame Leterrier, the charming and knowledgeable responsable also stocks a full selection of teas from Le Palais de Thés.  So you can find the perfect pairing of tea and chocolate at Easter and anytime.  Abundance is the order of the day here. For those who savor tea and chocolate pairings, the master tea blenders at Mariage Frères not only create an annual Easter-tea blend called Thé de Paques, they also work with their chocolatier to craft beautiful Easter chocolates infused with the seasonal tea and dusted with roasted tea leaves.  "Easter Tea" is a wonderful blend honoring the spirit of the holiday.  Mariage Frères creates this special seasonal tea by blending subtle fragrances of citrus and other fruits with a distinctove note of fine spices, all evoking the taste of crème brûlée.  Perfect harmony in your cup.   And to further perfect that harmony,   "Chocolat des mandarins" are crafted with a high quality Japanese sencha green tea generously flavored with delicate cherry blossoms within a smooth and glossy white chocolate thin couverture and a dark-chocolate centre.   As the Mariage Frères description of these chocolates says these are "Sweet, mellow, mouth-watering, and fragrant as a spring shower". Chajin, the fine Japanese tea salon on rue Pasquier will be offering small white chocolate matcha eggs made especially for Chajin by Christophe Rousel, a master chocolatier from La Baule.   Rousel uses Chajin's superior matcha in these attractive and delicious confections. Chocolates are indispensable to Parisian Easter celebrations.  As ever in this city seemingly obsessed with gastronomic perfections, the artisans that supply Parisian chocolate-lovers endeavor to surpass all expectations to tempt, delight, and seduce their customers.  Add the special teas, or perhaps a lovely wine paired to chocolate and you are good to go.  And then there are those chocolate gorillas… just plain fun! Sally Peabody, President of
Your Great Days in Paris
, is a Paris Specialist and writer. She advises independent travelers and leads small-scale culinary tours to Paris including one focused on Tea and Chocolate. For more on French chocolates, here is the latest book by Bonjour Paris photographer Clay McLachlan:  
SUBSCRIBE
ALREADY SUBSCRIBED?
BECOME A BONJOUR PARIS MEMBER

Gain full access to our collection of over 5,000 articles and bring the City of Light into your life. Just $60 a year.

Find out why you should become a member here.

Sign in

Fill in your credentials below.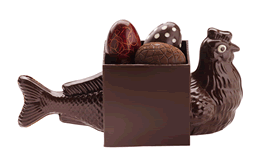 As the weeks draw down to the still point of the Easter Sunday holiday, Parisian chocolatiers work quadruple-overtime filling their shops with a glorious array of delectable seasonal chocolates.  Tempting chocolates are everywhere … in the patisseries, the speciality chocolatiers and in those sweet little candy shops called confiseries which stock speciality candies from all over France including copious selections of chocolates.   Indeed, a gift of chocolate at Easter is an absolute must for friends and family of all ages.  Not surprisingly, the vast selection available in the French capital goes way beyond cute little chicks and bunnies.  The offerings include the very traditional dark-chocolate fish of various sizes including the darling fritures which are tiny dark chocolate fish often packed into straw baskets or chocolate boxes and which resemble a school of delicious little fish.  Then there are chocolates shaped like bells symbolizing the ringing out of the good news on Easter, along with goblets, crosses and scallop shells (the symbol of St. James). Add to this bounty all manner of flavored and pure chocolate eggs in various sizes and a fantasy array of chocolate animals such as donkeys, elephants, camels, rabbits, bunnies, chicks, ducks and geese.
Here is a sampler of sources to tempt any chocolate lover's tastebuds.  Master chocolatiers such as Jean Paul Hévin create stunning edible artistic masterpieces with new works released each year.  This year, a particular Hévin-stunner is a dark chocolate fish emerging from a goblet, each a timeless symbol of spring and of Easter.  There are chocolate goblets filled with gilded eggs, and fantastical animal creations, half fish, half chickens.  
Jean-Charles Rochoux, in St. Germain, creates fabulous eggs that are made by piping rich chocolate praline into real egg shells, sealed with a tiny gold square and adorned with a perfect little chick made of white chocolate and artfully colored to resemble the real thing.  Nestled in straw in an egg carton just like those in which fresh eggs are sold in the markets, this is a sophisticated and understated confection. 
La Bonbonnerie de la Trinité near the Gare St. Lazare is a perennially alluring top-quality neighborhood chocolate shop in the ninth arrondissement which is even more inviting at Easter-time.  The shelves are chock full of beautiful creations both traditional and innovative.  Here I found the greatest array of fantastic chocolate animals, including adorable little chocolate
donkeys pulling carts stacked with chocolate 'logs' lined up alongside endearingly fierce-looking chocolate gorillas along with the bells, balls, bunnies, variously tempting styles of candy eggs, alongside schools of chocolate fish.  One can easily envisage indulgent French grandmothers or parents taking delight in stocking up on their Easter gifts here for beloved children and chocolate fanciers of all ages. 
Natier is another charming little premium quality chocolate shop that serves a savvy family clientele in a bustling residential quarter just south of Pigalle.  Here you will find gorgeous chocolate baskets filled with fanciful Easter treats all made with premium milk and high cocoa-content chocolates.
Consider their delectable versions of traditional bunnies or small praline eggs,  (some of them covered with nougatine), hens, bells, fish in several sizes either filled or plain, plus the beloved fritures 70% dark, milk, white and orange flavors.  Natier also offers small nests made of gianduja with pistachio, real egg-shells filled with chocolate, several kinds of eggs for children, and numerous chocolate medallions.  Madame Leterrier, the charming and knowledgeable responsable also stocks a full selection of teas from Le Palais de Thés.  So you can find the perfect pairing of tea and chocolate at Easter and anytime.  Abundance is the order of the day here.
For those who savor tea and chocolate pairings, the master tea blenders at Mariage Frères not only create an annual Easter-tea blend called Thé de Paques, they also work with their chocolatier to craft beautiful Easter chocolates infused with the seasonal tea and dusted with roasted tea leaves.  "Easter Tea" is a wonderful blend honoring the spirit of the holiday.  Mariage Frères creates this special seasonal tea by blending subtle fragrances of citrus and other fruits with a distinctove note of fine spices, all evoking the taste of crème brûlée.  Perfect harmony in your cup.  
And to further perfect that harmony,   "Chocolat des mandarins" are crafted with a high quality Japanese sencha green tea generously flavored with delicate cherry blossoms within a smooth and glossy white chocolate thin couverture and a dark-chocolate centre.   As the Mariage Frères description of these chocolates says these are "Sweet, mellow, mouth-watering, and fragrant as a spring shower".
Chajin, the fine Japanese tea salon on rue Pasquier will be offering small white chocolate matcha eggs made especially for Chajin by Christophe Rousel, a master chocolatier from La Baule.   Rousel uses Chajin's superior matcha in these attractive and delicious confections.
Chocolates are indispensable to Parisian Easter celebrations.  As ever in this city seemingly obsessed with gastronomic perfections, the artisans that supply Parisian chocolate-lovers endeavor to surpass all expectations to tempt, delight, and seduce their customers.  Add the special teas, or perhaps a lovely wine paired to chocolate and you are good to go.  And then there are those chocolate gorillas… just plain fun!
Sally Peabody, President of Your Great Days in Paris, is a Paris Specialist and writer. She advises independent travelers and leads small-scale culinary tours to Paris including one focused on Tea and Chocolate.
For more on French chocolates, here is the latest book by Bonjour Paris photographer Clay McLachlan:
More in Bonjour Paris, Food Wine, Neighborhood, Shopping
---
---