Easter at Pre Catalan Buzz
Ah! Paris in the Spring tra-la-la. Chestnuts in blossom, magnolias, daffodils, now's a great time to put on your Easter bonnet and head off to the Bois de Boulogne. Now don't get me wrong darling, I mean Pré Catalan the most respectable of houses where chef Frederic Anton just notched up his third macaron Michelin. Pré Catalan is the flagship canteen of Lenôtre, a member of the Comité Colbert luxury-brand trade association, and par of the Accor Group. "The third star represents the fulfilment of a dream and a strategic ambition", explains dynamic Chairman Patrick Scicard. If you like a bit of background you need to know Pré Catalan was named for Théophile Catelan, Captain of the Hunt under Louis XV1. The Bois was a popular space for country strolls circa late 18th century (still is, but only during daylight, dear). It was later destroyed by the Prussian army, who set up camp there in 1815, then abandoned for several years. Re-opened in 1856, Pré Catalan was a huge success. Its charming natural surroundings, fabulous orchestral concerts, made it one of the most popular entertainment spots in Paris until, with the tumult of the Franco-Prussian War (1870-1871) Pre Catalan was forgotten. Until, in 1905, the City of Paris asked architect Guillaume Tronchet to create a luxury casino/restaurant at Le Pré Catalan. He designed a long, elegant mansion with classic rotundas, the white façade featured pilasters, columns and balustrades, the bucolic upper terraces decorated with clusters of sculpted angels and urns. Read gorgeous! The casino project was later cancelled, and, funnily enough the city transferred ownership to the people who commissioned Pavilon Paillard, to-day's delightful, delicious, Pavilon Elysée Lenôtre, Champs Elysées. Fast forward to 1923 when Charles Drouant transformed Pré Catalan into a traditional French restaurant, the sort of place le tout Paris needed to be seen at before  big race meetings at nearby Longchamp. Fast fast forward to 2007 and Frederic Anton. A delightful and talented man, Anton took over at Pré Catalan in 1997, "considered it the ultimate challenge". Born in Alsace Lorraine, Anton sky-dives, paints, shoots, designs, and can now pat himself on the back with 3-Michelin stars. "He's a chef's chef, his cuisine is complex but not complicated, brilliant but not showy", says Scicard. "Anton isn't a chef, he's an author, and his cuisine a great novel", add Scicard. Anton says he wants to thank his team and the charismatic Director Jean-Jaques Chaveau, who must be related to Charles Boyer, so charming, Buzz wants to take him home. "I have to stay", he pleads. "I've only been here twenty-five years!" Then there's Cristal, the patissier, 24 years old, prepared to spend 2 months perfecting her Apple Dessert, crunchy crumble effect with Carambar ice cream, cider and sparkling sugar (see photo). Extraordinary. For Easter there are surprises. Like what? Sure to be Anton's signature crab in coral jelly, maybe followed by Brittany Lobster with caviar (he's very fond of caviar, is Anton) then perhaps a few small but perfectly formed scallops with frothy foam and astringent lime zest. As it's Easter, lamb will be griddled, topped with truffles (he's very fond of truffles, is Anton) and a giant porcelain side dish filled with giant goat's cheese ravioli, a touch of liquorice grain mustard to crunch. Beg for La Pomme, or Cristal will create a chocolate dessert just for you – because you're worth it. Wines are chosen by Olivier Poussier, Lenotre's uber wine buff. At the moment he says the Barolo Bric Del Fiasc 1998 Paolo Scavino is
drinking well. Anton, who has worked with Gerard Boyer and Joel Robuchon says: In France people say, "let's go and eat chez Ducasse or Robuchon. Now I hope they'll say, "let's go and eat chez Anton". What are you waiting for? And if you're heading South you can do no better than
The Hotel Martinez
, Cannes who have an Easter Bonnet offer, kids get free breakfasts and rooms! And if you ever had breakfast at The Martinez you'll be rushing for a reservation. 210€ per day from 2-15 April – Easter eggs included. T: 04 92 98 74 10
Pre Catalan
, Reservations Jean-Jacques Chaveau, T: 01 44 14 41 14 Route de Suresnes – Bois de Boulogne 16th Metro: Porte Maillot then taxi Lunch 75€ + wine Menu du Pré – 180€ + wine A La Carte – 130-175€ + wine
SUBSCRIBE
ALREADY SUBSCRIBED?
BECOME A BONJOUR PARIS MEMBER

Gain full access to our collection of over 5,000 articles and bring the City of Light into your life. Just $60 a year.

Find out why you should become a member here.

Sign in

Fill in your credentials below.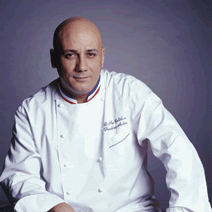 Ah! Paris in the Spring tra-la-la. Chestnuts in blossom, magnolias, daffodils, now's a great time to put on your Easter bonnet and head off to the Bois de Boulogne. Now don't get me wrong darling, I mean Pré Catalan the most respectable of houses where chef Frederic Anton just notched up his third macaron Michelin.
Pré Catalan is the flagship canteen of Lenôtre, a member of the Comité Colbert luxury-brand trade association, and par of the Accor Group. "The third star represents the fulfilment of a dream and a strategic ambition", explains dynamic Chairman Patrick Scicard.
If you like a bit of background you need to know Pré Catalan was named for Théophile Catelan, Captain of the Hunt under Louis XV1. The Bois was a popular space for country strolls circa late 18th century (still is, but only during daylight, dear). It was later destroyed by the Prussian army, who set up camp there in 1815, then abandoned for several years.
Re-opened in 1856, Pré Catalan was a huge success. Its charming natural surroundings, fabulous orchestral concerts, made it one of the most popular entertainment spots in Paris until, with the tumult of the Franco-Prussian War (1870-1871) Pre Catalan was forgotten.
Until, in 1905, the City of Paris asked architect Guillaume Tronchet to create a luxury casino/restaurant at Le Pré Catalan. He designed a long, elegant mansion with classic rotundas, the white façade featured pilasters, columns and balustrades, the bucolic upper terraces decorated with clusters of sculpted angels and urns. Read gorgeous! The casino project was later cancelled, and, funnily enough the city transferred ownership to the people who commissioned Pavilon Paillard, to-day's delightful, delicious, Pavilon Elysée Lenôtre, Champs Elysées. Fast forward to 1923 when Charles Drouant transformed Pré Catalan into a traditional French restaurant, the sort of place le tout Paris needed to be seen at before  big race meetings at nearby Longchamp.
Fast fast forward to 2007 and Frederic Anton. A delightful and talented man, Anton took over at Pré Catalan in 1997, "considered it the ultimate challenge". Born in Alsace Lorraine, Anton sky-dives, paints, shoots, designs, and can now pat himself on the back with 3-Michelin stars. "He's a chef's chef, his cuisine is complex but not complicated, brilliant but not showy", says Scicard. "Anton isn't a chef, he's an author, and his cuisine a great novel", add Scicard.
Anton says he wants to thank his team and the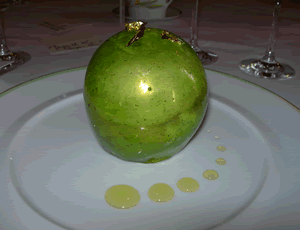 charismatic Director Jean-Jaques Chaveau, who must be related to Charles Boyer, so charming, Buzz wants to take him home. "I have to stay", he pleads. "I've only been here twenty-five years!" Then there's Cristal, the patissier, 24 years old, prepared to spend 2 months perfecting her Apple Dessert, crunchy crumble effect with Carambar ice cream, cider and sparkling sugar (see photo). Extraordinary. For Easter there are surprises. Like what? Sure to be Anton's signature crab in coral jelly, maybe followed by Brittany Lobster with caviar (he's very fond of caviar, is Anton) then perhaps a few small but perfectly formed scallops with frothy foam and astringent lime zest. As it's Easter, lamb will be griddled, topped with truffles (he's very fond of truffles, is Anton) and a giant porcelain side dish filled with giant goat's cheese ravioli, a touch of liquorice grain mustard to crunch. Beg for La Pomme, or Cristal will create a chocolate dessert just for you – because you're worth it. Wines are chosen by Olivier Poussier, Lenotre's uber wine buff. At the moment he says the Barolo Bric Del Fiasc 1998 Paolo Scavino is
drinking well.
Anton, who has worked with Gerard Boyer and Joel Robuchon says: In France people say, "let's go and eat chez Ducasse or Robuchon. Now I hope they'll say, "let's go and eat chez Anton". What are you waiting for?
And if you're heading South you can do no better than The Hotel Martinez, Cannes who have an Easter Bonnet offer, kids get free breakfasts and rooms! And if you ever had breakfast at The Martinez you'll be rushing for a reservation. 210€ per day from 2-15 April – Easter eggs included. T: 04 92 98 74 10
Pre Catalan,
Reservations Jean-Jacques Chaveau,
T: 01 44 14 41 14
Route de Suresnes – Bois de Boulogne 16th
Metro: Porte Maillot then taxi
Lunch 75€ + wine
Menu du Pré – 180€ + wine
A La Carte – 130-175€ + wine
---
---