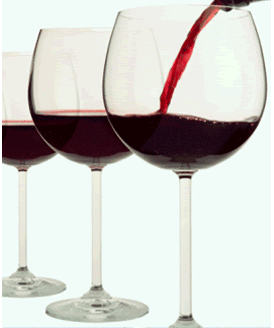 This year's Washington International Wine & Food Festival, held March 9-11 in the Ronald Reagan Building and International Trade Center in downtown Washington,  was crowded, well organized, and fun. For me, the Grand Tasting, held in the main exhibition areas, was the highlight, with 280 wineries from around the world pouring a stated total of over 1,100 wines from 13 countries. The weekend began with a pricey innovation, the Friday Evening Grand Cru Wine Lounge, @ $180 a ticket, where an elegant buffet was available, and fourteen wines were poured, only one of which, Gosset's Grand Rose Champagne, was actually French. There were also Celebrity Chef presentations, and Wine Seminars. It was decidedly not an inexpensive event. Admission was pricey ($65-$80 for one day, another $20 for the second day), with the costs of seminars in addition ($35-$50 per person per seminar). The morning hours were open to the trade (press and other wine and food professionals), and the public was admitted in the afternoon. Saturday was sold out before the weekend started. As is customary, the scale of the show was enormous. It was not possible to taste more than a good sampling of what one preferred or wanted to try. That left well over a thousand other wines untouched, from many countries! I was pleased to see that the organization of wines presented was improved. The wines were grouped quite logically by nation. Thanks probably to the efforts of the Washington chapter of the
French Wine Society
, whose knowledgeable officers were present to pour several of the French wines and to answer questions about them, the presentation of French wines was greatly improved. This continued the comeback by French wines, which had been neglected in the 2005 Convention Center show, but were better represented in last year's show at the Omni Shoreham. There were many old friends, some in new guises. Here are some tasting results. Perhaps you might enjoy trying some yourself! Mouton Cadet ($8) Blanc 2005 remains a superior introduction to French white wines. It was excellent, the Muscadelle (10%) being added to the traditional Bordeaux blend of Semillon (50%) and Sauvignon Blanc (40%) to add balance, and flowery notes.  The Mouton Cadet Rouge 2004 ($8) remains the best selling red Bordeaux wine sold here, and for good reason. It is approachable and well flavored. You get the texture and richness of a Bordeaux blended wine at a fraction of the cost of a pricey chateau bottle. The wine is drinkable quite young, probably because of the predominance of the Merlot grape, rather than the more austere Cabernet Sauvignon, still there for backbone and balance. It is 65% Merlot (largely from the Entre deux Mers region), 30% Cabernet Sauvignon, and 5% Malbec. The Bordeaux table also featured the reliable Chateau Greysac 2003, 50% Cabernet Sauvignon, 40% Merlot, and 10% Cabernet Franc. The wine had good color and flavor, just what you need for a basic wine, not for special events – what we call Chateau Tuesday! The 2001 Chateau Larose Trintaudon ($16), 60% Cabernet Sauvignon, 40% Merlot, was very pleasant, and smoother than the Chateau Greysac. I was pleased to note a wine that was new to me, Michel Lynch 2004 ($10), a 100% Merlot wine, that was favorful and quite promising, although at this stage its tannins remained somewhat aggressive. A highlight for me was the assortment of rose French wines, poured by the knowledgeable Lisa Airey. This was a good assortment of medium priced wines, about $12 per bottle retail, with one interesting exception.  The Commanderie de la Bargamone Coteaux d'Aix en Provence Rose 2005, Grenache and Syrah, was a fruity wine,  not overly sweet (the usual besetting sin of rose wines). The L'Estandon Provence Rose Cotes de Provence 2004 had more fruit, and was a more pleasant drink, I thought. The Domaines Houchard 2005 was a fine luncheon wine, stylish and well flavored, with no sweet aftertaste. I liked the Chateau Montaud, also at $12, although it would leave no footprints in your memory. I asked Ms. Airey if any rose wines could be candidates for grand cru denomination. She didn't answer the question directly, but poured me a sample of Domaines Ott 2005. This rose wine was fuller than any tasted so far. It had depth and, I gather, has become something of a trendy wine in New York circles. At $35 a bottle I suspect it is somewhat ovepriced, but I can understand its popularity. It has some Cabernet Sauvigonon grapes for backbone. Flavorful and well balanced, I think it would stand up well to chicken or pork at your summer dinner table, when a tasty, substantial and undemanding wine treat is needed. You would do well then to produce a well chilled bottle of Domaine Ott, your latest wine discovery! I later heard that the American winery, Chateau Ste. Michelle, intends to resume production of its rose wine. Apparently there is an evolving market here for these summer wines, if not too sweet. I have regretted the disappearance of this American wine, which I thought the finest American rose wine, and I look forward to its reappearance. There were several Alsatian wines available, and I was glad to note that the region seems well recovered from the 2003 vintage, which suffered greatly from the excessive summer heat that year, producing unfocussed, rather blowsy wines. The Trimbach Riesling 2004 was good benchmark quality, flavorful and full-boded, and would surely improve over time. The Hugel Gentil 2005 ($8), always a reliable bargain, was excellent. It remains THE entry level Alsatian wine. Spaar's Pinot Blanc Reserve 2005, from Sigisheim, was very good, a fine harbinger for the 2005 vintage. Unfortunately, their 2005 Gewurztraminer was too warm, and so the tasting was not optimum. I could, however, taste those landmark spicy notes that are the hallmark of this grape varietal.…
SUBSCRIBE
ALREADY SUBSCRIBED?
BECOME A BONJOUR PARIS MEMBER

Gain full access to our collection of over 5,000 articles and bring the City of Light into your life. Just $60 a year.

Find out why you should become a member here.

Sign in

Fill in your credentials below.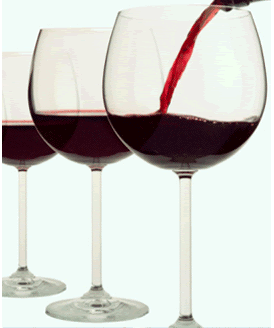 This year's Washington International Wine & Food Festival, held March 9-11 in the Ronald Reagan Building and International Trade Center in downtown Washington,  was crowded, well organized, and fun. For me, the Grand Tasting, held in the main exhibition areas, was the highlight, with 280 wineries from around the world pouring a stated total of over 1,100 wines from 13 countries. The weekend began with a pricey innovation, the Friday Evening Grand Cru Wine Lounge, @ $180 a ticket, where an elegant buffet was available, and fourteen wines were poured, only one of which, Gosset's Grand Rose Champagne, was actually French.
There were also Celebrity Chef presentations, and Wine Seminars. It was decidedly not an inexpensive event. Admission was pricey ($65-$80 for one day, another $20 for the second day), with the costs of seminars in addition ($35-$50 per person per seminar). The morning hours were open to the trade (press and other wine and food professionals), and the public was admitted in the afternoon. Saturday was sold out before the weekend started. As is customary, the scale of the show was enormous. It was not possible to taste more than a good sampling of what one preferred or wanted to try. That left well over a thousand other wines untouched, from many countries!
I was pleased to see that the organization of wines presented was improved. The wines were grouped quite logically by nation. Thanks probably to the efforts of the Washington chapter of the French Wine Society, whose knowledgeable officers were present to pour several of the French wines and to answer questions about them, the presentation of French wines was greatly improved. This continued the comeback by French wines, which had been neglected in the 2005 Convention Center show, but were better represented in last year's show at the Omni Shoreham.
There were many old friends, some in new guises. Here are some tasting results. Perhaps you might enjoy trying some yourself!
Mouton Cadet ($8) Blanc 2005 remains a superior introduction to French white wines. It was excellent, the Muscadelle (10%) being added to the traditional Bordeaux blend of Semillon (50%) and Sauvignon Blanc (40%) to add balance, and flowery notes.  The Mouton Cadet Rouge 2004 ($8) remains the best selling red Bordeaux wine sold here, and for good reason. It is approachable and well flavored. You get the texture and richness of a Bordeaux blended wine at a fraction of the cost of a pricey chateau bottle. The wine is drinkable quite young, probably because of the predominance of the Merlot grape, rather than the more austere Cabernet Sauvignon, still there for backbone and balance. It is 65% Merlot (largely from the Entre deux Mers region), 30% Cabernet Sauvignon, and 5% Malbec.
The Bordeaux table also featured the reliable Chateau Greysac 2003, 50% Cabernet Sauvignon, 40% Merlot, and 10% Cabernet Franc. The wine had good color and flavor, just what you need for a basic wine, not for special events – what we call Chateau Tuesday! The 2001 Chateau Larose Trintaudon ($16), 60% Cabernet Sauvignon, 40% Merlot, was very pleasant, and smoother than the Chateau Greysac. I was pleased to note a wine that was new to me, Michel Lynch 2004 ($10), a 100% Merlot wine, that was favorful and quite promising, although at this stage its tannins remained somewhat aggressive.
A highlight for me was the assortment of rose French wines, poured by the knowledgeable Lisa Airey. This was a good assortment of medium priced wines, about $12 per bottle retail, with one interesting exception.  The Commanderie de la Bargamone Coteaux d'Aix en Provence Rose 2005, Grenache and Syrah, was a fruity wine,  not overly sweet (the usual besetting sin of rose wines). The L'Estandon Provence Rose Cotes de Provence 2004 had more fruit, and was a more pleasant drink, I thought. The Domaines Houchard 2005 was a fine luncheon wine, stylish and well flavored, with no sweet aftertaste. I liked the Chateau Montaud, also at $12, although it would leave no footprints in your memory.
I asked Ms. Airey if any rose wines could be candidates for grand cru denomination. She didn't answer the question directly, but poured me a sample of Domaines Ott 2005. This rose wine was fuller than any tasted so far. It had depth and, I gather, has become something of a trendy wine in New York circles. At $35 a bottle I suspect it is somewhat ovepriced, but I can understand its popularity. It has some Cabernet Sauvigonon grapes for backbone. Flavorful and well balanced, I think it would stand up well to chicken or pork at your summer dinner table, when a tasty, substantial and undemanding wine treat is needed. You would do well then to produce a well chilled bottle of Domaine Ott, your latest wine discovery!
I later heard that the American winery, Chateau Ste. Michelle, intends to resume production of its rose wine. Apparently there is an evolving market here for these summer wines, if not too sweet. I have regretted the disappearance of this American wine, which I thought the finest American rose wine, and I look forward to its reappearance.
There were several Alsatian wines available, and I was glad to note that the region seems well recovered from the 2003 vintage, which suffered greatly from the excessive summer heat that year, producing unfocussed, rather blowsy wines. The Trimbach Riesling 2004 was good benchmark quality, flavorful and full-boded, and would surely improve over time. The Hugel Gentil 2005 ($8), always a reliable bargain, was excellent. It remains THE entry level Alsatian wine. Spaar's Pinot Blanc Reserve 2005, from Sigisheim, was very good, a fine harbinger for the 2005 vintage. Unfortunately, their 2005 Gewurztraminer was too warm, and so the tasting was not optimum. I could, however, taste those landmark spicy notes that are the hallmark of this grape varietal.
Lanson Champagnes from Reims were a treat. The nonvintage ($32) brut was very nice, medium weight, at 50% Pinot Noir (body and structure), 35% Chardonnay (flavor and elegance), and 15% Pinot Meunier (fruitiness).  The Lanson Ivory Label demi-sec adds 3-4% sugar to the dosage during the wine's fermentation. I  was told again that many of the American public now clearly prefer a sweeter champagne, and this demi-sec responds to that growing demand. I particularly enjoyed the Lanson demi-sec rose, a medium weight champagne that was quite fine and tasty, without bing overly sweet.
Lanson prides itself that its champagnes are sourced from grapes that come to a great extent from Premier Cru or even Grand Cru vineyard sites. They also note that they stop the secondary, or malolactic fermentation each year and for every type of champagne they produce. They state that this style of production produces a somewhat greater acidity and freshness that, they argue, goes better with foods.
I tried other wines, including Hungarian, and some new imports from Georgia, which used to be the leading wine producing region for the former Soviet Union. The Hungarian Torley champagnes are inexpensive entry level, and should improve over time. I have noted that Hungarian white wines from the region of Lake Balaton such as the Grey Friars (Szurkebarat)  have greatly improved since the end of the communist era. For one thing, they no longer are overly acidic (Khruschev's revenge?). The Harslevelu was an interesting white wine, with lots of body and flavor. An Austrian Ice Wine, Wein-Bauer's Premium Eiswein 2004 ($40 for a half bottle) made of Gruener Veltliner grapes, was not overly sweet, and not too expensive for this labor intensive product.
The wines presented were interesting and for many, worth discovering. As noted, the French wine presentations had improved over recent years. But I cannot help but feel that the event has become rather pricey for what one gets. Entry level, fairly inexpensive wines are well represented, but the choice rarely goes beyond that. Possibly the ability to sell wines on the premises would help? There is now, for whatever reason, a clear disconnect between the costs of the exhibition and the wines presented. One doesn't have to go to the real grand vin level. But would it not be possible to have an assortment of medium priced wines, which would guide the consumer to the next level of wine enjoyment? That would be a richer experience for all who love fine wines, or would like to know them better.
---
---