Paris News: No More Kisses for Oscar Wilde Tomb at Pere Lachaise Cemetery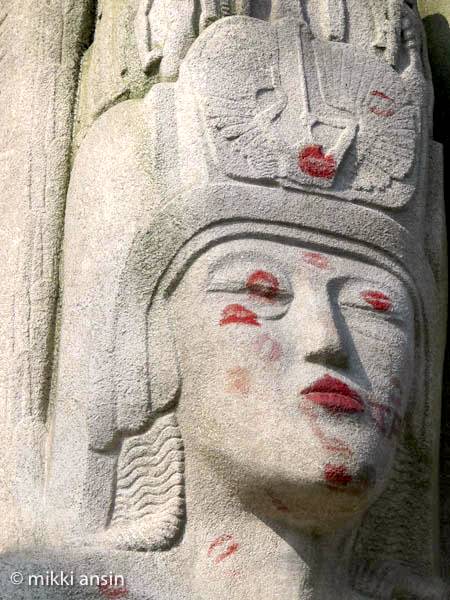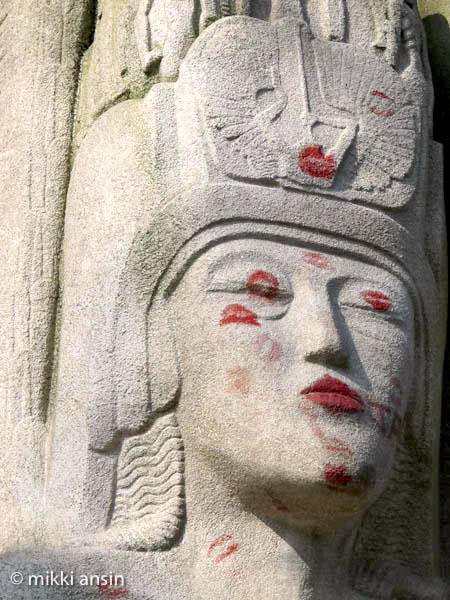 BonjourParis Paris News
Dali Wiederhoft
Paris, November 30—The restored marker at Oscar Wilde's cemetery plot was revealed today at the Père-Lachaise Cemetery in Paris after a deep cleaning to remove lip kisses left by fans.
Actor Rupert Everett spoke at the ceremony and said Wilde was a guiding force in his life. Everett appeared in the popular film adaptation of the Irish writer's play, "The Importance of Being Earnest" and is now writing a book about Wilde's life.
For about 20 years, the marker has been covered in lipstick kisses left by fans. Oil and chemicals in the lipstick were periodically removed from the marker and each abrasive cleaning eroded the surface. Custodians were concerned that one of the world's most popular monuments at the world's most visited cemetery would be destroyed, so a glass partition will now surround the marker.
Today marks 111 years since Wilde died in Paris at what was then a seedy residential hotel. Legend has it that shortly before he died, the writer revered for his quick wit said, "Either these curtains go or I do."
The marker has a new glass partition to protect it. Wilde's grandson and representatives of the Irish organization that funded most of the tomb's restoration joined French dignitaries and actor Rupert Everett in the presentation.
A report in French media noted females left the majority of the kisses, which could be debated considering Wilde's iconic status with fans of both sexes and the height of many of the lipstick kisses.
More Père-Lachaise stories:
Pere-Lachaise: The Communards Wall
Pere-Lachaise Plot: Funeral at Cimetiere du Pere-Lachaise
Five Paris Autumn Walks: Pere-Lachaise, Tuileries, Luxembourg, Buttes Chaumont, Monceau
Travel guide to Cimetière Père-Lachaise
Photography: Kisses for Oscar Wilde
Photo credit: ©Mikki Ansin 2011
Dali Wiederhoft is the executive editor of BonjourParis. Please click on her name to read her bio and more of her stories published in BonjourParis.
Would you like to submit a story or request a story topic? Your stories & ideas welcome.
NEW: exclusive content for subscribers in every newsletter. Subscribe for free.
Featured selections:
Oscar Wilde in Paris: In his last years in London, Wilde's behavior can only be described as reckless. It was as if he was asking to be caught, and eventually he was caught. Yet he had begun his travels happily, visiting France for the first time as a student, then spending his honeymoon in Paris. In frequent trips to the French capital he met well-known writers, feeling at ease with them, and preparing a theatrical career with Sarah Bernhardt – then at the height of her fame. Now the pace of Herbert Lottman's book slows, allowing the reader to follow Wilde's disgrace: his indifference to indictment, his careless attitude toward witnesses who turn against him, as if he did not face a mandatory sentence of two years of hard labor. Then self-exile to France, rejection by literary society, inability to write, poverty and deadly disease…
DVD: Forever: Documentary about Pere-Lachaise cemetery with visit of the renowned Père-Lachaise cemetery in Paris, the final resting place for legendary artists from around the world including Jim Morrison, Oscar Wilde, Frederic Chopin, Marcel Proust and Maria Callas among others. FOREVER introduces us to Parisians and tourists who make pilgrimages to these graves, whether to pay their respects, leave flowers or personal messages, or to tend to the upkeep of the tombstones. They share fascinating anecdotes about the deceased, and relate personal stories about the significance of the artists work in their lives. Very highly reviewed by viewers.
DVD: The Importance of Being Earnest: Called the wittiest play in the English language, this film features strong performances by Colin Firth, Rupert Everett, Reese Witherspoon and Judi Dench.
Leave a reply
Your email address will not be published. Required fields are marked *