BUZZ Extra: Eric Kayser Artisan Boulanger Rises to 15 Years

Maison Kayser marks 15 years since first store in Paris 5th
Eric Kayser's such a huggable chef everyone wants to be one of his Sweet & Savory Tarts. Only joking, that's the title of one of his mouthwatering cookbooks. Now the 4th-generation baker with the Robert Redford looks is celebrating 15 years since he opened his first bakery at 8, rue Monge, Paris 5th.
The lines grew longer each day, people met and married and now their children are lining up to bag the warm pain au chocolat/framboise and his seasonal breads, pastries, jams, even lunching and brunching in his restaurants. Eric now has Maison Kayser outlets all over the world, but the quality is still the same.
"It's all down to the flour," and he grins that grin. He reckons tarts are easy, "you can put anything into a tart."
Today: over 60 Kayser Boutiques around the world
Kayser is a baker of biblical proportions: he feeds the world with his beautiful baguettes at 60 Eric Kayser boutiques, from the Arab Emirates via Senegal, Greece, Lebanon, Morocco, Russia, Taiwan, Ukraine, and NYC in 2012.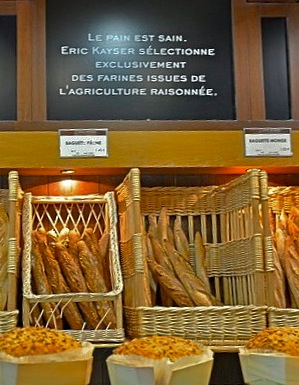 Son, great-grandson and grandson of bakers, Kayser's got yeast running through his veins.
"I've been baking since I was four," he admitted from in the bakery of his eponymous Port de Tolbiac boutique/restaurant, opposite the Seine.
"The secret's in the Fermentolevain machine," he says pointing to a massive tublike object.
"I opened the first bakery on rue Monge, Friday 13th April, 1996," he said with a grin.
"I've created many new recipes but always respect the traditions of my trade learned during five years' apprenticeship with Les Compagnons de France," he explained.
"For the French a day without bread is not possible, it's part of our 'patrimoine,' and as such has place of honor at the table. It's not difficult, good bread is a bit of flour, water, salt, levain, and oodles of love," he added, hauling piping-hot baguettes from the four.
Holiday 2011: the sensational leopard-print Bûche de Noël
Eric Kayser's limited-edition leopard-print Bûche de Noël is not only good enough to eat, you'll want to wear it! You'll be welcome at any seasonal party with this little number. I don't know how "the Kayser" does it. Biscuit chocolat, mousse chocolat noir Ghana 68% plus a touch of crème brûlée au café d'Éthiopie. Place your order from December 16, 2011—48€ for 6 people.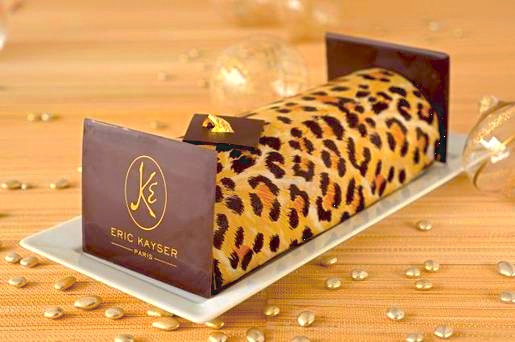 If you're not already a fan, find a Kayser, but make sure you're hungry: there's so much to enjoy—not only bread but quiches, tartes, sandwiches, tuiles, cookies, madeleines, financiers, and sablés, to eat in or take-away. In each bite taste the passion Kayser has for his profession, an artisan with a new idea every time he blinks those twinkling eyes.
77, Quai Panhard et Levassor, Paris 13th
Métro: Bibliothèque François Mitterrand
Shut Sunday
(Check site for 19 Paris-area stores plusFrance & international locations at site)

Margaret Kemp is a British-born Cordon Bleu graduate who traveled the world and worked in the kitchens of the world's top chefs in Australia, Asia, the USA and France before becoming a food and restaurant writer. Her Sunday BUZZ columns feature interviews with prominent chefs plus the latest restaurant and entertainment news published exclusively for BonjourParis Premium Members.
You are reading an excerpt from PREMIUM CONTENT sent first to Premium Members who read our Sunday BUZZ column for the latest top chef news, restaurant openings, trends and happenings in Paris, London, Nice, Cannes, New York and other international destinations. If you're a culinary traveler, please consider an annual Premium Membership with exclusive content and members-only benefits.
Would you like to submit a story or request a story topic? Your stories & ideas welcome.
NEW: exclusive content for subscribers in every newsletter. Subscribe for free.

Direct airport transfer service
PARIS SHUTTLE is a leading Paris airport transfer service. Book your airport transfers in advance online for direct to-your-door service and check the current discount available to BonjourParis readers who book using our link.
Leave a reply
Your email address will not be published. Required fields are marked *