Paris Nightlife Goes Literary: Book Club in Bar, Le Carmen
Paris Nightlife Goes Literary
Picture your typical book club: a few sedate women sitting in circle, discussing a novel with perhaps tea brewing nearby. Now dim the lights, throw in a live jazz band and up the participants to two hundred at an incredible Parisian bar, Le Carmen. This is the new concept imagined by Rosa Rankin-Gee and Jethro Turner, the co-founders of A Tale of Three Cities, a literary review set in Paris, London and Berlin, with its official launch event on Friday, October 28 (details at their Facebook page).
"What books did you bring?"
The question could seem incongruous here, amidst the sex-shops of the Paris 9th. And yet: across the high threshold of an unmarked wooden door, you enter a candle-lit, almost fairytale like décor, with painted ceilings and plaster angels observing the scene from on high. Near the entrance, a human-size birdcage greets guests. Heavy drapes partition the room into intimate alcoves. There is even a bed. Guests pass the beautifully lit bar to find tables near the music, where they are invited to show off what they've brought to strangers and, if both agree, to swap.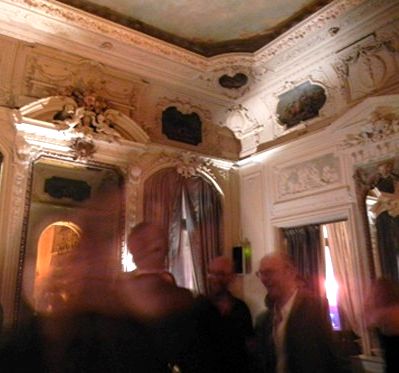 The last Wednesday of every month is book club night at the Carmen. It was at the Carmen, Rosa explains, that Georges Bizet wrote part of his eponymous opera. What a curious little island of literary history in the 9th Arrondissement! The variety of books matches the diversity of the crowd: Glasgow, London, Paris, L.A., New York, Dublin, and Rome. Some attendees are first attracted by the Parisian club aspect. Fédia, a singer from Paris, discovered the concept by chance, while waiting for her sax-playing friend. "The idea of talking about books is very interesting," she says, leaning against one of white pillars supporting the minutely-painted ceiling. "It's better than talking about work, problems or politics."
From Exit Ghost by Philip Roth to The Undomestic Goddess by Sophie Kinsella, the palette of reading is limited only by imagination. Every language is welcome. According to Rosa and Jethro, the crowd splits about 50-50 between English and French speakers. "We don't want it to be an expat thing," Rosa explains. "We want it to be really Parisian in a true sense."
And don't worry about the dress code: there were shorts and flip-flops and no one was kicked out for it. Nonetheless, the majority of those in-the-know (as opposed to ingénue tourists) were dressed for a Parisian night out, from a Claudie Pierlot dress to see-through tops spiced with the occasional lumberjack-style checkered shirt.
The Book Exchange's success increases regularly by word of mouth and great reviews by the New York Times and the Huffington Post, to name just two. Saskya, a friend of Jethro's, has attended all five since the beginning. "Every time, there are more and more people and it's never the same crowd," says Saskya. "There's a solid core but every time, I meet someone new."
A jazz trio a step away from the first tables sets the tone of the evening but not so loud as to exclude conversation. Drinks are neither inexpensive nor obligatory. Swapping books is a great excuse to discover new reads—and also to meet new people.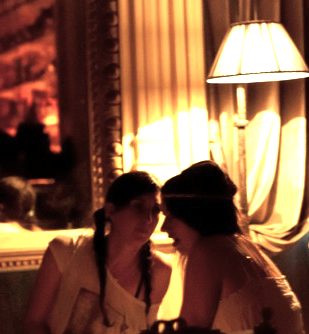 Nisha, a Thai student living in Paris, brought Maus, by Art Spiegelman, which she traded for Foster, by Claire Keegan, with Natasha Fraser, a well-known author and journalist. Kirs in one hand, books in the other, they chatted together on a velour chair. "This sounded good, I liked the cover," explains Natasha. "I would never buy this book. At the book club, you're trusting the taste of someone else."
As the evening progresses, books disappear and a DJ takes the place of the jazz band. The small round tables are pushed aside for dancing. A Champagne bucket snakes across the room toward its destination hidden behind opaque blue curtains. The book club makes way for the nightclub. Outside, a dozen youths stand around, being cool or loitering. One cracks a match to light Jethro's cigarette. Nisha and Rosa launch into a heated but friendly debate about Fight Club (book and film).
At first it's strange to see booklovers and partiers together. Hip bookworms—is that possible? "We're not really hipsters," Rosa says, "We're more litsters."
Book Club by Tale of Three:
The last Wednesday of every month at Le Carmen, 34 rue Duperré, Paris 9th
Eve Zuckerman is the editor-in-chief of L'Inébranlable, named Best French High School Newspaper 2011.  Her earlier story published by BonjourParis was a tale of being Down and Out in St. Pancras International.
Practical information
Le Carmen [bar]
Tél:  01 45 26 50 00
34, rue Duperré, Paris 9th
Métro: Pigalle
Open:  Tues-Sat posted hours vary; 10pm-2am
Photo credits:
@Nisha Somwang
Sign up now for your own free subscription to BonjourParis & we'll send you Wednesday & Sunday newsletters that link to original France travel stories, news, recipes and travel photography. 50 original stories monthly from your most complete online France travel & Francophile lifestyle eZine. RSS feed available.
Look! Olivier Magny of Paris wine bar, O! Château, has a new book:
In the tradition of the New York Times bestseller Stuff White People Like, a tongue-in-cheek homage to Parisians.
To be mistaken for a Parisian, readers must buy the newspaper Le Monde, fold it, and walk. Then sit at a café and make phone calls. Be sure to order San Pellegrino, not any other kind of fizzy water. They shouldn't be surprised when a waiter brings out two spoons after they order le moelleux au chocolat—it is understood that the dessert is too sinfully delicious not to share. Go to l'île Saint-Louis-all Parisians are irredeemably in love with that island. Feel free to boldly cross the street whenever the impulse strikes—pedestrian crosswalks are too dangerous. If they take a cruise on the Seine, they will want to stand outside, preferably with their collar popped up. If they want to decorate, may we suggest the photographs of Robert Doisneau? To truly be cool in Paris, own an iPhone, wear Converse sneakers, and order sushi. And as they stroll through the Luxembourg Gardens, remember, they can't go wrong wearing black.

One-stop shopping for air, hotel & car rental deals:
To rent a car with a 5% discount for BonjourParis.com readers, click Auto Europe Car Rental
To buy international flights, click Auto Europe Flights
Leave a reply
Your email address will not be published. Required fields are marked *