Reims Cathedral Celebrates 800 Years: Reve de Couleurs
Reims Cathedral Celebrates 800 Years: Rêve de Couleurs
Cultural and performing arts festivals are in full swing across most of Europe this summer, but there is one outdoor performance that is more significant and definitely worth making a side trip to see. Called "Rêve de Couleurs" (loosely translated to mean "Technicolor Dream"), it's a dramatically choreographed sound and light show celebrating the 800th anniversary of the magnificent Notre–Dame Cathedral in Reims, a mere 45 minutes from Paris on the high-speed train (TGV) or by car.
A high-definition, cinematographic 25-minute spectacle of light, sound and music, "Rêve de Couleurs" plays every evening starting at 11PM. While waiting for the performance which takes place on the main square facing the Cathedral's façade, visitors to Reims will find more than enough to keep themselves busy during the day.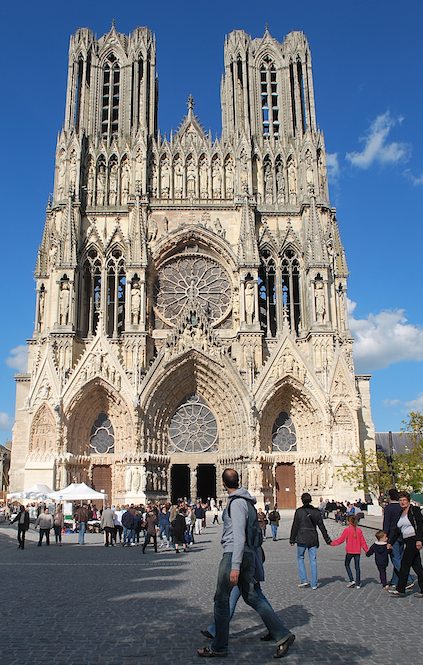 Reims is a city with its roots in the history of France and Champagne. In addition to a cathedral whose style typifies the crowning achievements of Gothic art in Europe (13th-15th centuries), Reims became famous in 498 AD when Clovis was baptized as the first Catholic sovereign on the site. After a major fire, the cathedral was eventually rebuilt beginning in 1211, hence the 800-year anniversary in 2011.
As a followup to its illustrious past, Notre-Dame de Reims hosted the coronations of 25 French kings, including Joan of Arc's crowning of Charles VII in 1429. In 1991, the cathedral was designated a UNESCO World Heritage Site. Furthermore, after the city of Reims was 80 percent destroyed during World War I, American billionaires John D. Rockefeller, Jr. and Andrew Carnegie stepped in to finance the rebuilding of the roof of the cathedral and construct a municipal library in the Art Deco style, respectively. In 1945, the Nazis signed their surrender in Reims. And if that's not enough celebrity status, Reims is the center of the world's most renowned winemaking region, Champagne, with cellars owned by Veuve Clicquot, Taittinger, Ruinart, Mumm, Pommery, and other "grandes maisons" de Champagne whose underground chalk tunnels total 75 miles where the bubbly is stored.
The entire city of Reims has embraced its 800th anniversary party with gusto. Earlier this spring, the city inaugurated a new tram shaped to resemble a Champagne cork. Likewise, events, exhibits and special performances highlight significant moments in the history of the cathedral and the city. There are even art contests with prize money in the category of best video, photo, painting, sculpture and sketches, based on works inspired by the cathedral. Festivities continue until October 23rd.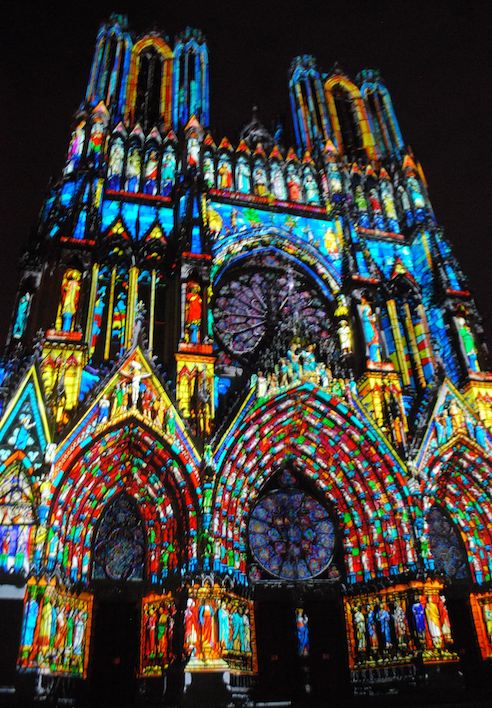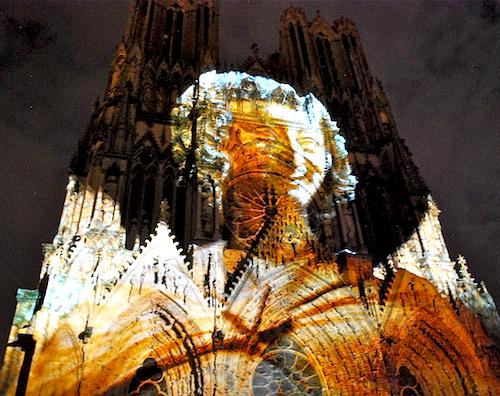 The dazzling sound and light spectacle is a tour de force that captures significant moments marking the history of the cathedral, from vignettes of builders laying the first stones, to famous statuary like the recognizable "Smiling Angel" and Marc Chagall's stained glass windows (installed in the cathedral in 1974). Images splash across the façade of the cathedral while dramatic lights in chromatic patterns and music punctuate the presentation. The production, created by Paris-based Skertzo, integrates architectural elements with mind-bending trompe l'oeil scenes such as a ballet using dancers whose bodies cross the façade gracefully. This metamorphosis of images on the façade of the cathedral gives one the feeling of experiencing a hallucination, or discovering a poem of light.
Notre-Dame de Reims is the oldest medieval cathedral for which we know the names of the architects: Jean d'Orbais, Jean Le Loup, Gaucher de Reims and Bernard de Soissons. She could not have expected a more fitting tribute to her heritage.
Isabelle Kellogg seems to like the Champagne country: her last story for BonjourParis was Champagne and Cuisine at Fresne Ducret.
Photo credits: Photos provided by ©Sonya Stark and publicity materials
PRACTICAL INFORMATION:
For more information and to see a virtual video presentation of Rêve de Couleurs, visit Cathédrale de Reims, the official site dedicated to the 800th anniversary of Notre-Dame Cathedral of Reims, as well as Amis de la Cathédrale de Reims to learn about the art contests. Other helpful sites about Reims are Reims Tourism and France Government Tourist Office.
The show Rêve de Couleurs ended in October 2011.
Isabelle Kellogg has written several stories for BonjourParis about fascinating people and places of France. To read them, please click on her name.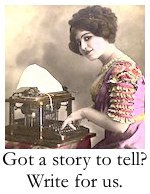 Subscribe for free
weekly newsletters with subscriber-only content.
BonjourParis has been a leading online France travel and French lifestyle site since 1995.
Top 100 France-themed books & more: Readers' Favorites.
Prepare for your travel to Riquewihr and the Alsace region….click on image for details.
Thank you for using our link to Amazon.com…your purchases support our free site.
Leave a reply
Your email address will not be published. Required fields are marked *