Paris Culinary Treasures Tours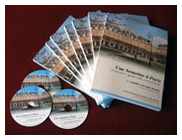 Paris-loving gourmets will want to know about a new, intimately scaled, opportunity to immerse themselves in savoring Paris' culinary treasures—to taste, sip and sample their way through a full-plate of possibilities. Sally Peabody and Allen Kalik, two New England-based Paris-experts have teamed up to offer 15 fortunate guests a tour that will surely get savvy foodies dreaming, even packing their bags. The new Paris Culinary Treasures Tour will take guests to Paris to visit the best French and multi-cultural markets, to taste wines, regional French cheeses, chocolates and the ultimate patisserie. Food-enthusiasts will enjoy visits to the best well-known and lesser-known culinary artisans and their boutiques, dining in bistros and winners chosen for sympathize ambience and excellent cuisine, and a multi-course gastronomic lunch (with wine) at an elite culinary school. The tour will also visit fascinating quartiers full of culinary treasures, including the Marais, the Viaduct des Arts, Batignolles, Montmartre and St. Germain. And, you'll take one day out of Paris to visit Reims to taste Champagne. Peabody and Kalik developed this tour following a highly successful, extreme-budget version they designed for Kalik's Culinary French students from Southern New Hampshire University in May 2004. Kalik, who spends several weeks a year in Paris, and is a fluent French-speaker, loved the contact with artisans, chefs, and the opportunity to explore Paris through a food-lovers lens. He has worked enthusiastically with Your Great Days in Paris, to upgrade the tour to appeal to adult gourmets who appreciate a high value and quality ratio. A ten-day (nine full days in Paris) tour is scheduled for May 5-15 and in October, '05 (dates to be confirmed). This tour would be a marvelous holiday gift for your favorite gourmets! Price: $3,150 including air from Boston, three-star hotel, airport transfers, all tastings and tour-related admissions, breakfast and one multi-course meal a day, ground transportation. Contact
[email protected]
for more information and a full itinerary. —Sally Peabody is an avid Francophile, and a travel advisor and writer specializing in Paris. Her company, Your Great Days in Paris, advises independent travelers on getting to their best in and around Paris—on and off the well-traveled path, with or without expert guides. Sally offers presentations and classes, and writes about French food and culture, Paris neighborhoods, markets and more. Media publishing her work include This City Paris magazine, "The Toronto Globe and Mail", TeaTime magazine, "International Travel News", The Tea Experience Digest, and "International Living". Her custom tours, including Paris Culinary Treasures and French Art of Tea and Savoir-vivre, have been cited in the "San Diego Union Tribune" and the "Boston Globe". Sally has co-authored Une Semaine á Paris, A Traveler's Guide With a Novel Twist with Parisian native and French Teacher Camille Chevalier. Une Semaine á Paris… tells the story of a young couple who plan, organize and enjoy a week in Paris—with a very happy ending. The French story line is accompanied by English translation, and each of the 17 chapters is accompanied by a travel insert that compliments the text (eg. how to decide between hotels and apartments, how to make reservations, how to shop in Paris, what quartier to choose, and more). Contact Sally for more info on this useful book/CD package. Sally founded Your Great Days in Paris in 2003 to pursue her enduring interest in France full time. Prior professional experience included leading a Regional Association of Corporate and Private Grantmakers for ten years, and serving as CEO of nonprofit organizations dedicated to community based services. Sally continues to teach an annual graduate course in Philanthropy at Tufts University. She holds Masters Degrees from Harvard University (Public Policy) and Fordham University (Masters of Social Work), and a BA from Hamilton College. Contact information:Sally PeabodyYour Great Days in Paris5 Chestnut StreetMedford, MA 02155U.S.A. 781-391-6183
[email protected]
website:
www.yourgreatdaysinparis.com
SUBSCRIBE
ALREADY SUBSCRIBED?
BECOME A BONJOUR PARIS MEMBER

Gain full access to our collection of over 5,000 articles and bring the City of Light into your life. Just $60 a year.

Find out why you should become a member here.

Sign in

Fill in your credentials below.
Paris-loving gourmets will want to know about a new, intimately scaled, opportunity to immerse themselves in savoring Paris' culinary treasures—to taste, sip and sample their way through a full-plate of possibilities. Sally Peabody and Allen Kalik, two New England-based Paris-experts have teamed up to offer 15 fortunate guests a tour that will surely get savvy foodies dreaming, even packing their bags. The new Paris Culinary Treasures Tour will take guests to Paris to visit the best French and multi-cultural markets, to taste wines, regional French cheeses, chocolates and the ultimate patisserie.


Food-enthusiasts will enjoy visits to the best well-known and lesser-known culinary artisans and their boutiques, dining in bistros and winners chosen for sympathize ambience and excellent cuisine, and a multi-course gastronomic lunch (with wine) at an elite culinary school. The tour will also visit fascinating quartiers full of culinary treasures, including the Marais, the Viaduct des Arts, Batignolles, Montmartre and St. Germain. And, you'll take one day out of Paris to visit Reims to taste Champagne.
Peabody and Kalik developed this tour following a highly successful, extreme-budget version they designed for Kalik's Culinary French students from Southern New Hampshire University in May 2004. Kalik, who spends several weeks a year in Paris, and is a fluent French-speaker, loved the contact with artisans, chefs, and the opportunity to explore Paris through a food-lovers lens. He has worked enthusiastically with Your Great Days in Paris, to upgrade the tour to appeal to adult gourmets who appreciate a high value and quality ratio.
A ten-day (nine full days in Paris) tour is scheduled for May 5-15 and in October, '05 (dates to be confirmed). This tour would be a marvelous holiday gift for your favorite gourmets!
Price: $3,150 including air from Boston, three-star hotel, airport transfers, all tastings and tour-related admissions, breakfast and one multi-course meal a day, ground transportation. Contact
[email protected]
for more information and a full itinerary.
—
Sally Peabody is an avid Francophile, and a travel advisor and writer specializing in Paris. Her company, Your Great Days in Paris, advises independent travelers on getting to their best in and around Paris—on and off the well-traveled path, with or without expert guides. Sally offers presentations and classes, and writes about French food and culture, Paris
neighborhoods, markets and more. Media publishing her work include This City Paris magazine, "The Toronto Globe and Mail", TeaTime magazine, "International Travel News", The Tea Experience Digest, and "International Living". Her custom tours, including Paris Culinary Treasures and French Art of Tea and Savoir-vivre, have been cited in the "San Diego Union Tribune" and the "Boston Globe".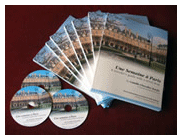 Sally has co-authored Une Semaine á Paris, A Traveler's Guide With a Novel Twist with Parisian native and French Teacher Camille Chevalier. Une Semaine á Paris… tells the story of a young couple who plan, organize and enjoy a week in Paris—with a very happy ending. The French story line is accompanied by English translation, and each of the 17 chapters is accompanied by a travel insert that compliments the text (eg. how to decide between hotels and apartments, how to make reservations, how to shop in Paris, what quartier to choose, and more). Contact Sally for more info on this useful book/CD package.
Sally founded Your Great Days in Paris in 2003 to pursue her enduring interest in France full time. Prior professional experience included leading a Regional Association of Corporate and Private Grantmakers for ten years, and serving as CEO of nonprofit organizations dedicated to community based services. Sally continues to teach an annual graduate course in Philanthropy at Tufts University. She holds Masters Degrees from Harvard University (Public Policy) and Fordham University (Masters of Social Work), and a BA from Hamilton College.
Contact information:
Sally Peabody
Your Great Days in Paris
5 Chestnut Street
Medford, MA 02155
U.S.A.
---
---