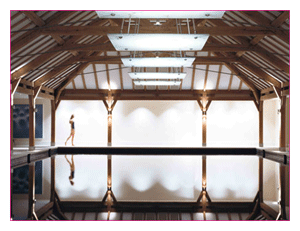 Every so often I have the urge to get back to my roots. I'm not talking about the great job Corinne does touching up the grey with frightening frequency, but my grass roots. Britain's green and pleasant. Having heard great reports of The Grove, I decided I must get out more (of France) and so dear reader I checked into the Earl of Clarendon's former pile.
Actually you should read, Earls of Clarendon, they were a prolific bunch, probably not having much else to do before the days of plasma screen TVs, the birth of Kyle Phillips (who designed the 18-hole championship/textbook/picture perfect golf course), ESPA treatments at the Sequoia Spa, indoor black ozone friendly swimming pools, vitality pools, jacuzzis, heli-pads, ISDN, CVD, CD–you get the picture.


Anyway, just to impress you with a bit of history and culture, you should know that just 40 minutes from London, located in 300 acres of Hertfordshire parkland, paradise awaits. The house's history (think chateau, but this is England darling, everything is understated) goes back to 1753. Thomas Villiers , (they may have named the metro-station after him, I'm not sure), Earl of Jersey, British Ambassador to France, is registered as the owner. In 1776 Villiers is dubbed 1st Earl of Clarendon and The Grove becomes a meeting place for the likes of 18th century equivalents to Kate Moss, Naomi, Damian Hirst , Tracey Emin. George Stubbs (1724-1806) painted some of his famous horses here, having legged it from his home in Edgware (which is where I come from!).




Now here's what a lot of people don't know; this is where the weekend started! No, not just any old weekend but, the weekend. Until the 17th century, weekends as such were unknown. Then invitations to The Grove became fashionable, guests would drive down from London on Saturday, returning on Monday. Et voila! You know the rest. HM King Edward V11, Lord Palmerston, Vita Sackville-West and the above mentioned Stubbs would be well impressed with the recent transformations. And so will you.




It's now owned privately, by a family with a French Connection. "We want The Grove to be an easy option, whether our guests are here to work, rest, for a special occasion, to play golf or just chill in the spa. We want to provide the perfect balance between formality and fun, classic and contemporary, city and country," they explain.




Two rivers run through the 300 hundred acres, The Gade and The Grand Union Canal. There is also a walled garden, with grass tennis courts, rose gardens, water parterre, a croquet lawn, bucolic meadowlands for picnics, a wetland area, beehives, two lakes and one donkey! The fragrant formal gardens are by Michael Balston, the Chelsea Gold Medallist and Judge, and judging the results, they are stunning, look like they've been there for ever. The owners are art lovers/collectors, and The Grove is punctuated with stunning sculptures, must-have works of art that you want to rip off the walls, dig up, even offer to buy, everything blending perfectly with the landscape inside and out.




The Earl's stable block (listed, of course) is now home to Sequoia, a super-spa that thinks it's in Asia. Think a unique menu of treatments such as The Sequoia Journey, Sequoia Signature Ritual, Golfer's Retreat Break, The Sequoia Suite Escape (for couples and partners). Vicky, who I met in the sumptuous state-of-the-art changing room, told me she was there with her future husband. "He proposed last night in Colette's, we're hoping to have our wedding here," she blushed.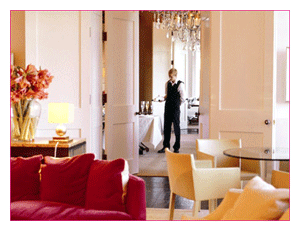 Colette's? That's the gastronomic restaurant, with stunning views over the rolling green and pleasant, named in homage to the owners' French mother. In a modern setting, with 18th century touches, they are creating sensational modern cooking with a classic spin. The chef, Chris Harrod, trained at Raymond Blanc's Le Manoir aux quat'Saisons, and the Maitre d'hotel comes from Ducasse's, Louis XV. Perhaps try a terrine of baby leeks with Scottish langoustines, for starter. Roasted Gressingham Duck, with date and tamarind sauce, for a main. Finish with a passionfruit soufflé, with coconut sorbet. Go for an English wine from the Nyetimber Vineyards, Sussex. "HM Queen serves their champagne at official functions," reveals Maitre d'hotel Loic Thomas. Quirky, n'est pas?"




As well as Colette's, there's The Glasshouse where the bar buzzes and the restaurant serves a sumptuous buffet, breakfast, lunch and dinner. The Stables is perfect for lunch, and The Stables Bar seems to serve as an unofficial 19th hole! If you want to do afternoon tea, sink into the plush sofas in one of the four elegant drawing rooms where cream cakes, sandwiches, scones and Earl Grey are served to perfection—almost as delicious as the decor.




"We call the interior 'groovy grand'," says Martin Hulbert, design director of Fox Linton Associates, the British design company. So many things have influenced the concept: the perfumes from the garden, roses, lavender, honeysuckle, as well as the tastes of the best English food, herbs and vegetables from the kitchen garden, the touch and feel of soft, rich textured fabrics. Inside the mansion there's a rich palette of colours and fabrics, as well as the astonishing art collection.




"Installing a plasma screen above a marble fireplace, placing a French Empire chest of drawers alongside a glass four-poster bed, suspending silk curtains from a Perspex pole above a window with a bucolic view—this is my way of fusing modern technology, historical culture, urban chic and rural peace. It's very different, no?" Yes, Martin, it is.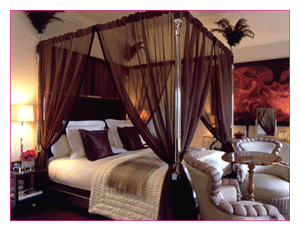 So where will I sleep? Hmm. In the main house there are 27 bedrooms and suites, three styles of bedroom—classic, contemporary and downright decadent. Some have open working fireplace; all have four-poster beds fit for kings/queens and the likes of us. Mine was topped with ostrich feathers!




In the new West Wing, Martin brings the landscape into the interior, incorporating detailed photographs of leaves from the estate's trees on cupboard doors, backlit to spectacular effect. Go figure about the attention to detail in this Grove. I counted 16 white fluffies in my white marble bathroom; that's not including two robes—one cotton, one towelling—and zillions of products, from The White Company, the better to pour into my square marble tub, or anoint myself before taking a deluge shower.





When The Grove was placed on the market some years ago, The Times newspaper published a letter, mourning the passing of "one of the great political houses of the 19th century". It's obvious that when The Grove re-opened in September 2003, with the new West wing, designed by architects Fitzroy Robinson, the life and buzz returned to one of the most fashionable and exciting homes in the UK, the next era of the house's colourful history begins. You must be there to see it.




The Grove,
Chandler's Cross,
Hertfordshire, WD3 4TG
www.thegrove.co.uk



T: 00 44 1 923 807 807