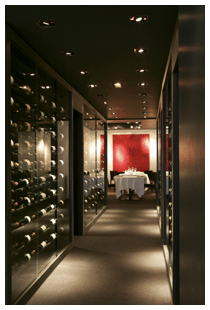 Superchef Guy Savoy has been doing a bit of a Leonora Helmsley at his new canteen Chiberta. Well, not actually sleeping on the tables but: "I have sat at all of them to make sure they are perfect," he explained one day last week. This is Savoy's fifth restaurant, and he's proud and excited, not only by the project, but also about the fact that his son, Frank Savoy, has joined the firm as front-of-house director. I was almost expecting to see "Savoy & Son" over the state-of-the-art portals! 


 

Located at the top of the Champs Elysées, Chiberta boasts a rich history, chic and cher, since its opening in 1932. It was a pure Art-Deco style building, named in homage to the Golf de Chiberta, arguably one of the most beautiful courses in France, set in the heart of Basque country, a truffle's throw from Biarritz. Alert readers will remember I mentioned it in a recent Buzz about one of Chiberta's former superchefs, Philippe da Silva, presently at his own hotel/restaurant in the Var, Les Gorges de Pennafort.


 

Open since last September, Savoy's concept is a restaurant between his 3-star Michelin eponymous space and the more relaxed Butte Chaillot, L'Atelier de Maitre Albert and Les Bouquinistes–addresses to note, where the quality and service is always top niveau, and the prices won't break the bank. Whereas, attention my dears, the 3-star is… Well, it's 3-star prices, what do you expect? With Savoy you pay your money, you makes your choice.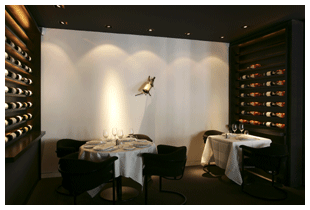 Once again, Savoy has worked with architect Jean-Michel Wilmotte (The Wall of Peace, the furniture on the Champs Elysées, the Viaduct des Arts, Savoy's rue Troyon restaurant and L'Atelier de Maitre Albert). You coulda href="http://www.autoeurope.com/showspecial.cfm?aff=bonjourparis" mce_href="http://www.autoeurope.com/showspecial.cfm?aff=bonjourparis" target="_blank" rel="nofollow">

eat at Chiberta twice a day; because of the lighting and the use of blinds, the aspect is totally different. Also you could do, say, the sexy black corian bar, perched on a high stool, for lunch and either the front room, with its black and white décor and Bertrand Lavier's stunning black and white daubing for backdrop. Or, pass by the wine wall and opt for the red room, at the rear, punctuated with art work by Gérard Traquandi. Now it's supposed to be at the bar where one smokes, so I do wish they'd had the guts to point this out to Winston Churchill (apparently he ate here in Chiberta's former life) puffing like billy on a Cuban fire-stick. The suave and efficient co-director, Jean-Paul Montellier (ex-Guy Savoy, The Bristol) was embarrassed, offered to change the table, put on air-conditioning, but wimped out on telling Winston where to extinguish his cigar!


 

So who's in the kitchen? Probably

Savoy

more than you think. He forms his chefs and then gives 'em their heads to show their talent. And this they are doing; it's superb. William Caussimon (ex-Bookinistes), Gilles Chesneau (ex- Guy Savoy) and Eric Coisel, a disciple of Senderens who was formerly cooking at…Chiberta!  The starter—Crème de langoustine et carottes "citronelle-gingembre" with a crunchy beignet d'herbes (25€)—is already considered a "classic de la maison".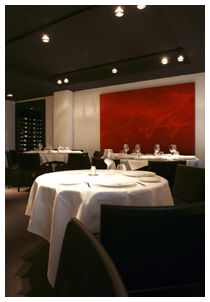 The ladies who do will love the healthy "tourteau granny-céleri" salade of beetroot and spicy crustacé oil . Mains include Noix de Coquilles Saint-Jacques with a tantalising tangle of citron confit (39€); Sesame caramelised Daurade Royale, buerre blanc ua curry; Saint-Pierre cooked on the bone; Côte de Boeuf Simmenthal, (for 2 it's 70€); Jarret de Veau "confit-braisé" (30€); and Marmite de ris de veau with truffled legumes oubliés (38€). Mmmmmm.


 

Cheese from Alleosse—not a huge selection, just two seasonal delights, La Tomme de Laguiole & Saint-Marcellin, last week, served with a crunchy salad. Forget the Fondant chocolat au pralin feuilleté et chicorée, the portion is too small. Ditto la terrine de pamplemousse, sauce au thé, too healthy, perfect one for the LHL's. Poire pochée au épices, ganache noisette et sorbet poire, perhaps. But, Le Baba "rhum-ananas" is stunning. Be greedy like Stanislas Leszcsynski, the Polish king exiled in France, who invented this wild and wonderful fantasy (when it's made correctly, as it is chez Savoy by uber-patissier Hugues Pouget). Stan is said to have named it after his all-time fave hero Ali Baba.


 

This week's Buzz heroes are Savoy & Son, and the enthusiastic team. "Cooking is the art of instantly and joyfully transforming products charged with history," comments Savoy. We'll drink to that, and note darling, not all the wines are off-the-charts expensive. Selected by Savoy and Montellier, displayed on the wine-walls, try a Viognier (G. Vernay) at 46€, a Chateau de Pibarnon 2000 55€, an excellent Maranges, Contat Grangé 38€. Or, if you're driving, shopping or otherwise not in the mood, by the glass from 8€.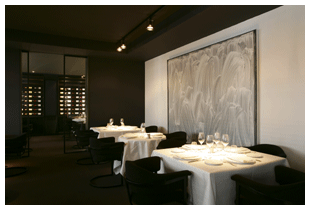 60€ menu
Menu Degustation 100€ + A La Carte.
Le Chiberta avec Guy Savoy,
3 rue Arsène-Houssaye, 8th. Metro Charles de Gaulle, Etoile.
T: 01 53 53 42 00
Shut Saturday lunch & Sunday.


 

Head Office:
18 rue Troyon (you only live once!),
T: 01 43 80 40 61

L'Atelier Maitre Albert,
1 rue Maitre Albert, 5th
T: 01 56 81 30 01


 

La Butte Chaillot
110bis Avenue Kléber, 16th
T: 01 47 27 88 88

Les Bouquinistes
53 quai des Grands Augustins, 6th
T: 01 43 25 45 94


 

And you should know:
If you're sick to death of lining up outside Pierre Hermé's rue Bonaparte boutique, you can now join the line outside his atelier on rue de Vaugirard. "It's the same recipes, only the décor is different (bon-bon tones by Christian Biecher). Hermé tells Buzz that he loves this place, a former famous patisserie that he used to visit when he was an apprentice chez Gaston Lenôtre.

185, rue de Vaugirard, 15th (Metro: Raspail)
T: 01 47 83 89 96.


 

The most fun you can have with your clothes on is to go the The Meurice where Philippe Abergel's "Muse et Musées" is a sensational prelude to a wonderful evening. Until 23rd December, drool over the daring photographs and sip a Shirley Temple in The Bar Fontainebleu.


228, rue de Rivoli, 1st (Metro: Tuileries)



---
Born in Britain and now based in Paris, Margaret Kemp graduated from The Cordon Bleu and spent a year working and watching in the kitchens of top chefs from Sydney, Australia via Bangkok, Hong Kong, California, New York and France. Realising she would never win the coveted 3-Michelin stars, she decided to write about the people who do, the "disciples of Escoffier."