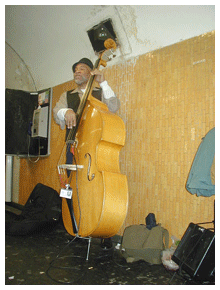 The Paris metro is filled with musicians: accordion players that sing as they walk from metro car to metro car, saxophone players wailing one-man standards—even fifteen piece orchestras find their corners in various stations to play Beethoven, Stravinsky, and others. And you, if you are anything like me, walk by them at a quick, steady pace. The metro, with its bustling corridors, mostly grimy chairs, and musical acts, are blurred fixtures in your day on-the-go.
Well, that all changes when you go to the metro to look for something or someone, instead of simply passing through it. Recently, I went in search of a jazz bass player named Farris Smith Jr. Most people, if you ask, will say they have heard of him or have seen him once or twice. But no one knows for sure. After wandering around the web-like halls of Châtelet for quite some time, I decide to ask the 'locals' for advice. The two men at the information desk chuckle, say they have never seen a man with a contra bass, and eye me suspiciously as I walk away. The boulangerie worker shakes her head and turns to serve a paying customer. The flower man, wincing with some vague recollection, tells me to try downstairs. Mr. Smith, however, is nowhere to be found.
If I only I had known to look at Mr. Smith's website first. Yes, that's correct. Mr. Smith has a website, which provides an extensive list of past and upcoming gigs—with pictures—as well as recordings, a detailed biography, and sporadic journal entries. In addition, it lists Mr. Smith's cell phone number, where he can be reached twenty-four hours a day. So, I call him, and he explains when and where I can find him: 11:30 AM, Châtelet, by the fruit stand where the RER connects with the metro.
Sure enough, as I approach the corridor I hear a saxophone and bass swinging away. The sax player, I discover, is Gulliver. He has been a metro badge holder for over ten years. Mr. Smith, however, is only in his second year. This, perhaps, may be another shock to you, namely that the musicians in the metro must all be certified badge holders. And to be a badge holder, one must apply and audition. The application is fairly straightforward but for the audition, the musician(s) must play three or four songs for a panel of metro employees. If all goes well, you receive your badge directly after the audition, which permits you to perform in any metro station in Paris (except Les Halles) for the next six months. At this point, all earnings are tax free, since the musician is technically, according to the state, a beggar.
While Gulliver seems to be a bit tired of the process and the mostly unventilated metro stations, Mr. Smith, who promptly tells me to call him Farris, is full of optimism and spunk. "Playing in the metro," Farris explains, "gives you a taste of the best and worst of humanity." Although many people simply walk by without a glance or any other remote sign of acknowledgement, others smile, some stop to listen. And many, according to Farris and Gulliver, drop a coin or two as they pass by. Farris says he loves the regulars, and has made many friends in the station. He likes the fact that, between 8 and noon, next to the fruit stand, they know he will be playing, and he knows they will be passing.
While we converse, a middle-aged Frenchman, clearly a Châtelet regular, saunters up and asks to buy a CD. As Farris searches his bag for a spare, the man explains to me that he enjoys Farris' music very much, but he also likes his style and the dignity with which he carries himself. Farris smiles with gratitude, realigns his black vest and matching cap, and shakes the man's hand.
Farris grew up in the San Francisco Bay Area, has played all over the world, and moved to Paris two years ago. He learned the fundamentals of piano as a young child, plays the guitar and the oboe, and has learned an extensive repertoire of vocals to accompany his contra bass. In addition to his metro routine, Farris also regularly plays in jazz clubs all over Paris, primarily in a jazz-fusion septet. Paris, he explains, allows him to have his own voice. Unlike in California, he does not feel the need to promote himself as a nouveau Charles Mingus or a Ray Brown protégé. He can be Farris, with his own type of groove and his own niche in the Châtelet metro station.
Farris Smith Jr.
www.farrisjazz.com
cell: 06.98.42.52.34
---
Julia Spiegel, a third year undergraduate at Stanford University, is majoring in Political Science and Economics. She is currently studying in France to learn about the building of the European Union and French political life, and aspires to do work involving international relations and human rights promotion. She is also a jazz trumpet player and president of the Stanford Jazz Orchestra.