Paris Bookshops: Galignani, Red Wheelbarrow, Shakespeare, Village Voice, WH Smith & More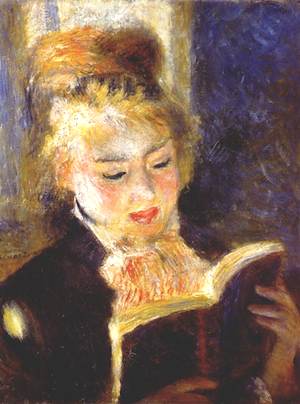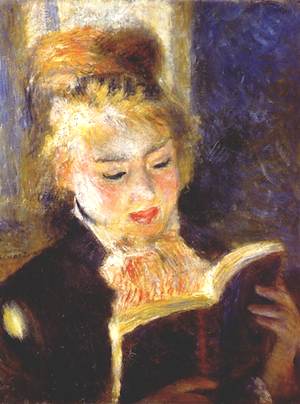 One of the most popular paintings in the Musée d'Orsay is by Renoir; it shows a woman reading a book. She holds the book up close to her face (she is probably as short-sighted as I am) and appears utterly absorbed. You can buy images of this painting on postcards and souvenirs of all kinds. And it is hard to think of a 19th-century painter who did not paint somebody reading. Mary Cassatt, Monet, Manet, Corot—all were enchanted by the image of someone lost in a book.
You can still see constant readers in the City of Light. Practical as the iPad may be for simply getting one's daily dose of information, there is nothing like settling in with a real book at a café table to get into the spirit of Paris, even in the 21st century. The city abounds in bookstores, many of them offering books in English, not to mention readings, signings, and other get-togethers. Here are a few of the best.
Red Wheelbarrow:
Best place to meet people and get book recommendations
When you enter The Red Wheelbarrow, you will probably encounter a cluster of people around the sales desk, chatting. This compact boutique in the Marais is a good place to go for readings and signings that bring together English speakers in Paris (mystery writer Cara Black was there earlier this year). It offers an extraordinary selection in a small space, but the confined quarters often mean that you bump into other people, and that leads to conversations, which sometimes lead to further exchanges in a nearby café, and so on. The table near the front always has a selection of novels and biographies related to Paris.
22, rue St-Paul, Paris 4th
Métro: St-Paul
Open: Monday 10am-6pm; Tuesday-Saturday 10am-7pm; Sunday 2-6pm
W.H. Smith:  Biggest Paris Bookseller of English-Language Books
Down the street from Galignani, W.H. Smith claims to be the largest English-language bookstore in France, albeit a newcomer relative to Galignani (it was founded in 1903). It caters to all tastes…quite literally, since the shop sells hard-to-find British and American foods on the upper level in addition to books. It has an excellent selection of books for children.
248, rue de Rivoli, Paris 1st
Métro: Concorde
Open: Monday-Saturday 9am-7pm; Sundays & bank holidays 12:30-7:00pm
La Belle Hortense: Best place to read with a drink in hand
La Belle Hortense is a wine bar with a bookstore attached. Or is it a bookstore between a wine bar at the front, full bar at the rear? Who cares, really? The books may be in French, but the wine speaks to all languages, and you can bring your own reading material as you settle into the comfy back room with its wall of shelves. It's probably the only bookshop open every night from 5 p.m. until 2 a.m.
31, rue Vieille du Temple, Paris 4th
Métro: Hotel de Ville
Open: daily 5pm-2am
Librairie Galignani: Most historic
The Librairie Galignani is, despite its Italian name, the oldest English-language bookstore in Europe, founded in 1801. It is large and deep, with floor-to-ceiling wooden shelves and upper levels reached by a staircase. But it has moved with the times and now offers a good online shopping service.
224, rue de Rivoli, Paris 1st
Métro: Tuileries
Open: open Monday through Saturday from 10 am to 7pm.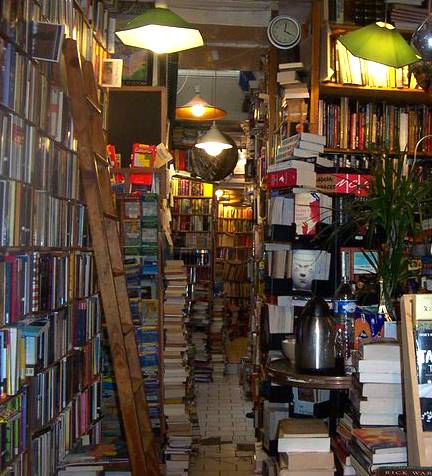 Abbey Bookshop: Best second-hand book selection
Abbey Bookshop sells both new and used books, but is probably your best bet for that out-of-print gem you've been searching for. There is also an e-mail message service and Facebook page that bring together residents and visitors for group events that include hikes in and around Paris, including the first World War battlefields.
29, rue de la Parcheminerie, Paris 5th
Métro: Cluny-La Sorbonne
RER: St Michel
Open: Monday-Saturday 10am-7pm
Librairie du Moniteur: Best for Paris architecture and design
Librairie du Moniteur has three branches: one at 17, rue d'Uzes, Paris 2nd, one at 7,place de l'Odéon in the Paris 6th, and one inside the Cité de l'architecture et du patrimoine in the Palais de Chaillot, Paris 16th. The third is your best bet for the widest selection of titles in English on Paris itself – its development over the years, its streets and buildings, its architects, and designers. You can take your purchases to read in Café Carlu, the museum café with Philippe Starck–designed tableware and its stunning view over the Seine towards the Eiffel Tower.
Métro: Trocadéro
Open: Wednesday and Friday-Monday 11am-7pm and Thursday 11am-8pm (closed Tuesdays)
Artcurial: Most elegant
Artcurial is an auction house that incorporates an extensive art bookstore and a pleasant café in a gorgeous Champs-Élysées mansion. The books, on subjects ranging from fashion to city design to photography, are mostly in French, but some English or bilingual titles are available. And since many of the books contain copious illustrations, language is less of an issue.
7, rond-point des Champs-Élysées, Paris 8th
Métro: Franklin D. Roosevelt
Open: Monday-Friday 10am-7pm; Saturday 11am-7pm
Shakespeare & Co. and The Village Voice: Classic Favorites
Of course, Shakespeare & Company is still going strong at 37, rue de la Bûcherie, Paris 5th (Métro: St-Michel), as is The Village Voice at 6, rue Princesse, Paris 6th (Métro: Mabillon). These too offer readings, signings, and literary events, so check the websites.
And when you have found an enjoyable book to read, and a pleasant place to curl up with it, perhaps an artist will come along and immortalize you, like Renoir's short-sighted young woman!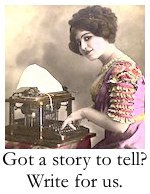 PHOTO CREDITS: 

2CV at Red Wheelbarrow ©Norman Ball and

La Belle Hortense

©STML

cc license. Abbey Books and Arcutorial photos are publicity photos.
Philippa Campsie, with her husband Norman Ball, writes the blog Parisian Fields that covers everything from Paris history to today's street scenes. Please click on her name to read more of her stories published here and to learn more about her.

Subscribe for
FREE

weekly newsletters with subscriber-only content.
BonjourParis has been a leading France travel and French lifestyle site since 1995.
Readers' Favorites: Top 100 Books, imports & more at our Amazon store


Update your library…click on an image for details.
Thank you for using our link to Amazon.com…we appreciate your support of our site.
Leave a reply
Your email address will not be published. Required fields are marked *