The Paris 6th: Favorite St-Germain-des-Pres Hotels
Most people who live in Paris have a favorite neighborhood and once they've bought or leased an apartment there, don't even try to persuade them other quartiers exist for living. Parisians tend to stay close to home unless visiting friends, shopping or trying a hot, new restaurant just opened in another part of the city—that'll send them hightailing it across town without a second thought. Parisians and "wannabes" can be rigid. As soon as they've become "best friends" with the neighborhood butcher, baker, cheesemonger, dry cleaner, grocery store that delivers, and wine store where the salesman advises them about a little-known wine that happens to be a bargain, most people put down roots. When they become regulars at a café and what they'd order is in front of them before they open their mouths, forget it. They'll do nearly anything to remain in that neighborhood, even if they move around the corner to bigger or smaller digs. Remember, Paris is made up of villages. Left Bank people rarely move to the Right Bank and vice versa. When people query me about where they should stay when coming to Paris, I usually select a hotel that's near me since that's where I feel the most comfortable. But, there are other neighborhoods and when opportunity presents, I try to spend time exploring them as if I were a local. Okay: I love the Saint-Germain-des-Prés area in the Paris 6th. It's an exciting and hopping place without much need to speak French because merchants are accustomed to speaking English with foreign visitors who are everywhere. Venturing to the
Marché rue de Buci
is always fun. You can buy fruits, cheese, vegetables and so much more for the perfect picnic if you're in the mood to wander to a park or sit on the banks of the Seine. Some streets have been turned into pedestrian walkways that beg explorations and you'll find café after café cascading down streets where people gather to meet, eat, see and be seen. This part of the 6th is filled with art and antique galleries and if you're in the mood to buy clothes or jewelry, you won't have to look far. Some must-sees: Église de Saint-Germain-des-Prés (it has wonderful concerts). If you want to sit where the literary writers gathered, stop at
Les Deux Magots
and
Café de Flore
—bring money and expect waiters who have been known to be impatient because they see tourists coming and going. The Place de Furstenberg is where you'll find the small museum where Eugène Delacroix (1798-1863) lived, a haven of calm in the midst of what often feels like a frantic area. Two more personal favorites are wine store
La Dernière Goutte
, which has tastings most Saturday afternoons, and wine bar/restaurant Fish Boissonnerie. They're both owned by the same people and don't worry if your French is less than perfect because Juan is American and Drew is from New Zealand. Here are some favorite hotels in the area. Please note: All have air-conditioning, Internet and can be accessed by Métro stops Saint Germain, Odéon or Mabillon. Hotel de Buci Renovations at this hotel wrapped at the end of May 2011 and the 24 rooms (including suites) appeal to those who prefer classical décor to modern chic. If you like canopy beds and soft upholstery, this hotel is for you. Madison Hotel Many people like The Madison, housed in a 19th century former mansion, because its rooms tend to be somewhat larger than other Left Bank hotels. The 50 rooms are decorated in a combination of contemporary and classical furniture. If you ask, you may score a room overlooking Église de Saint-Germain-des-Prés. Photo credit: Madison Hotel © Al Lada Artus Hotel This 27-room hotel attracts clients who want a more contemporary look and feel.  If you crave a sauna and a massage after a day of sightseeing and more, consider booking at this boutique hotel. L'Hotel I've always wanted to stay here because it's totally unique and no two rooms are alike. Designed by Jacques Garcia, it's a showstopper. In addition to having a one-star Michelin restaurant (plus one of the most romantic bars in Paris), there's a tiny pool in the hotel's basement. Reservations are required because the pool accommodates only two people. Oscar Wilde died at this hotel. If he'd seen today's current prices, he might have checked out earlier. La Villa Saint-Germain-des-Prés Anyone who's walked down the Rue Jacob knows it's hard to get from here to there without stopping every five steps to admire the windows of many stores and galleries. La Villa is simply but elegantly designed in a contemporary fashion. It's a hidden gem that may have your (reservation) name on it. Hôtel D'Aubusson If you'd like to stay in a 17th century mansion that's been updated to today's standards, voilà. Friends of mine who do wouldn't stay elsewhere. They like the rooms and the fact there's an interior patio where you can relax and think your own Parisian thoughts. During winter months, there's a enormous stone fireplace in the lobby where people gather to warm up or wait until they're ready for another expedition. The Café Laurent is especially enticing. It's a welcoming place to have a cup of…
SUBSCRIBE
ALREADY SUBSCRIBED?
BECOME A BONJOUR PARIS MEMBER

Gain full access to our collection of over 5,000 articles and bring the City of Light into your life. Just 60 USD per year.

Find out why you should become a member here.

Sign in

Fill in your credentials below.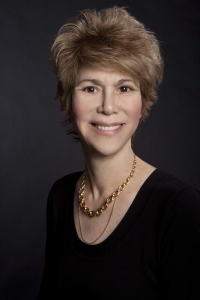 Most people who live in Paris have a favorite neighborhood and once they've bought or leased an apartment there, don't even try to persuade them other quartiers exist for living. Parisians tend to stay close to home unless visiting friends, shopping or trying a hot, new restaurant just opened in another part of the city—that'll send them hightailing it across town without a second thought.
Parisians and "wannabes" can be rigid. As soon as they've become "best friends" with the neighborhood butcher, baker, cheesemonger, dry cleaner, grocery store that delivers, and wine store where the salesman advises them about a little-known wine that happens to be a bargain, most people put down roots.
When they become regulars at a café and what they'd order is in front of them before they open their mouths, forget it. They'll do nearly anything to remain in that neighborhood, even if they move around the corner to bigger or smaller digs. Remember, Paris is made up of villages. Left Bank people rarely move to the Right Bank and vice versa.
When people query me about where they should stay when coming to Paris, I usually select a hotel that's near me since that's where I feel the most comfortable. But, there are other neighborhoods and when opportunity presents, I try to spend time exploring them as if I were a local.
Okay: I love the Saint-Germain-des-Prés area in the Paris 6th. It's an exciting and hopping place without much need to speak French because merchants are accustomed to speaking English with foreign visitors who are everywhere.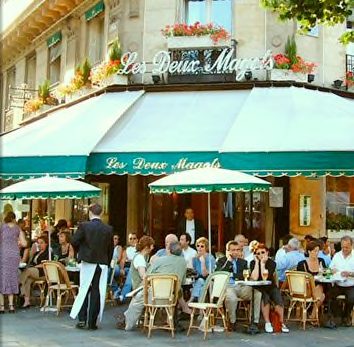 Venturing to the Marché rue de Buci is always fun. You can buy fruits, cheese, vegetables and so much more for the perfect picnic if you're in the mood to wander to a park or sit on the banks of the Seine.
Some streets have been turned into pedestrian walkways that beg explorations and you'll find café after café cascading down streets where people gather to meet, eat, see and be seen.
This part of the 6th is filled with art and antique galleries and if you're in the mood to buy clothes or jewelry, you won't have to look far.
Some must-sees: Église de Saint-Germain-des-Prés (it has wonderful concerts). If you want to sit where the literary writers gathered, stop at Les Deux Magots and Café de Flore—bring money and expect waiters who have been known to be impatient because they see tourists coming and going. The Place de Furstenberg is where you'll find the small museum where Eugène Delacroix (1798-1863) lived, a haven of calm in the midst of what often feels like a frantic area.
Two more personal favorites are wine store La Dernière Goutte, which has tastings most Saturday afternoons, and wine bar/restaurant Fish Boissonnerie. They're both owned by the same people and don't worry if your French is less than perfect because Juan is American and Drew is from New Zealand.
Here are some favorite hotels in the area. Please note: All have air-conditioning, Internet and can be accessed by Métro stops Saint Germain, Odéon or Mabillon.
Hotel de Buci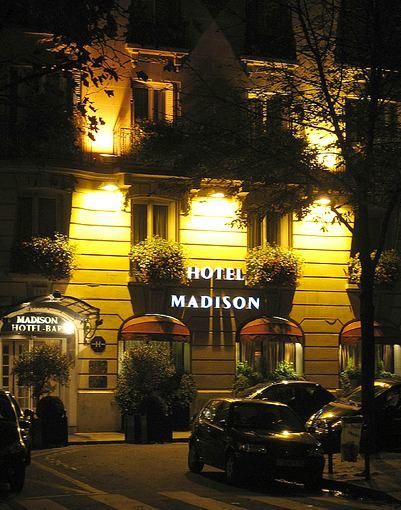 Renovations at this hotel wrapped at the end of May 2011 and the 24 rooms (including suites) appeal to those who prefer classical décor to modern chic. If you like canopy beds and soft upholstery, this hotel is for you.
Madison Hotel
Many people like The Madison, housed in a 19th century former mansion, because its rooms tend to be somewhat larger than other Left Bank hotels. The 50 rooms are decorated in a combination of contemporary and classical furniture. If you ask, you may score a room overlooking Église de Saint-Germain-des-Prés.
Photo credit: Madison Hotel © Al Lada

Artus Hotel
This 27-room hotel attracts clients who want a more contemporary look and feel.  If you crave a sauna and a massage after a day of sightseeing and more, consider booking at this boutique hotel.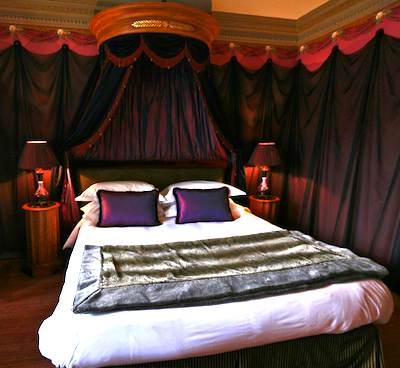 L'Hotel
I've always wanted to stay here because it's totally unique and no two rooms are alike. Designed by Jacques Garcia, it's a showstopper. In addition to having a one-star Michelin restaurant (plus one of the most romantic bars in Paris), there's a tiny pool in the hotel's basement. Reservations are required because the pool accommodates only two people. Oscar Wilde died at this hotel. If he'd seen today's current prices, he might have checked out earlier.
La Villa Saint-Germain-des-Prés
Anyone who's walked down the Rue Jacob knows it's hard to get from here to there without stopping every five steps to admire the windows of many stores and galleries. La Villa is simply but elegantly designed in a contemporary fashion. It's a hidden gem that may have your (reservation) name on it.
Hôtel D'Aubusson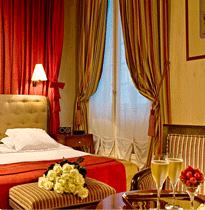 If you'd like to stay in a 17th century mansion that's been updated to today's standards, voilà. Friends of mine who do wouldn't stay elsewhere. They like the rooms and the fact there's an interior patio where you can relax and think your own Parisian thoughts. During winter months, there's a enormous stone fireplace in the lobby where people gather to warm up or wait until they're ready for another expedition.
The Café Laurent is especially enticing. It's a welcoming place to have a cup of tea, a glass of wine or listen to jazz performers who appear Thursday through Saturday evenings.
Those are some of the things one can do on in the Saint-Germain-des-Prés neighborhood, but it's an easy walk to Cathédral Notre-Dame de Paris, Musée d'Orsay , the Louvre and many other must-see places. So many tourists use this area as a jumping off point.
And then there are those who never leave the neighborhood: let's hope they return soon to the City of Light to explore yet another "village."
More in artus, boutique hotel, buci hotel, cafe flore, d-Orsay, d'aubusson, derniere goutte, Deux magots, eglise saint germain, eglise st germain, fish boissonnerie, hotel buci, Hotels, karen fawcett, l'hotel, Left Bank hotels, Louvre, madison, marche, Museum, notre dame, Orsay Museum, Paris art museums, Paris food markets, Paris hotels, Paris museums, Religious worship, st germain, st germain church, st germain des pres, villa st germain
---
---