Mirmande in La Drome: Plus Beau Village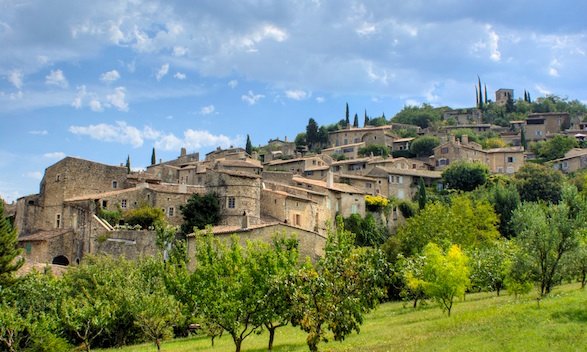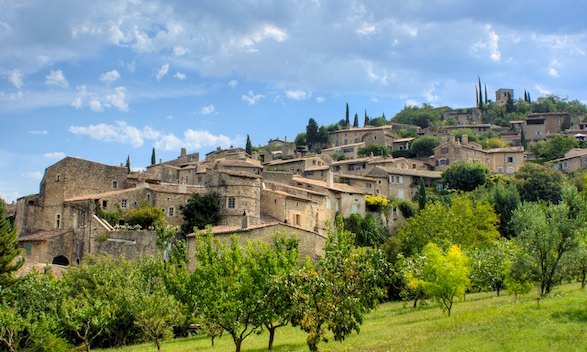 View of Mirmande, an official Most Beautiful Village of France. Photo by BTF-Fotographie.
If you are a seasoned traveler to France for whom vacation means getting away from it all, then a single attempt to summer along the coastal south of France has likely altered forever your notion of escaping to the seaside. With wild traffic challenges and a tsunami of tourists, many like you end up reserving for the off season any future discovery of this part of the country. On the other hand, Drôme, département to the north of Provence, has come into its own as a summer place with trappings similar to the coastal regions, but with a more sustainable dose of touring humanity.
Drôme's main city is Montélimar, easily reached from Paris via the TGV and home to production facilities of the most wonderful nougats in France. Indeed, some of the more creatively prepared of these delectable almond sweets make their way to Paris shops and homes exclusively via Internet orders to ensure freshness and unique gift-giving. To the east, the Jura Mountains form an impressive backdrop to blue skies, hay mounds and lavender fields. Vineyards of the Côtes du Rhône denomination line the powerful river of the same name that slices the countryside, creating foggy mornings and skirting picturesque villages that compete amply with anything south of the border.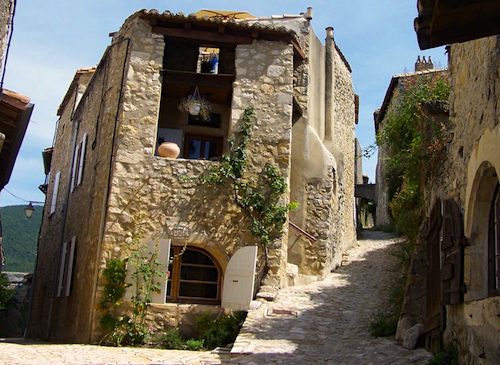 Typical village street in Mirmande. Photo from Les plus villages de France.
The medieval village of Mirmande is one of France's "plus beaux villages" and a stay here will ingratiate you to the France of arched stone walkways, ancient chapels, the murmur of olive trees, a nested luxury of quiet, and exquisite local cuisine. The gradual, sleepy essence reaches into a faraway past, all as if extending itself to you and you alone. Accommodations in this village of about 500 souls are largely bed and breakfast style gîtes, although the Capitelle restaurant and hotel is one of a few upscale places for those who prefer a bit more catering.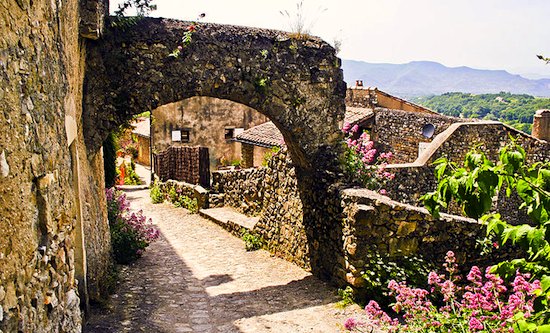 Stone arch on walking path above Mirmande. Photo: Morburre
Needless to say, for summer visits, advance reservations are a must. You will need walking shoes and a good constitution as well. Roads are cobbled, with steep intervals here and there that end at magnificent views. The village divides into lower, middle, and upper and families have lived here for generations. Try to strike up a conversation with a local (ex-pats live discreetly here as well) for a real sense of the place and style of welcome.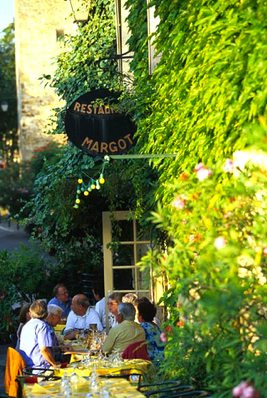 Chez Margot restaurant in the lower village provides decent home-cooked food and a pleasant spot for observing passers-by and local color. Evenings, spontaneous guitar renditions produce sing-a-longs that may even include some Elvis and Blues. Local products like liquored cherries, lavender honey, and wines can be found at the boulangerie where yummy fresh breads run out fast, so someone in your party might want to rise on the early side.
Once the cicadas quiet down and humans take to their abodes, the village embraces a mystical beautiful quiet disturbed only by a dry aromatic breeze from the Rhône, allowing for ingestion of that definitively southern "la garrigue" of wine, food and senses.
PRACTICAL INFORMATION
Office de tourisme de Mirmande
Les plus beaux villages de france
Photo credits: Mirmande hills @BTF-Fotografie; Center village photo from Les plus beaux villages de France; Arched walk ©Morburre-Wikipedia; and Restaurant Margot ©JosieNicolas
Kathleen Burke is a writer and lover of France who lives in Paris and Massachusetts.

Subscribe for
FREE

weekly newsletters with subscriber-only content.
BonjourParis has been a leading France travel and French lifestyle site since 1995.
Readers' Favorites: Top 100 Books, imports & more at our Amazon store
We daily update our selections, including the newest available with an Amazon.com pre-release discount of 30% or more. Find them by starting here at the back of the Travel section, then work backwards page by page in sections that interest you.
Though in the Rhône-Alpes region, Provence is soooo close…these guides can get you there.
Support our site by clicking on this banner for all your Amazon.com browsing. Merci!
Leave a reply
Your email address will not be published. Required fields are marked *