Organic Wines in Provence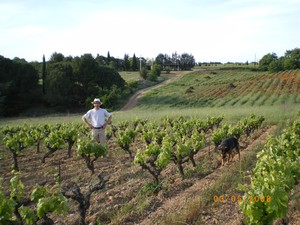 Would you want to enjoy a picnic amidst plants sprayed with pesticides and weed killer? And yet many of us do when we place our blanket beside those nicely tended vineyards. Thankfully many of my neighboring vintners feel similarly to myself and are working to change this. Organic viticulture is gaining on us, and if not yet mainstream, there are definitely more options out there for the average wine buyer. There are those who've been practicing it for over twenty years, the pioneers who confronted ridicule and scorn from their colleagues. And there are more and more joining them as the European Union offers special aid to those converting over from traditional/chemical agriculture to organic (biologique). Jean Paul Cabanis, a vintner on his family vines in the Costières de Nîmes, is amongst the pioneers. He launched his battle to live in a more green world, respectful of the environment when he took over from his father in the mid eighties. Now he is seen as an expert in the field and called upon to teach classes in ploughing over weeds and airing the soil. Three to four times yearly he holds a weekend, hands-on class for his colleagues—some young, some his age, some older—teaching them the ancient art of tending the soil. This is one of the key tenets of being an organic farmer. You do not use weed killer, but the weeds still grow, and perhaps even more heartily once you cease using chemistry. So, what to do? The only option is to plough them over, rip out the roots, and turn them back into the soil to compost into the dirt and thus give more nutrients to the vines. What worries those who are contemplating converting is this: weed killer is relatively cheap and easy to use. You put it on multiple times yearly, on the schedule recommended by the chemist, and voilà, only your vines grow, all other invasive species die. You can tell a row of vineyards treated this way: the base of the vines is brown and bare, and between the vines it is often lush and green, perhaps even mown to a nice clean carpet. If you stop using weed killer you must invest in a tractor with blades to disinter and chop up the weeds, and you must invest in the labor to drive it. There are many wonderful new tractors out there—in hefty price ranges—and there are old ones that can be re-welded in places, oiled and adjusted, and put to use yet again. So, in place of chemistry, you need to invest in a tractor and hire one or more employees to work with you.  Is it really worth it? Well, if you look at the current market in wine (particularly lower cost wines such as the Côtes du Rhône and the Costières de Nîmes), the only vintners who've easily sold their wines and been able to raise prices these past few years are the organic ones. It's enough to turn the stomachs of the traditional or 'reasonable agriculture' folks. And so, with the extra push of economics behind them, the numbers are growing. From 2% of French wine producers, we are perhaps reaching 4%, and more are converting every day. There is little to no difference in the potential quality of the wine. Taste and integrity are not sacrificed when the vintner shifts from chemistry to physical labor. These wines can occasionally be 15 to 20% more expensive, but even this is not a general rule. So seek them out. In Europe you'll find the AB label, often certified by ECOCERT, the largest of the agencies doted with the authority to do so. Note, though, that the organic laws apply only to the vineyards, not to the cellar. There is an optional private set of rules for the cellar (FNIVAB) that some vintners adhere to, but at this time the European powers that be haven't concluded their ruling on cellar practices. However, all the vintners I have met who work organically strive to limit the use of sulfites in their wines. They do not exclude them, though. The tendency is to use half to a third of that used in traditional vinification methods. Thus, if you are worried about headaches from drinking wine, try organic and you'll get far fewer. And if you are worried that organic wine won't keep and will turn to vinegar on your shelves, be assured as well that the vintners do not want this to happen and strive to give you a product both delicious and able to age as it should. Enjoy! Madeleine Vedel, based in Avignon, is the owner of Provence Cooks LLC, leading intimate and personally designed tours to wineries, food artisans and villages in Provence for over eleven years. She recently started up a small agency promoting Southern French organic wines to US importers and distributors. You can learn more about her activities on her
web site
or at her
blog
where she explores her bi-cultural existence and passion for Provence. For more information on organic viticulture, please see the web site for
Domaine Cabanis
in French/English and Japanese. If you're coming to France (or for that matter anywhere) you can 
reserve your hotel here.
To rent a car, Bonjour Paris recommends 
Auto Europe
.
SUBSCRIBE
ALREADY SUBSCRIBED?
BECOME A BONJOUR PARIS MEMBER

Gain full access to our collection of over 5,000 articles and bring the City of Light into your life. Just 60 USD per year.

Find out why you should become a member here.

Sign in

Fill in your credentials below.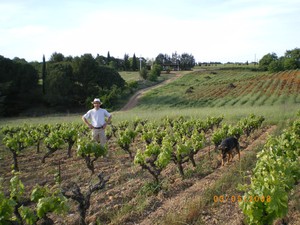 Would you want to enjoy a picnic amidst plants sprayed with pesticides and weed killer? And yet many of us do when we place our blanket beside those nicely tended vineyards. Thankfully many of my neighboring vintners feel similarly to myself and are working to change this.
Organic viticulture is gaining on us, and if not yet mainstream, there are definitely more options out there for the average wine buyer. There are those who've been practicing it for over twenty years, the pioneers who confronted ridicule and scorn from their colleagues. And there are more and more joining them as the European Union offers special aid to those converting over from traditional/chemical agriculture to organic (biologique).
Jean Paul Cabanis, a vintner on his family vines in the Costières de Nîmes, is amongst the pioneers. He launched his battle to live in a more green world, respectful of the environment when he took over from his father in the mid eighties. Now he is seen as an expert in the field and called upon to teach classes in ploughing over weeds and airing the soil. Three to four times yearly he holds a weekend, hands-on class for his colleagues—some young, some his age, some older—teaching them the ancient art of tending the soil.
This is one of the key tenets of being an organic farmer. You do not use weed killer, but the weeds still grow, and perhaps even more heartily once you cease using chemistry. So, what to do? The only option is to plough them over, rip out the roots, and turn them back into the soil to compost into the dirt and thus give more nutrients to the vines.
What worries those who are contemplating converting is this: weed killer is relatively cheap and easy to use. You put it on multiple times yearly, on the schedule recommended by the chemist, and voilà, only your vines grow, all other invasive species die. You can tell a row of vineyards treated this way: the base of the vines is brown and bare, and between the vines it is often lush and green, perhaps even mown to a nice clean carpet.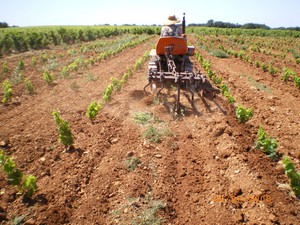 If you stop using weed killer you must invest in a tractor with blades to disinter and chop up the weeds, and you must invest in the labor to drive it. There are many wonderful new tractors out there—in hefty price ranges—and there are old ones that can be re-welded in places, oiled and adjusted, and put to use yet again.
So, in place of chemistry, you need to invest in a tractor and hire one or more employees to work with you.  Is it really worth it?
Well, if you look at the current market in wine (particularly lower cost wines such as the Côtes du Rhône and the Costières de Nîmes), the only vintners who've easily sold their wines and been able to raise prices these past few years are the organic ones. It's enough to turn the stomachs of the traditional or 'reasonable agriculture' folks.
And so, with the extra push of economics behind them, the numbers are growing. From 2% of French wine producers, we are perhaps reaching 4%, and more are converting every day.
There is little to no difference in the potential quality of the wine. Taste and integrity are not sacrificed when the vintner shifts from chemistry to physical labor. These wines can occasionally be 15 to 20% more expensive, but even this is not a general rule. So seek them out. In Europe you'll find the AB label, often certified by ECOCERT, the largest of the agencies doted with the authority to do so.
Note, though, that the organic laws apply only to the vineyards, not to the cellar. There is an optional private set of rules for the cellar (FNIVAB) that some vintners adhere to, but at this time the European powers that be haven't concluded their ruling on cellar practices. However, all the vintners I have met who work organically strive to limit the use of sulfites in their wines. They do not exclude them, though. The tendency is to use half to a third of that used in traditional vinification methods. Thus, if you are worried about headaches from drinking wine, try organic and you'll get far fewer. And if you are worried that organic wine won't keep and will turn to vinegar on your shelves, be assured as well that the vintners do not want this to happen and strive to give you a product both delicious and able to age as it should.
Enjoy!
Madeleine Vedel, based in Avignon, is the owner of Provence Cooks LLC, leading intimate and personally designed tours to wineries, food artisans and villages in Provence for over eleven years. She recently started up a small agency promoting Southern French organic wines to US importers and distributors. You can learn more about her activities on her web site or at her blog where she explores her bi-cultural existence and passion for Provence. For more information on organic viticulture, please see the web site for Domaine Cabanis in French/English and Japanese.
If you're coming to France (or for that matter anywhere) you can reserve your hotel here. To rent a car, Bonjour Paris recommends Auto Europe.
More in French vineyards, French wine, French winemakers, Provence
---
---