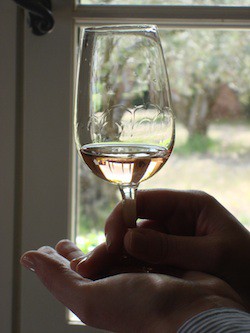 For many years now I have been bringing guests to visit the wineries of Provence and Languedoc. These visits brought me and my guests into direct contact with the local wines and winemakers and profoundly enhanced the cooking classes I ran with my former husband. When preparing and enjoying the great dishes of this region, what better than to pair them with the wines made but an hour away? My wine knowledge, extended by books and articles, started in these wineries: tasting, listening, questioning, exploring, and coming back for more. The vintners proved generous teachers. Their lives, experiences and stories form the main chapters of at least this interested taster's personal book of viticultural discovery. As a general rule, the wineries in Southern France are relatively small and the vintner, his wife or offspring receives visitors. It is an intimate and privileged moment of discovery. You might taste in an elegantly (and recently) renovated tasting room, or amidst the fermentation tanks in the cellar, or even in a kitchen or office space. For those wishing to explore on their own, here are a few guidelines: Do call ahead and make a reservation. It is not absolutely necessary during the high tourist season of summer, but it is vastly preferred, and shows respect and consideration for your hosts. And, if you are going to be late, do let them know. There is always something to do in a winery, and likely they have adjusted their work schedule to attend to you. Try to schedule your tasting(s) in the morning when you are fresh, at least an hour after breakfasting. This gives the taste buds in your palate time to recover from the sensory attack of the morning café and a minty toothpaste. A reservation mid to late morning is quite on the mark. It follows that going to a winery right after lunch is not recommended. Why is this? Your senses are zapped. And the vintner knows this from experience. It could be construed as disrespectful or careless planning on your part. Think of the garlic/herb/spice-laced meal you just enjoyed, liberally sprinkled with wines of varying quality, not to mention the café you no doubt enjoyed at the meal's conclusion. This being Provence, between the heat and your full belly a need to rest surges over you. Take your time, nap, or stroll, sip some water, and contemplate wine tasting towards 4:30 or 5pm when your senses have returned to some semblance of normal. As an aside, most vintners take a short nap after lunch too. Southern France is known for its tourism and hospitality. So you may discover that the person answering the phone and/or receiving you does speak a little English, or perhaps even spent six months interning in Sonoma Valley, Australia, South Africa, etc.; however, if one amongst your group speaks French, use it. Your visit will be enhanced by the pleasure the vintner will take in communicating with you in his/her own language. In most cases guests are not required to pay for the privilege of tasting, although there are exceptions such as the better known wineries in Châteauneuf-du-Pape (Château la Nerthe, Domaine Beaucastel, Vieux Télégraphe). It is expected, though, that there be a purchase (a few bottles or a case or two) at the end of your visit. To walk out with empty hands would be considered rude. You may be offered the full range (gamme) of wines produced at the winery, from the vin de pays to their top reserve (known as the cuvée spéciale), or a small selection. The order will be from white through rosé to red, and from lesser to greater quality/concentration. This is called a flight in English. Along with these wines you may be offered the details of how the wine was made and with which grapes (the main red grapes of the region are Grenache, Syrah and Mourvèdre, with the periodic addition of Carignan, Cinsault and Counoise; for whites you'll have a wide range of possibilities including white Grenache, Roussanne, Marsanne, Viognier, Rolle, Clairette, Bourbelenc and Picboul). The vintner will proudly describe whether the wines were aged in oak casks or not. You can always ask further questions depending on your oenological background. But you can also simply enjoy. Feel free to comment as to what you smell and taste. The vintner enjoys learning how his wine is received. Though it is never mandatory, there will be a spitting bucket nearby, and most serious tasters do spit. Note that the wines of this region are generally high in alcohol (13.5 – 15+), and at the very least, he who is driving should spit religiously. Passengers imbibe at their leisure but may discover an overwhelming need for a sieste in the afternoon. It is possible that if you do start chatting up the vintner and a gentle friendship ensues, you may be invited to explore the cellar, see and learn how he vinifies, and even take a walk amidst the vineyards. Genuine interest and questions lead to amazing and marvelous discoveries. Tap into this all-encompassing world your host inhabits and you'll learn secrets and stories to bring home with you as treasured souvenirs. Madeleine Vedel, based in Avignon, is the owner of Provence Cooks LLC, leading intimate and personally designed tours to wineries, food artisans and villages in Provence for over eleven years. She recently started up a small agency promoting Southern French organic wines to US importers and distributors. You can learn more about her activities on her
web site
or at her
blog
where she explores her bicultural existence and passion for Provence. If you're coming to France (or for that matter anywhere) you can 
reserve your hotel here.
To rent a car, Bonjour Paris recommends 
Auto Europe
.
SUBSCRIBE
ALREADY SUBSCRIBED?
BECOME A BONJOUR PARIS MEMBER

Gain full access to our collection of over 5,000 articles and bring the City of Light into your life. Just 60 USD per year.

Find out why you should become a member here.

Sign in

Fill in your credentials below.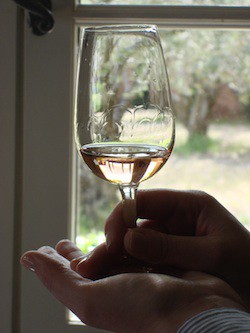 For many years now I have been bringing guests to visit the wineries of Provence and Languedoc. These visits brought me and my guests into direct contact with the local wines and winemakers and profoundly enhanced the cooking classes I ran with my former husband. When preparing and enjoying the great dishes of this region, what better than to pair them with the wines made but an hour away?
My wine knowledge, extended by books and articles, started in these wineries: tasting, listening, questioning, exploring, and coming back for more. The vintners proved generous teachers. Their lives, experiences and stories form the main chapters of at least this interested taster's personal book of viticultural discovery.
As a general rule, the wineries in Southern France are relatively small and the vintner, his wife or offspring receives visitors. It is an intimate and privileged moment of discovery. You might taste in an elegantly (and recently) renovated tasting room, or amidst the fermentation tanks in the cellar, or even in a kitchen or office space.
For those wishing to explore on their own, here are a few guidelines:
Do call ahead and make a reservation. It is not absolutely necessary during the high tourist season of summer, but it is vastly preferred, and shows respect and consideration for your hosts. And, if you are going to be late, do let them know. There is always something to do in a winery, and likely they have adjusted their work schedule to attend to you.
Try to schedule your tasting(s) in the morning when you are fresh, at least an hour after breakfasting. This gives the taste buds in your palate time to recover from the sensory attack of the morning café and a minty toothpaste. A reservation mid to late morning is quite on the mark.
It follows that going to a winery right after lunch is not recommended. Why is this? Your senses are zapped. And the vintner knows this from experience. It could be construed as disrespectful or careless planning on your part. Think of the garlic/herb/spice-laced meal you just enjoyed, liberally sprinkled with wines of varying quality, not to mention the café you no doubt enjoyed at the meal's conclusion. This being Provence, between the heat and your full belly a need to rest surges over you. Take your time, nap, or stroll, sip some water, and contemplate wine tasting towards 4:30 or 5pm when your senses have returned to some semblance of normal. As an aside, most vintners take a short nap after lunch too.
Southern France is known for its tourism and hospitality. So you may discover that the person answering the phone and/or receiving you does speak a little English, or perhaps even spent six months interning in Sonoma Valley, Australia, South Africa, etc.; however, if one amongst your group speaks French, use it. Your visit will be enhanced by the pleasure the vintner will take in communicating with you in his/her own language.
In most cases guests are not required to pay for the privilege of tasting, although there are exceptions such as the better known wineries in Châteauneuf-du-Pape (Château la Nerthe, Domaine Beaucastel, Vieux Télégraphe). It is expected, though, that there be a purchase (a few bottles or a case or two) at the end of your visit. To walk out with empty hands would be considered rude.
You may be offered the full range (gamme) of wines produced at the winery, from the vin de pays to their top reserve (known as the cuvée spéciale), or a small selection. The order will be from white through rosé to red, and from lesser to greater quality/concentration. This is called a flight in English. Along with these wines you may be offered the details of how the wine was made and with which grapes (the main red grapes of the region are Grenache, Syrah and Mourvèdre, with the periodic addition of Carignan, Cinsault and Counoise; for whites you'll have a wide range of possibilities including white Grenache, Roussanne, Marsanne, Viognier, Rolle, Clairette, Bourbelenc and Picboul). The vintner will proudly describe whether the wines were aged in oak casks or not. You can always ask further questions depending on your oenological background. But you can also simply enjoy. Feel free to comment as to what you smell and taste. The vintner enjoys learning how his wine is received.
Though it is never mandatory, there will be a spitting bucket nearby, and most serious tasters do spit. Note that the wines of this region are generally high in alcohol (13.5 – 15+), and at the very least, he who is driving should spit religiously. Passengers imbibe at their leisure but may discover an overwhelming need for a sieste in the afternoon.
It is possible that if you do start chatting up the vintner and a gentle friendship ensues, you may be invited to explore the cellar, see and learn how he vinifies, and even take a walk amidst the vineyards. Genuine interest and questions lead to amazing and marvelous discoveries. Tap into this all-encompassing world your host inhabits and you'll learn secrets and stories to bring home with you as treasured souvenirs.
Madeleine Vedel, based in Avignon, is the owner of Provence Cooks LLC, leading intimate and personally designed tours to wineries, food artisans and villages in Provence for over eleven years. She recently started up a small agency promoting Southern French organic wines to US importers and distributors. You can learn more about her activities on her web site or at her blog where she explores her bicultural existence and passion for Provence.
If you're coming to France (or for that matter anywhere) you can reserve your hotel here. To rent a car, Bonjour Paris recommends Auto Europe.
More in Bonjour Paris, buying wine, France travel, French vineyards, French winemakers, Provence
---
---