"American Food" as Seen by the French "Booboisie"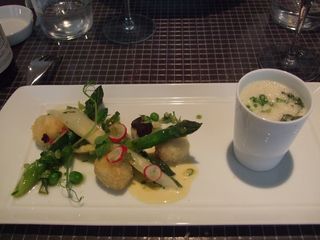 I've been blessed by having a coterie of French friends, some for over 50 years, who have a sophisticated opinion of American cooking. They're the ones who actually watched Julia Child on WGBH, knew when Alice Waters was hot, when Keller's prices started to climb and what place Danny Meyer just opened. Because they've lived, eaten and cooked in the U.S. they know more than I do about what's going on in Napa/Sonoma, Santa Monica and Las Vegas. So it's with a mixture of astonishment and horror that I read or hear other French folk talk about "American food" as if its boundaries are defined by burgers, dogs and fries. Now granted, if your knowledge comes from taking the kids once to EuroDisney, or frequenting McDo's or the Quick/Speed Rabbit/Costes Boys/etc. knockoffs that pollute Paris, you might really believe "there's no there there." And for months after Daniel Rose opened the original Spring, the snobs who judge French food (and yes, I mean you, Michelin men, especially when you review outside the hexagon) refused to acknowledge it was good cooking, dismissing it as "American," which it was (and is) certainly not. It really took that survey by Figaro showing that he had a waiting time for reservations far exceeding the fancy-schmancy French palace hotel dining rooms to wake them up. In addition, I thought it provided a new definition of chutzpah when the Le Fooding folk brought the likes of Anaki Aizpitarte over to New York to show the great unwashed culinary illiterates how real cooking was done. And to add insult to injury, instead of Omnivore getting a great American chef like Rose to cook at the OFF in Deauville, they made him pay to get in and brought some pizza-maker from the outer boroughs of New York as the exemplar of American cuisine. But on my August break from Paris I sampled some food in the U.S. that I don't think I could get in France at a level like Steve Spurrier's Judgment of Paris competition that astonished me and would make the jerks who compile the Best 100 Restos in the world look elsewhere than Rosas or Bray. What would you give to have a little place (20 covers) in St Germain des Prés that serves a chilled cucumber soup with yogurt and harissa, a mixed green salad with pickled carrots, pepitas and lemon vinaigrette, poutine with cheese curd and homemade duck gravy or a duck confit with sour cherry mustard panino? And, where with wine you get out for under $25 pp? Where? Duck Fat (not Fat Duck) in Portland (sometimes pronounced Potland), Maine. Or on a small street by the Seine, wouldn't it be neat to have a high-end place serving an amuse-bouche of a soup of "cranberry beans" with lobster oil, a deconstructed spicy "gazpacho" with baby heirloom tomatoes, celery leaves, basil leaves and cucumber sorbet, oysters with seaweed butter and ginger oil, a mini clambake with lobster, clams, new potatoes, sausage and sweet corn, warm sweet corn soup with potatoes and truffle agnolotti, foie gras with yellow plum jam, duck neck confit and hazelnuts, an endive salad with poached pears, blue cheese, pecans, jambon and fennel vinaigrette, a risotto of sweet corn chanterelle, mushrooms and parmesan, branzino with scallops, greens, tomato confit, lemon and EVOO and desserts of a banana peanut cake and an assortment of innovative ice creams. Where? At Persimmon in Bristol, Rhode Island, of all places. And again, we got out, with wine, for well under $50 a person. So the next time some French member of what HL Mencken called the "booboisie" spouts off about the limitations of "American" cuisine, I'll think back on these two meals with fondness, envy and jealousy that I can't get the likes of such here. The places in Paris that truly challenge the palate: Ze Kitchen Galérie 4, rue des Grands Augustins, 6th (Metro: Saint Michel) T: 01 44 32 00 32 Closed Saturday lunch and Sundays. Menus: 27, 30 and 35, à la carte 30-50 €. MBC 4, rue du Débarcadère, 17th (Metro: Porte Maillot) T: 01.45.72.22.55 Closed Saturday noon and Sundays Lunch menu 20, dinner 45, 65 and 80 € And some would say: Le Chateaubriand 129 Avenue Parmentier, 11th (Metro: Goncourt) T: 01 43 57 45 95 Closed Sundays and Mondays Menu at dinner 39, à la carte 40-60 E. (Apparently no longer open for lunch as his new annex is renovated ©by John Talbott 2010Paris Shuttle is the leading provider of pre-bookable airport transfers in Paris. Book your airport transfer with
Paris Shuttle
SUBSCRIBE
ALREADY SUBSCRIBED?
BECOME A BONJOUR PARIS MEMBER

Gain full access to our collection of over 5,000 articles and bring the City of Light into your life. Just 60 USD per year.

Find out why you should become a member here.

Sign in

Fill in your credentials below.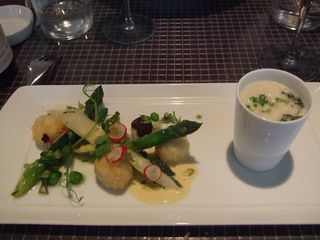 I've been blessed by having a coterie of French friends, some for over 50 years, who have a sophisticated opinion of American cooking. They're the ones who actually watched Julia Child on WGBH, knew when Alice Waters was hot, when Keller's prices started to climb and what place Danny Meyer just opened. Because they've lived, eaten and cooked in the U.S. they know more than I do about what's going on in Napa/Sonoma, Santa Monica and Las Vegas.
So it's with a mixture of astonishment and horror that I read or hear other French folk talk about "American food" as if its boundaries are defined by burgers, dogs and fries. Now granted, if your knowledge comes from taking the kids once to EuroDisney, or frequenting McDo's or the Quick/Speed Rabbit/Costes Boys/etc. knockoffs that pollute Paris, you might really believe "there's no there there."
And for months after Daniel Rose opened the original Spring, the snobs who judge French food (and yes, I mean you, Michelin men, especially when you review outside the hexagon) refused to acknowledge it was good cooking, dismissing it as "American," which it was (and is) certainly not. It really took that survey by Figaro showing that he had a waiting time for reservations far exceeding the fancy-schmancy French palace hotel dining rooms to wake them up.
In addition, I thought it provided a new definition of chutzpah when the Le Fooding folk brought the likes of Anaki Aizpitarte over to New York to show the great unwashed culinary illiterates how real cooking was done. And to add insult to injury, instead of Omnivore getting a great American chef like Rose to cook at the OFF in Deauville, they made him pay to get in and brought some pizza-maker from the outer boroughs of New York as the exemplar of American cuisine.
But on my August break from Paris I sampled some food in the U.S. that I don't think I could get in France at a level like Steve Spurrier's Judgment of Paris competition that astonished me and would make the jerks who compile the Best 100 Restos in the world look elsewhere than Rosas or Bray.
What would you give to have a little place (20 covers) in St Germain des Prés that serves a chilled cucumber soup with yogurt and harissa, a mixed green salad with pickled carrots, pepitas and lemon vinaigrette, poutine with cheese curd and homemade duck gravy or a duck confit with sour cherry mustard panino? And, where with wine you get out for under $25 pp? Where? Duck Fat (not Fat Duck) in Portland (sometimes pronounced Potland), Maine.
Or on a small street by the Seine, wouldn't it be neat to have a high-end place serving an amuse-bouche of a soup of "cranberry beans" with lobster oil, a deconstructed spicy "gazpacho" with baby heirloom tomatoes, celery leaves, basil leaves and cucumber sorbet, oysters with seaweed butter and ginger oil, a mini clambake with lobster, clams, new potatoes, sausage and sweet corn, warm sweet corn soup with potatoes and truffle agnolotti, foie gras with yellow plum jam, duck neck confit and hazelnuts, an endive salad with poached pears, blue cheese, pecans, jambon and fennel vinaigrette, a risotto of sweet corn chanterelle, mushrooms and parmesan, branzino with scallops, greens, tomato confit, lemon and EVOO and desserts of a banana peanut cake and an assortment of innovative ice creams. Where? At Persimmon in Bristol, Rhode Island, of all places. And again, we got out, with wine, for well under $50 a person.
So the next time some French member of what HL Mencken called the "booboisie" spouts off about the limitations of "American" cuisine, I'll think back on these two meals with fondness, envy and jealousy that I can't get the likes of such here.
The places in Paris that truly challenge the palate:
Ze Kitchen Galérie
4, rue des Grands Augustins, 6th (Metro: Saint Michel)
T: 01 44 32 00 32
Closed Saturday lunch and Sundays.
Menus: 27, 30 and 35, à la carte 30-50 €.
MBC
4, rue du Débarcadère, 17th (Metro: Porte Maillot)
T: 01.45.72.22.55
Closed Saturday noon and Sundays
Lunch menu 20, dinner 45, 65 and 80 €
And some would say:
Le Chateaubriand
129 Avenue Parmentier, 11th (Metro: Goncourt)
T: 01 43 57 45 95
Closed Sundays and Mondays
Menu at dinner 39, à la carte 40-60 E.
(Apparently no longer open for lunch as his new annex is renovated
©by John Talbott 2010


Paris Shuttle is the leading provider of pre-bookable airport transfers in Paris. Book your airport transfer with Paris Shuttle 
More in Bonjour Paris, Food crtitics, French food USA, John Talbott Paris, Paris, Paris restaurants
---
---