Omnivore 2011, Jean-Francois Piege, Rostang & Co, Win Prunier Caviar for Easter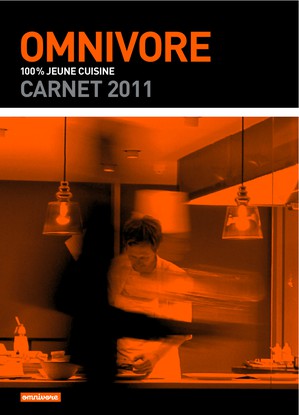 Omnivore, a person who eats all kinds of foods, is also a gastrosexual foodie magazine with rock 'n' roll attitude. The just-published annual Guide 100% Jeune Cuisine is a must if you're hungry to check out the world's most talented cooks. 
Headed by Luc Dubanchet, "reporter gastronomique," Omnivore's concept includes annual Food Festivals at Deauville and NYC, to which top French chefs such as Bras, Ducasse, Gagnaire, and Passard give undivided input alongside their foreign counterparts, including the Adria brothers, Antonio and Ferran, Heston Blumenthal, Kinch & Co. The spotlight's on new young talent. And no, it's not one big "stuff-fest"—these guys (Sébastien Demorand, Andoni Luis Aduriz, etc.) are gastro-intellos. "The head's more important than the stomach", they insist. "Think first, cook after".
Omnivore are the rock 'n' roll of foodies but, cool and laid-back as they are, clocked, say, René Redzepi (Noma), David Chang (Monafuku), Alexandre Gauthier (La Grenouillère) before anyone else. This is the most delightful and exciting guide you'll ever read; you can smell the passion.
Like young maverick chef Alexandre Couillon in Paris meeting and lunching chez Jean-Franҫois Piège, and other Omnivore royalty, one day this week. Couillon has two contemporary canteens in Noirmoutier. Leaf through the guide to discover his mates: Each chef chooses three compatible companions. There's no classement—"read between the lines", suggests Dubanchet.
As for Piège, he's cooking better than ever in his hip India Mahdavi-designed dining room above Thoumieux. Les règles du jeu today included plump Provence asparagus, drizzled with foamed Comté from Alain Laguiche. The rare Vin Jaune du Château d'Arlay, 1998, Jura, nectar. Langoustines Vivantes, morilles, garden herbs, algues. Delicate, matched with Saumur Brézé 2007, from Domaine Guiberteau, crisp and bright. What is now the signature jeu: Boeuf d'ici et d'ailleurs. Sublime beef from Chile—no one else in Paris has it; maybe JF-P nips over there at night in the Costes private jet? Two servings, one raw, one cooked, no chips, but wafer-thin potatoes, a crescent of onion (see front page). Bourgogne Aligoté 2008, from Domaine Anne Boisson with the raw and Crozes-Hermitage 2009, Domaine Laurent Combier with the cooked. Fraises Gariguette, Chantilly to finish, and the Prize Omnivore for JF-P, because he's worth it.
Upstairs 15 Mahdavi rooms, with iPad Directory, free mini-bar and Wi-Fi, and freebie Aesop products beckon. Breakfast awaits. Dreams of having JF-P bring it, comme sur un plateau!
Hôtel Thoumieux and Maison Thoumieux,
79 rue Saint-Dominique, 7th
Metro: Invalides
Shut Sat-Sun
Average Spend 90€
Omnivore 100% Jeune Cuisine 22€
Magazine published x 4 per year 10€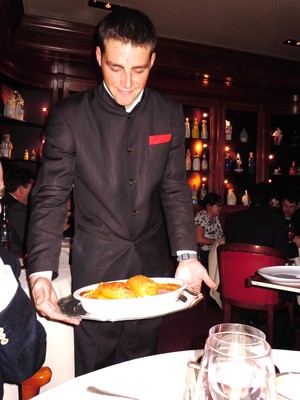 Michel Rostang opened his eponymous Paris restaurant over 30 years ago. Since then he's created terrific bistros and brasseries, the first right next door, his flagship, Le Bistro d'à Côté, spawned others throughout Paris and Neuilly. He has seven addresses, including The French Brasserie, Dubai, and is consultant to many gastro affairs such as www.vertigo.com & www.lemasdepierre.com.
Minding the stores during his absence are daughters Sophie and Caroline and his wife Marie Claude, the elegant presence in the beautiful salle since the start.
Rostang's a 5th-generation chef, graduate of École Hôtelière, Nice, and top maisons such as Lasserre and Lucas Carton. Dad, Jo Rostang, had 3 Michelin stars at La Bonne Auberge, on the RN7, opposite the railway, Antibes, where the great and the good begged for tables on the terrace in spite of the noise of trains, trucks, motor-cars, and the jingle-jangle of jewellery on the star-studded clientele.
Jo's specialities were Escoffier inspired, as in Quenelle de Brochet soufflée à la crème de homard. Michel continues to make this dish, slightly lighter, just as delicious. He has two stars, should have three, as you'll agree the minute you walk through the door and are greeted graciously. The minute you're tucked into your table, look at the menu handed to you by Madame or Bruno or Michel who've been there since the beginning, as has Chef Sommelier Alain Ronzatti. There are 1,300 references and many rare collectors wines to choose from, the cellars among the best in Paris. Welcome to the Art of Service.
"What Rostang does best is marry the grand cuisine bourgeoise of his family with the cuisine créative de son temps", says author and gastronomic critic Gilles Pudlowski. "It's haute cuisine based on Michel's choice of small suppliers, with big talent, which guarantee top products", he adds.
Taste Rostang's "sandwich à la truffe à déguster avec les doigts", the above-mentioned quenelle or Canette au sang en deux services and finish with Cigare croustillant fait de Tabac de Havane, mousseline au cognac "Hennessy", glace marsala et Arlettes glacés, and you too will wonder where that third star is.
20 rue Rennequin, 17th
Metro: Ternes
T: 01 47 63 40 77
Valet Parking
Shut Sat Lunch Sun-Mon Lunch
Lunch Menu 76€
Dinner from 165-205€
To read:
Rostang Pere & Filles,
Editions Glénat – 39€
Need to know:
To celebrate La Semaine du Développement Durable, restaurant Rech, with Jacques Maximin and Julian Dumas are showcasing two lesser known species of fish "Pêche de Petit Bateau", La Barbue (brill), cuisinée aux asperges vertes et morilles and La Dorade Grise (sea-bream) en escabèche aux coques. "These beauties are in season now. The morning's catch, weather permitting, comes fresh daily from Gilles Jagot in Brittany. They're on your plate immediately", says Maximin. "When you can cook like this, it's good for the planet, the health and, above all, the palate".
Rech,
62 avenue des Ternes, 17th
Metro: Ternes
Shut Sun-Mon
T: 01 45 72 29 47
Lunch Menu 30€
Dinner 53€
A La Carte average spend 70€
And also Jacques Maximin
Prunier (depuis 1872) doesn't see why only kids should enjoy Easter Eggs and the traditional hunt, so they've come up with a new twist for adults only. From 26th-29th April if you find an oeuf surprise" hidden in your choco-dessert, the prize is a 30-gram box of "grown-up eggs", a tin of Prunier Tradition Caviar.
And, at the iconic Prunier, Victor Hugo chef Eric Coisel revives Pieds de Mouton à la sauce poulette. The recipe features in Madame P's Fish Cookery Book and was on Prunier's menu in 1909. "This is version 2011, I'll give you the recipe", he kindly offers. Any tips Eric? "Cook for 2 to 2.30hrs depending on the age of the mouton", he advises. "And Pouilly Fuissé 'Hors Classe' Domaine Auvigue matches perfectly".
Prunier, Victor Hugo or Café Prunier,
(Shut Sunday)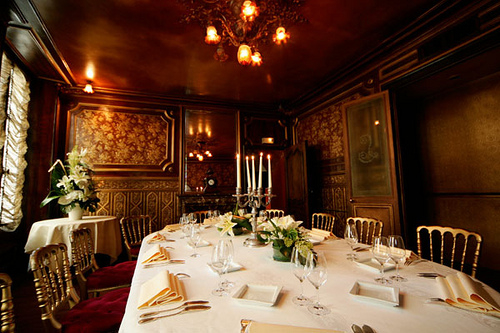 "Le Restaurant, A Parisian Invention" . . . "Paris Market Walk" and "Chocolate Tour" are just a few of the engaging and intimate guided gastronomic tours offered by our partner, Context Travel. Critically acclaimed scholars with an expertise in Paris and French gastronomy, art, history and more reveal an in-depth look at Paris that you simply can't get on your own. Perfect for intellectually curious travelers and solo travelers who enjoy gourmet dining in the company of other foodies . . . click here for more about  Context Travel Paris gastronomic & other tours
Leave a reply
Your email address will not be published. Required fields are marked *