France News Daily: April 11-17
April 11-17, 2011 BonjourParis France News Daily
Newest entries are on the top for current week, Monday-Sunday.
Sunday, April 17:
Coffee wars brewing in Paris as baristas battle in "Frog Fight"
BonjourParis French News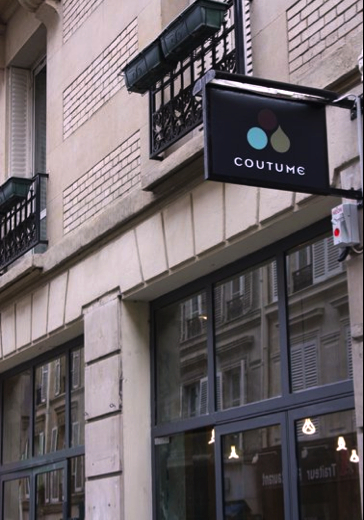 By Dali Wiederhoft
Paris, April 17—It's late night at Paris Left bank Coutume Café coffee house and a battle is brewing as baristas whip up Paris's drug of choice: coffee. Savoring premium coffee drinks that tempt the eye and buzz the brain are the current rage for Parisians more accustomed to the watery glug sold at most Parisian cafes. Thanks to the influence of travelers and perhaps the increasing numbers of Starbucks stores in the City of Light, Parisians are seeking out artisanal coffees.
At the monthly Coutume Café "Frog Fight," baristas compete before a full house and discerning judges who chose the winner of the "Latte Off" competition. The winning barista receives the "Frog Fight" trophy. Click here to watch an AFPTV video of the competition:  Paris baristas compete in "Frog Fight" at Coutime Café [source: AFPTV]

"Summer Saver" flights to Paris from NY or DC on OpenSkies are on sale through May 12, 2011
BonjourParis French News
By Dali Wiederhoft
Paris, April 17—Despite appearances, this is not an advertisement; consider it a public service announcement for BonjourParis readers with summer plans or a desire to fly to Paris this summer.
OpenSkies, an airline with all business-class seating, is holding a fare sale for flights to Paris. Their "Red Hot Summer Saver" fares start at $799 each way (plus taxes and fees) for travelers who purchase roundtrip air tickets for travel from New York or Washington, D.C. to Paris made between July 10-Sept. 10, 2011. Book by May 12, 2011. Get the full story here: OpenSkies
Saturday, April 16:
Sarkozy and France leading democratization efforts in Libya and Ivory Coast
BonjourParis French News
By Dali Wiederhoft
Paris, April 16—It's far too early to project a winner for the 2012 France presidential elections, but public opinion polls and the growing number of presidential contenders indicate President Nicolas Sarkozy is not the people's favorite in France at the moment.
Outside of France, however, Sarkozy is gaining notice for his willingness to stand firm in leading NATO military programs in Libya and UN peacekeeping forces in the Ivory Coast.
When U.S. President Barack Obama was slow to take action against Moammar Ghaddafi in Libya, Sarkozy authorized France to make the first air strikes in Libya.
Working in partnership with the United Nations Security Council, Sarkozy commanded that French military choppers, tanks and troops be sent to Ivory Coast. French troops were in charge as opposition troops removed renegade President Laurent Gbagbo in what's been defended by the UN as a peacekeeping mission.
French cabinet members credit Sarkozy's programs for positioning France as a leader in advancing democracy in Africa.
Some French residents debate the actions as unwelcome interventionism motivated by the urging of the West as others question if humanitarian intervention and peacekeeping can be accomplished through military force.
Friday, April 15:
The other shoe drops: fashion designer Galliano fired as creative director of Dior's "John Galliano" brand
BonjourParis French News
By Dali Wiederhoft
Paris, April 15—Fashion designer John Galliano has been fired as head of his own fashion label after his recent anti-Semitic meltdown at a bar in the Marais historic Jewish quarter of Paris, Women's Wear Daily (WWD) reported today.
Galliano, who is reportedly in a Los Angeles rehab facility, will no longer lead the "John Galliano" fashion label, which is 92-percent-owned by Dior. Galliano's troubles started when a video captured his anti-Semitic remarks made to a couple in a Marais bar, le Perle. The video went viral at YouTube and millions saw it there before it was broadcast and covered by major international media outlets.
The future of the "John Galliano" label is unclear as an in-house design team continues its work. Dior, one of the biggest brands within in the LVMH, has not announced long-term plans, according to Reuters .
Thursday, April 14:
Fire at Paris apartment building in Menilmontant neighborhood kills 4, injures firefighter and over 60 residents
BonjourParis French News
By Dali Wiederhoft
Paris, April 14—Paris police said five people died and over 60 were injured in a overnight fire in Paris apartment building in Menilmontant. Four people reportedly died after they jumped out of windows to escape the fire and another person was found dead in the building. The working class neighborhood in the 20th arrondissement is near Pere Lachaise cemetery. A fireman who fell off a ladder was also harmed seriously.  Click here to view a video news report from the fire scene in Paris by Euronews.
Wednesday, April 13:
Culinary Institute of America Names French Chef Paul Bocuse "Chef of the Century" and Daniel Boulud "Chef of the Year"
BonjourParis French News
By Dali Wiederhoft
Paris, April 13—Chef Paul Bocuse of Lyon, France has another prestigious award to hang around his neck. On March 30th he received the "Chef of the Century" award from the Culinary Institute of America (CIA) in New York.
"Just as musicians around the world from the Beatles to Bruce Springsteen aspired to be like Elvis, legions of young chefs dreamed of being Paul Bocuse," said CIA president Dr. Tim Ryan at the presentation ceremony.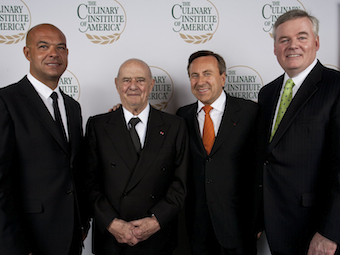 Bocuse, age 85, is the original celebrity chef and creator of "nouvelle cuisine." In 1961 he won the Meilleur Ouvrier de France and he is often depicted in portraits wearing the tri-colored ribbon and medallion coveted by every aspiring chef in France and elsewhere. The Meilleurs Ouvriers de France award is the only award of its kind in the world and is an official program of the French Ministry of Labor designed to honor and protect chefs, carpenters and other skilled professions.
He has been honored with three Michelin stars, winning every year since 1965, and he has served presidents of nations, royals and devoted foodies lured to his restaurants just outside of Lyon. Dining at l'Auberge du Pont de Collonges requires advance reservations and a budget of at least 200€ per person for food and more for wine.
Another Lyon native, Daniel Boulud, was named "Chef of the Year" at the same ceremony. Boulud is a New York-based chef and restaurateur with international properties. Chef Boulud's many culinary distinctions and awards include three Michelin stars, the James Beard Award and in 2006 he was received France's highest award, the Chevalier de la Légion d'honneur (French Legion of Honor) award. Source: Culinary Institute of America.
Photo: CIA President Dr. Tim Ryan (right) with honorees (from left) Jerome Bocuse, Paul Bocuse, and Daniel Boulud. (Photo credit: CIA/Anne Rettig)
Tuesday, April 12:

Musée d'Orsay Impressionist Art Featuring Monet, Degas and Other Masters Now Displayed at Paris City Hall Exhibition
BonjourParis French News
By Dali Wiederhoft
Paris, April 12—Art fans visiting Paris this year may find this to be one of the best years ever for viewing French Impressionist paintings. A new exhibition of Impressionist masterpieces just opened at l'Hôtel de Ville (City Hall) in Paris.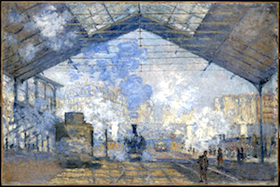 Paintings and illustrations by Gustave Caillebotte, Jean Béraud, Edgar Degas, Édouard Manet, Claude Monet and others show Paris in the early 20th century. The d'Orsay Museum has temporarily loaned the priceless pieces as it undergoes renovation. Several of the pieces have not been publically displayed before.
There is also a section of architectural renderings and models used by Napoleon III's planners to start building Paris as it is known today. At the turn of the last century, Paris was undergoing a period of rapid urban renewal period captured by the Impressionist artists. Pissarro painted the modern Gare Saint-Lazare as others focused on showing people and more natural scenes.
The exhibit continues through July 23rd and admission is free. Expect long queues. For hours and a more detailed description of the exhibition, please   consult the source: City of Paris Mayor's Office [English]
Photo credit: "Gare Saint Lazare" by Monet ©rmn (Musée d'Orsay) Hervé Lewandowski
Monday, April 11:
Maison de l'Air is new science museum and working meteorological station in Belleville
BonjourParis French News
By Dali Wiederhoft
Paris, April 11—Maison de l'Air is a new science museum dedicated to air and environment, hence the name that translates to "House of Air."
Paris leaders excited about the "go green" movement that have plans to reduce energy consumption and pollution in the city by the year 2100 and educating the public about personal and corporate responsibility is a key part of reaching that goal.

Exhibits cover the study of atmosphere, meteorology and the effect of polluted air on the environment. It was designed to appeal to children and adults, but interactive instruments, models and kiosks are particularly kid-friendly.
Colorful displays demonstrate the many ways air is vital for life—mammals breathe it, birds fly on air, pollination and sound waves are carried on air and so on. Visitors can inspect satellites at a working meteorlogical station that monitors weather and air quality in Paris from the museum's roof.
Last year two small wind turbines strong enough to power about six family homes were installed on the museum's roof to generate some of the power needed by the museum.
Maison de l'Air is located at the top of Parc de Belleville in the 20th arrondissement. Admission is free; the address is 27, rue Piat, 75020. It is open to the public only Wednesday and Saturday afternoons from 1:30-5:00pm.  Source: Mairie de Paris
Don't just follow, join a participatory walking seminar with scholars and specialists who lead in-depth walking tours for small groups of intellectually curious travelers. Check out our partner,

Context Travel
Leave a reply
Your email address will not be published. Required fields are marked *