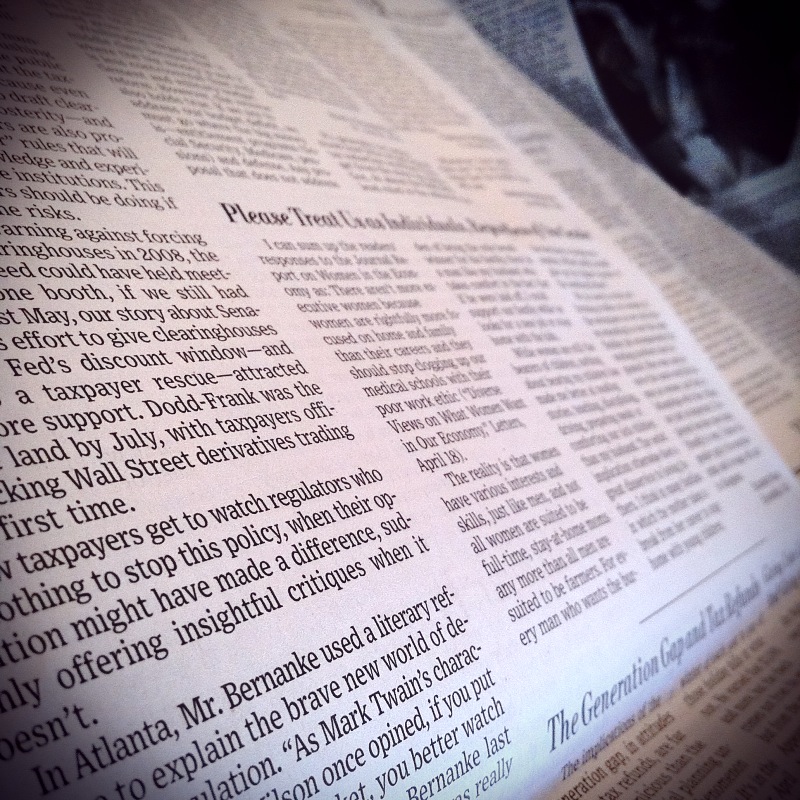 This past week's news from France hasn't been boring and so it goes.
French Politics: will Chirac endorse Hollande?
Now that Dominique Strauss-Kahn appears to be out of the running as the Socialist Party candidate to replace President Nicolas Sarkozy, former Socialist Party leader François Hollande has announced his candidacy for the 2012 race. Former France President Jacques Chirac was there, joking that the Conservative might endorse the Socialist, a swipe at Sarkozy.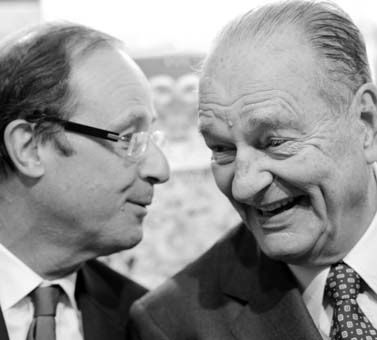 Among his competitors is Ségolène Royal, his former partner and the mother of his children. Another contender is Martine Aubry.
According to sociologist Denis Muzet, "It's too early to predict a disastrous Socialist campaign or masterful Sarkozy comeback. Anything can happen in eleven months prior to an election. Still, history suggests Sarkozy, who has lagged in the polls, has his work cut out for him."
Paris Air Show sales soar, Airbus sales set new world record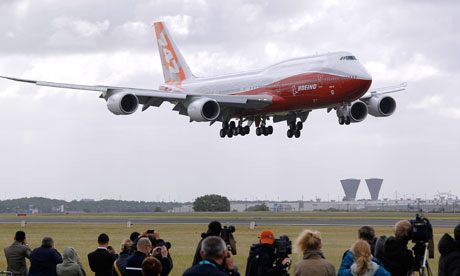 Airbus celebrated a $72 billion book of orders, including the biggest single airliner order in history on Thursday. It was a clear victory over US rival Boeing.
"This success sets a new record for any commercial aircraft manufacturer at any air show ever," an Airbus spokesperson said, after confirming that Malaysia's AirAsia would buy 200 of its A320neo fuel-efficient medium-haul jets.
According to Bloomberg , "All the growth is in the Asia-Pacific," said Neil Hansford, Chairman of Strategic Aviation Solutions, a Sydney-based industry consultant.
Former French president Chirac faces September corruption trial
France's former leader Jacques Chirac will be tried in September for corruption relating to his time as the mayor of Paris in the 1990s. Presiding judge Dominique Pauthe said the long-delayed trial of the popular politician, now aged 78, will take place in Paris between September 5 and 23. This will be the first trial of a former French president.
John Galliano trial concludes, verdict in September
John Galliano, former creative head of fashion house Christian Dior, had his day in court last Wednesday. Galliano was fired following his arrest for a series of incidents earlier this year in which he made racist and anti-Semitic remarks. He faces a charge of "public insults based on origin, religious affiliation, race or ethnicity."
His attorney claims Galliano was in the throes of a "triple addiction to alcohol, benzodiazepine [Valium] and sleeping pills" at the time of his arrest, and Galliano testified that he did not remember using the inflammatory language. The verdict will be announced in September.
According to Vogue, Galliano will return to rehab for substance abuse.
Tour de France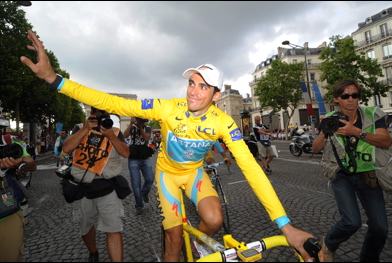 Ready, set, go: The 98th Tour de France begins on July 2 and ends in Paris on July 24. Twenty-one stages will cover 3,430 kilometers or 2,133 miles and the route can be seen here. According to the Guardian, Mark Cavendish is the man to watch. He's set on being the first to cross the finish line in Paris.
However, the favorite is 
Alberto Contador (Spain) who's touted to be the best climber in the world. During the past four years, he's won six grand tours. In case you're wondering, Contador has been cleared of doping charges. The Washington Post weighs in on the top contenders. May the best cyclist win.
Sarkozy follows Obama's lead, prepares to pull troops out of Afghanistan
President Nicholas Sarkozy endorsed President Obama's announcement of accelerated troop withdrawal in Afghanistan. France will begin a phased pullback next month of the 4,000 soldiers sent there as part of the allied effort.
International Monetary Fund interviews Lagarde to replace DSK in top post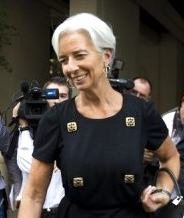 French Finance Minister Christine Lagarde appeared before the executive board of the International Monetary Fund (IMF) on Thursday to present her qualifications as the next IMF leader.
She met privately with IMF executive directors and then had a three-hour-long meeting with the 24-member board in the afternoon. She stated she would promote reforms to make IMF more representative of the world's economy. It's clear she'll most likely replace Dominique Strauss-Kahn, who resigned May 18th to fight sexual assault charges in New York.
Lagarde has the backing of Europe, which holds seven of the 24 seats on the executive board. It's thought she'll be designated the new managing director by consensus.
European Central Bank
European Union leaders appointed Italy's Mario Draghi as the next president of the European Central Bank (ECB) on Friday, a move that gives investors much-needed certainty over who will lead the institution in its pivotal role in the fight against the crippling debt crisis.
Jean-Claude Trichet, current head of the ECB, will leave the post on October 31st. The ECB is the central bank for Europe's single currency, the euro. Its primary task is to maintain the euro's purchasing power and monitor its price stability in the 17 European Union countries that adopted the euro in 1999. For additional information, access here.
French ex-minister charged with rape
Former French minister Georges Tron has been charged with rape and sexual assault after allegations that he attacked women who worked for him. Tron resigned recently to focus on his defense. To read more about what appears to be a French epidemic, access the Guardian.
Same Sex Marriage
Some people who turned up for Saturday's Gay Pride Parade in Paris were saluting New York State's legalization of same sex marriages and would like to see France follow suit. The parade attracted some leaders from France's political left, which has rallied around equal rights for gays _ notably marriage and adoption rights _ and put the issue in their platform for the 2012 presidential election race.

France Weather
Meteorologists forecast excellent and sunny weather in France after a colder than usual June. After this news, please enjoy it.
© Paris New Media, LLC
Not yet subscribed to BonjourParis? Sign up for your free subscription to French travel guides, news from France, French lifestyle articles and more delivered to your in-box twice weekly.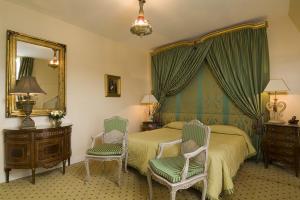 The Hôtel de Buci was renovated in May 2011. Just 24 luxurious suites, it's a St-Germain-des-Pres favorite. Free Wi-Fi, soundproofed suites decorated in velvet & antique-style furnishings. Lovely breakfast room; 24 hour bar on-site. Central location in the heart of the Left Bank.
Please review more info about this hotel and others offered worldwide by our partner, Booking.com, a Priceline company. And don't forget the unbeatable price guarantee: if you book a stay and find the same room for less, they'll match the price. More here: Booking.com .
Did you know you can buy travelers' essentials like luggage, guidebooks, cameras plus imported gifts for Francophiles at our BonjourParis Boutique & Amazon.com store? You benefit from competitive pricing and speedy delivery as your purchases support costs of keeping BonjourParis your most complete online France travel resource. Merci in advance for your support.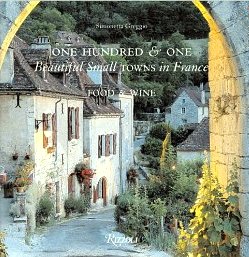 One Hundred and One Beautiful Towns in France: Food & Wine
[Sept 2010 release] Beautifully illustrated & informative, One Hundred & One Beautiful Towns in France: Food and Wine explores the local delicacies,  food and wine. Organized by region, a wonderful sampling of French food & wine & shops and markets where you can find them. Calvados apple brandy from Normandy; galettes frm Finistère, in Brittany; Burgundy boeuf bourguignon & the vendange (harvest); Alsace flammekueche, a tart of local cheeses, speck, and onions. Appendix w/useful addresses & phone numbers to plan your trip includes hotel listings, restaurants, wineries & shops plus info re: where to find local delicacies & the choicest goods.