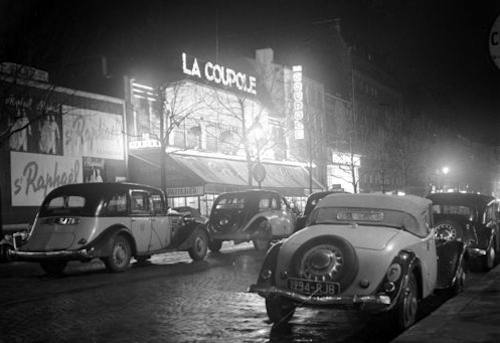 I don't know whether the tour groups that wear out the cobblestones between Notre-Dame cathedral and the Marais, and clot my neighborhood of the Eiffel Tower, ever think about Montparnasse, or whether many of their great number do realize the glorious place in French civilization this neighborhood has. Montparnasse was the world's navel of Modernism in art, between the two World Wars and earlier, but history is not a detailed preoccupation of recent generations. I have a niece who, on her way to college, asked me who was the current king of France.
I may be all wrong about this, but in any case I never see lots of tourists on my way to breakfast at La Coupole on the boulevard du Montparnasse. The vast empty dining room of the Coupole is one of the most attractively tranquil places to spend a leisurely morning—where the breakfast is excellent and of good value.
La Coupole, Hemingway and Literary Paris
Lunch and dinner time here today are not as interesting as they used to be, when a young writer named Ernest Hemingway worked the big room shaking hands with people who might give him a hand up. In those days Picasso, never shy, either, of being in the right place, had moved across the river and over here from Montmartre, which had become a back number as far as buzz went.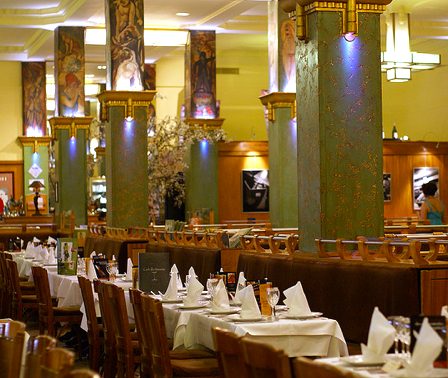 La Coupole remained a venue for painters and writers up into the seventies. I remember regularly seeing, at the end of a slow lunch, Simone de Beauvoir, Jean-Paul Sartre and his "adopted daughter" arrive for theirs. When the brothers who owned La Coupole sold it to a chain of brasseries, the crowd changed to the genre of which the New York metaphor is "bridge and tunnel": provincials, suburbanites, a few tourists, or ordinary folk who come for the physical ambiance of vintage décor, which the new owners, to their credit, have spruced up without destroying. At the Dôme and La Rotonde nearby, however, the "relooking", as the French say for redecorating, has created awesome kitsch.
Near where the boulevard Montparnasse joins the boulevard Raspail, these three places and Le Select, across from the Coupole, formed the "there", as Gertrude Stein would have put it, of vibrant Montparnasse—the heart of the hangout. The Select has kept its art deco intact, and it is to this day a place where arty people go, in particular screenwriters who work at the dark wood tables.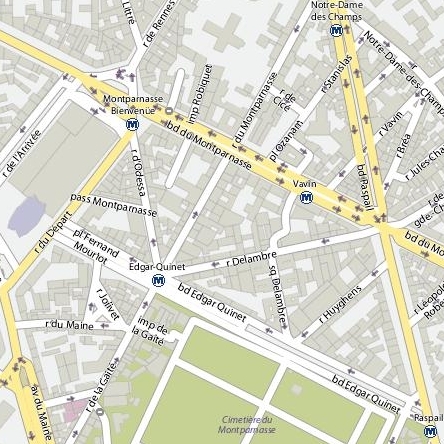 The backstreets, asleep now, look pretty precisely as they did during the heyday of Montparnasse, when people short on money but long on talent took shelter here. There are just a few plaques that mark important places in that story. But if, as they say, these stones could speak, here is a little of what you'd learn strolling among them:
10 AM to 1 PM: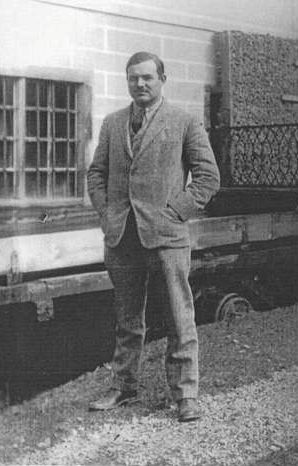 After breakfast at La Coupole, walk up into the rue Delambre. Pass no. 9, where the great modern dancer Loie Fuller dwelled in 1926. Andre Breton, the seminal figure in Surrealism, lived at the Hôtel Delambre at no. 28.
Head for 113 rue Notre-Dame-des-Champs. A wall in the courtyard marks where Ernest Hemingway lived and collected rejection slips in the 1920s. His building is gone, but the artist studios that line one side of the secluded yard give a feel for the life that went on then.
Walk back through the rue de la Grande Chaumière and peer through the glass in the door of no. 8, into the courtyard where Modigliani and Gauguin once had their studios. Gauguin ran up a bill on the cuff at "La Mère Gattegno", a cheap restaurant that stood where the art supply store Gattegno stands, at no. 13. Sennelier, the supplier still favored by artists from around the world, is at 4 bis.
Passing Rodin's Balzac statue at the place Pablo Picasso, go to the studios at 242 boulevard Raspail, where Picasso worked for three months in 1915. In the rue Campagne Première, across the street, Man Ray's studio was on the ground floor left of the entrance at no. 31.
The modest Istria hotel, at no. 29, rue Campagne Première, still functioning, was a dormitory of geniuses. Tristan Tzara, founder of Dada, Mayakovsky, Cocteau, Aragon, and Duchamp, among others, lived here. The glamorous Nancy Cunard had secret trysts at the Istria, with poor lovers. From his apartment at no. 17, Eugène Atget set forth with his tripod and camera to capture Paris and immortalize himself as a pioneer of modern photography.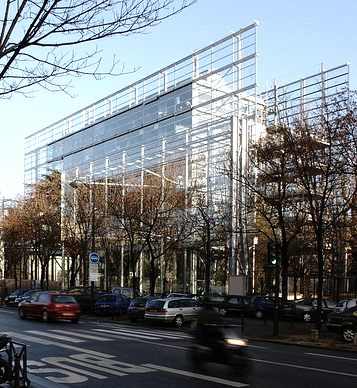 The row of artists' studios in the courtyard of no. 9 was home to Giorgio de Chirico and to an impoverished student named Rainer Maria Rilke. Modigliani also lived here briefly.
Around the corner, the late contemporary sculptor Niki de Saint-Phalle had her studio in the gardens of no. 49, rue Boissonade, a street lined with handsome artists' studios dating to the time pre-war artists lived in them.
Back in the boulevard Raspail, check out the latest contemporary art exhibition at the Fondation Cartier, whose glass structure by Jean Nouvel is typical of a neo-Modernism that draws inspiration from the 20s-30s architecture that abounds in the neighborhood—of which no. 216 is a particularly good example.
From there enter the rue Schoelcher, where, at 5 bis, there is the airy studio Picasso moved to after the boulevard Raspail. The rue Schoelcher borders the Montparnasse cemetery, and if you're in the mood, pick up a program at the entrance and visit the resting places of a bevy of celebrities, including Baudelaire, Jean-Paul Sartre, Simone de Beauvoir, Chaim Soutine, Man Ray, Georges Sand, Alfred Dreyfus, Eugène Ionesco, Samuel Beckett and Jean Seberg.
Back on the boulevard Montparnasse, note the comfortable Art Déco building at no. 132, where the deceptively bourgeois-seeming Henri Matisse once lived. Cross over to no. 127, once the home of the proto-Impressionist painter J.B. Jongkind, and head for lunch at the Closerie des Lilas at no. 171 (phone 01 40 51 34 50, fax 01 43 29 99 94). You might want to shop for a rare wine, on your way, at the Cave des Grands Vins, at no. 144, or drop off a picture to be framed at the historic house of Havard at no. 123.
1 PM to 2:30 PM: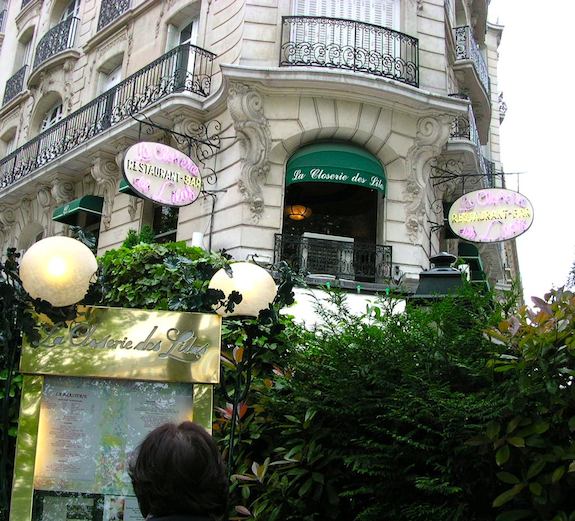 Lunch at the Closeries des Lilas. Hemingway liked to write here when gawkers began invading the Dôme, the Coupole, the Rotonde and the Select. Picasso would lunch here with Apollonaire. Take your own leisurely meal surrounded by the potted greens on the brasserie side, where the food is better for the money than on the restaurant side.
2:45 PM to 4:30 PM:
Walk west on boulevard Montparnasse to visit two fine little museums. The Musée de Montparnasse, 21, avenue du Maine, is in a shaded alley of studios where Maria Vasilieff maintained a cantine that fed such poor artists as Modigliani, Chagall, Braque, Léger and Gromaire. The museum has handsome works by Picabia, Modigliani, Pascin, Marie Laurencin and Tamara Lempicka, among others.
The Bourdelle Museum is nearby at 18, rue Antoine Bourdelle. Bourdelle, student of Rodin and teacher to Giacometti, lived and worked here. The museum, with its extension by the Pritzker-prize-winning architect Christian de Portzamparc, contains Bourdelle's work and his collection of sculpture from the Etruscan age to the Renaissance.
4:45 to 5:15 PM:
You want to sit down again and relax. Have a house champagne at the Le Select.
5:30 PM to 6 PM:
Visit the house and studio of the great cubist sculptor Ossip Zadkine, an oasis of charm at 100 bis, rue d'Assas.
7 PM:
Drinks time, perhaps again, at the Select. If you want to connect orally with the Twenties and Thirties, drink a Picon, a fortified wine popular in those days.
9 PM: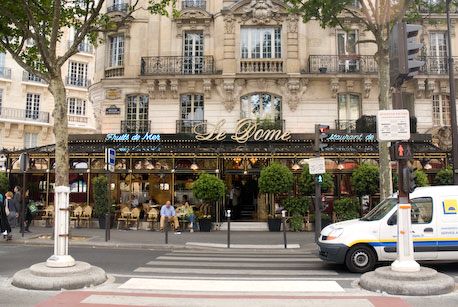 Refreshed at your hotel, you'd step out to eat the best fish in Paris either at Le Duc (243, boulevard Montparnasse, phone 01 43 20 96 30) or the Dôme (108, boulevard Montparnasse, phone 01 43 35 25 81), the latter indeed quite awfully redecorated but noted for its seafood. On a more bohemian budget, you might settle for the Bistro du Dôme, just across the street (1, rue Delambre, phone 01 43 35 32 00).
Breathe a sigh at the corner of boulevard Montparnasse and la rue Léopold Robert. Here stood the legendary New Jimmy's, the cocoon of privileged noctambules during the Sixties, where Françoise Sagan sipped scotch near the entrance and where famous figures of showbiz and the arts would dance for a disk jockey until dawn, when Régine served everybody spaghetti. It's some sort of restaurant now. I don't know where to send you dancing these days, but I hope that Paris makes you feel like it.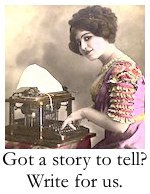 PRACTICAL INFORMATION:
La Coupole historic brasserie
Tél: 01 43 20 14 20
102, boulevard du Montparnasse, Paris 14th
Open 7 / 7 from 8:30am to midnight Sundays through Thursdays; open until 1am on Fridays and Saturdays
Métro: Vavin or Gare Montparnasse
Menu: breakfast, seafood (for take-away, too), children's menu
Joanne and Gerry Dryansky have written several stories for BonjourParis, which you can read with their profile by clicking on their name.

Subscribe for
FREE

weekly newsletters with subscriber-only content.
BonjourParis has been a leading France travel and French lifestyle site since 1995.
Readers' Favorites: Top 100 Books, imports & more at our Amazon store
We daily update our selections, including the newest available with an Amazon.com pre-release discount of 30% or more. Find them by starting here at the back of the Travel section, then work backwards page by page in sections that interest you.
Discover Literary Paris with these books & DVD or Bluray "Midnight in Paris"….click on image for details.
Support our site by clicking on this banner for all your Amazon.com browsing. Merci!