Chez Clement Restaurants: Budget Formulas, 12 Locations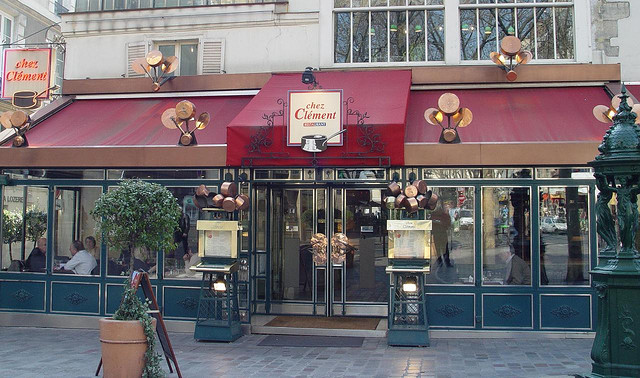 Can a pedestrian restaurant chain in a city boasting some 4,000 eating establishments win Michelin Guide accolades? My husband Bill and I say "Oui!" given the well-prepared meals and eager-to-please staff we've come to appreciate at greater Paris's Chez Clements. Why the exuberance? A year ago, we decided to splurge and check into a pricey inn on rue George V. On learning, however, that a meager, in-hotel breakfast would cost us 96 bucks (not counting tip), we balked. "It's the principle of the thing, not the cost." muttered Bill, who loves a hearty breakfast, yet despite what he says, has often groaned about the weak American dollar. So, next morning, on a search for a restaurant easier on the MasterCard, we came across a Chez Clement just around the corner on the Champs-Elysees. We entered the wide-open door, passed by strung-up clumps of copper pots, and slid into a booth facing the street. Not until the manager approached did we realize we were the only customers. In English, he said apologetically, "Sorry. Breakfast was over at 11. We are not yet open for lunch."  Bill looked at his watch, shook his head and smiled his most charming smile. "Is there nothing left in the kitchen for petit dejeuner?" Assuming the reply would be negative, we rose to leave. The manager sighed, "Will omelets, croissants, juice and coffee do?"  In a nano-second we were back in our seats – and within minutes, savoring a scrumptious late breakfast. Kindness like that isn't readily forgotten, and we've been patronizing Chez Clements ever since. This past April we returned to the chain's Champs-Elysees link. Because of knee surgeries, Bill and I were both sporting canes. We arrived just after 9 p.m., and found the cavernous resto filled to capacity. Along with 15 other patrons we stood waiting to be seated. Spotting our walking sticks, the hostess magically produced two chairs for us and summoned a waiter to bring some wine to everyone in line. When Bill and I politely turned down the alcoholic offering, the waiter, unbidden, went to the kitchen and returned with two glasses of freshly squeezed fruit juice cocktail. Later, seeing the difficulty I was having descending the steps to our table, the hostess signaled two staffers to assist me. What a comic picture we must have made: a muscular young man as tall as a Boston Celtic center gripping my right arm, a petite blonde waitress holding onto the other. Bill left a generous tip and on our way out we thanked the hostess profusely. Two weeks later, before flying back to Boston, we visited the same restaurant, this time for lunch. Imagine our surprise at being treated like celebrities. The same hostess ran up to us, shook hands, and personally escorted us to a plum corner table. (As I recall, she whispered something in the ear of a gentleman sitting there, and he promptly bowed and moved on.) Before we could glance at the menu, we were served complimentary glasses of fruit juice. Later, I remarked to Bill, "I really can't envision our getting better treatment at Tour D'Argent or Pierre Gagnaire." (Both are Paris purveyors of haute cuisine, Michelin-starred, and costly.) While stellar service is important, the main consideration when dining out is, of course, the food. At Chez Clement you can order pricey dishes a la carte from a six-page menu, but several two- and three-course formulas starting at 14.5 euros are equally satisfying – in preparation, palatability and portions. What's your pleasure? Sliced magret of duck? Escalope de fois gras? Charolais rump steak? Let me pass along our choices from among the many traditional dishes available these days 24/7. Bill, comfortable with the three-course, 25.50-euro formula, invariably begins with mixed salad with walnuts, followed by fresh broiled salmon capped with sorrel sauce and accompanied by homemade mashed potatoes. A la carte, I often start with a half-dozen mussels from Spain or yummy crab raviolinis in mushroom sauce. My main course might be a sirloin steak or chicken roasted with thyme. (On occasion, Bill will break down and share with me a king-size, 50-euro seafood platter for two.) There are a dozen desserts from which both of us may choose, but crème brulee gets the double nod almost every time. In addition, there's a separate menu for children under 12. But unlike so many American restaurant chains, the inexpensive formulas on "Clement Junior" appear to be more courtesy than core. Adult fare is unquestionably the heart of the business. It makes sense that if you ponder a restaurant's being "award" material, you must weigh the drawbacks. For example, even though décor is secondary in Michelin Guide appraisals, the "sameness" that characterizes restaurant chains certainly can't be a plus. In American chains geared to families, annoying cartoon-like symbols on walls and cramped plastic seating are the norm. While sameness also prevails at Paris' dozen or so Chez Clements, its level is more subdued. The layouts are attractive and comfortable and nuanced with whimsy. From a tastefully upholstered straight chair or a velvety banquette, you can gaze beyond the heads of other diners at massive windows draped in damask and bordered by, of all things, silver spoons. But then, clusters of metal spoons are ubiquitous at Chez Clements. They dot walls that are otherwise bare; frame large Renaissance prints; and adorn every sconce and hanging lamp. It's hard to locate a nook without them. Nonetheless, in subtle ways, each Chez Clement exudes its own personality. For example, antique objets d'arts differ from restaurant to restaurant, and staffs compete for originality as, seasonally, they decorate tables with natural materials. When we flew home in May, I consulted a dog-eared Paris Michelin Guide to learn what standards a good eatery must observe to achieve "star"dom." Quite simply, criteria include: "the quality of the welcome, the service, and the cooking." Three stars denotes "exceptional cuisine: worth a special journey;" two stars, excellent cooking: worth a detour;" and one star, "a very good…
SUBSCRIBE
ALREADY SUBSCRIBED?
BECOME A BONJOUR PARIS MEMBER

Gain full access to our collection of over 5,000 articles and bring the City of Light into your life. Just 60 USD per year.

Find out why you should become a member here.

Sign in

Fill in your credentials below.
Can a pedestrian restaurant chain in a city boasting some 4,000 eating establishments win Michelin Guide accolades? My husband Bill and I say "Oui!" given the well-prepared meals and eager-to-please staff we've come to appreciate at greater Paris's Chez Clements.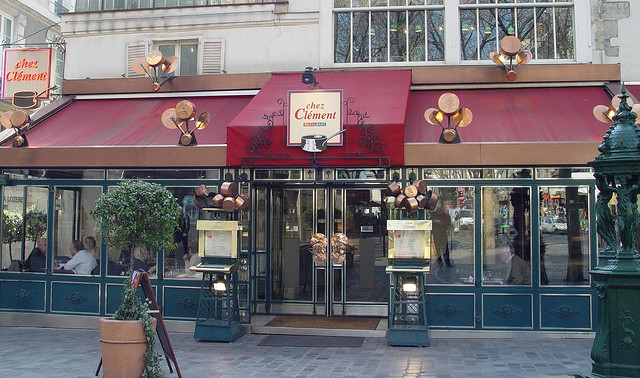 Why the exuberance? A year ago, we decided to splurge and check into a pricey inn on rue George V. On learning, however, that a meager, in-hotel breakfast would cost us 96 bucks (not counting tip), we balked. "It's the principle of the thing, not the cost." muttered Bill, who loves a hearty breakfast, yet despite what he says, has often groaned about the weak American dollar.
So, next morning, on a search for a restaurant easier on the MasterCard, we came across a Chez Clement just around the corner on the Champs-Elysees. We entered the wide-open door, passed by strung-up clumps of copper pots, and slid into a booth facing the street. Not until the manager approached did we realize we were the only customers. In English, he said apologetically, "Sorry. Breakfast was over at 11. We are not yet open for lunch."  Bill looked at his watch, shook his head and smiled his most charming smile. "Is there nothing left in the kitchen for petit dejeuner?" Assuming the reply would be negative, we rose to leave. The manager sighed, "Will omelets, croissants, juice and coffee do?"  In a nano-second we were back in our seats – and within minutes, savoring a scrumptious late breakfast.
Kindness like that isn't readily forgotten, and we've been patronizing Chez Clements ever since.
This past April we returned to the chain's Champs-Elysees link. Because of knee surgeries, Bill and I were both sporting canes. We arrived just after 9 p.m., and found the cavernous resto filled to capacity. Along with 15 other patrons we stood waiting to be seated. Spotting our walking sticks, the hostess magically produced two chairs for us and summoned a waiter to bring some wine to everyone in line. When Bill and I politely turned down the alcoholic offering, the waiter, unbidden, went to the kitchen and returned with two glasses of freshly squeezed fruit juice cocktail.
Later, seeing the difficulty I was having descending the steps to our table, the hostess signaled two staffers to assist me. What a comic picture we must have made: a muscular young man as tall as a Boston Celtic center gripping my right arm, a petite blonde waitress holding onto the other. Bill left a generous tip and on our way out we thanked the hostess profusely.
Two weeks later, before flying back to Boston, we visited the same restaurant, this time for lunch. Imagine our surprise at being treated like celebrities. The same hostess ran up to us, shook hands, and personally escorted us to a plum corner table. (As I recall, she whispered something in the ear of a gentleman sitting there, and he promptly bowed and moved on.) Before we could glance at the menu, we were served complimentary glasses of fruit juice. Later, I remarked to Bill, "I really can't envision our getting better treatment at Tour D'Argent or Pierre Gagnaire." (Both are Paris purveyors of haute cuisine, Michelin-starred, and costly.)
While stellar service is important, the main consideration when dining out is, of course, the food. At Chez Clement you can order pricey dishes a la carte from a six-page menu, but several two- and three-course formulas starting at 14.5 euros are equally satisfying – in preparation, palatability and portions. What's your pleasure? Sliced magret of duck? Escalope de fois gras? Charolais rump steak?
Let me pass along our choices from among the many traditional dishes available these days 24/7. Bill, comfortable with the three-course, 25.50-euro formula, invariably begins with mixed salad with walnuts, followed by fresh broiled salmon capped with sorrel sauce and accompanied by homemade mashed potatoes. A la carte, I often start with a half-dozen mussels from Spain or yummy crab raviolinis in mushroom sauce. My main course might be a sirloin steak or chicken roasted with thyme. (On occasion, Bill will break down and share with me a king-size, 50-euro seafood platter for two.) There are a dozen desserts from which both of us may choose, but crème brulee gets the double nod almost every time.
In addition, there's a separate menu for children under 12. But unlike so many American restaurant chains, the inexpensive formulas on "Clement Junior" appear to be more courtesy than core. Adult fare is unquestionably the heart of the business.
It makes sense that if you ponder a restaurant's being "award" material, you must weigh the drawbacks. For example, even though décor is secondary in Michelin Guide appraisals, the "sameness" that characterizes restaurant chains certainly can't be a plus. In American chains geared to families, annoying cartoon-like symbols on walls and cramped plastic seating are the norm. While sameness also prevails at Paris' dozen or so Chez Clements, its level is more subdued. The layouts are attractive and comfortable and nuanced with whimsy. From a tastefully upholstered straight chair or a velvety banquette, you can gaze beyond the heads of other diners at massive windows draped in damask and bordered by, of all things, silver spoons. But then, clusters of metal spoons are ubiquitous at Chez Clements. They dot walls that are otherwise bare; frame large Renaissance prints; and adorn every sconce and hanging lamp. It's hard to locate a nook without them. Nonetheless, in subtle ways, each Chez Clement exudes its own personality. For example, antique objets d'arts differ from restaurant to restaurant, and staffs compete for originality as, seasonally, they decorate tables with natural materials.
When we flew home in May, I consulted a dog-eared Paris Michelin Guide to learn what standards a good eatery must observe to achieve "star"dom." Quite simply, criteria include: "the quality of the welcome, the service, and the cooking." Three stars denotes "exceptional cuisine: worth a special journey;" two stars, excellent cooking: worth a detour;" and one star, "a very good restaurant in its category (which encompasses type, agreeable features, services, and prices)."  I flipped to the star listings and studied each page. "Chez Clement" was nowhere to be found. Then I remembered that, several years ago, the prestigious Guide introduced a fourth designation: Bib Gourmand, applicable to restaurants offering "good quality cooking for less than 35 euros." On page 23, under a bib-shaped happy face licking its chops, there were 43 listings.  Chez Clement wasn't one of them. As the French are wont to say, "Quel dommage!" What a shame, indeed.
Since then, I've wondered if Michelin might consider adding yet another awards category, one they might dub "Maisons a succursales" (loosely translated, multiple stores). If so, I have the perfect logo: a happy dinner plate with a chain around it.
Sidebar
Locations, addresses, telephone #s and nearby Metro stops of the 12 Chez Clements
Opera
17 blvd. Capucines  (2eme)
01 53 43 82 00   Metro: Opera
Bastille
21 blvd. Beaumarchais  (4eme)
01 40 29 17 00  Metro: Bastille
St-Michel
9 place St. Andre des Arts  (6eme)
01 56 81 32 00  Metro: St-Michel
Elysees
123 av. des Champs-Elysees  (8eme)
01 40 73 87 00   Metro: George V
Marbeuf
19 rue Marbeuf  (8eme)
01 53 23 90 00   Metro: Franklin Roosevelt
Bougival RN 13
15 bis, qaui Rennequin Sualem (78)
01 30 78 20 00
Porte de Versailles
407 rue de Vaugirard  (15eme)
01 53 68 94 00   Metro: Porte de Versailles
Porte Maillot
99 blvd. Gouvion St-Cyr  (17eme)
01 45 72 93 00   Metro: Porte Maillot
Wagram
47 av. de Wagram (17eme)
01 53 81 97 00   Metro: Ternes
Boulogne
98 av. Edouard Vaillant (92)
01 41 22 90 00   Metro: Marcel Sembat
Montparnasse
106 blvd. Montparnasse (14eme)
01 44 10 54 00   Metro: Montparnasse
Petit Clamart
1 av. du General Eisenhower (92)
01 46 01 59 00
More in Paris bistros, Paris restaurants
---
---