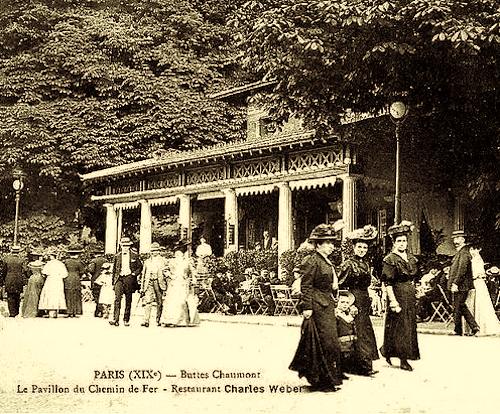 Vintage postcard, public domain.
Whoever said Paris lacked adequate green space? I'll admit it—I did, once. But I clearly hadn't spent sufficient time in the superbly wild Parc des Buttes Chaumont, tucked away in a corner of the 19th arrondissement just above Place des Fêtes. Like the best city parks the world over, it is entirely possible to forget you're in an uber-metropolis here, with lookouts covering rocky outcroppings and even a Romanesque temple perched serenely atop it all. It is a gross underestimation to say you can get lost in Buttes Chaumont; although not the biggest park in Paris (some say it is, but it isn't), its steep hills and wandering paths cut around and through it are delightfully overgrown and forgotten-feeling, much like the more rugged parts of Central Park. This is a family gathering spot for picnics and dog walks as well as an outdoor fashion defilé akin to les Jardins de Tuileries, with everything in between.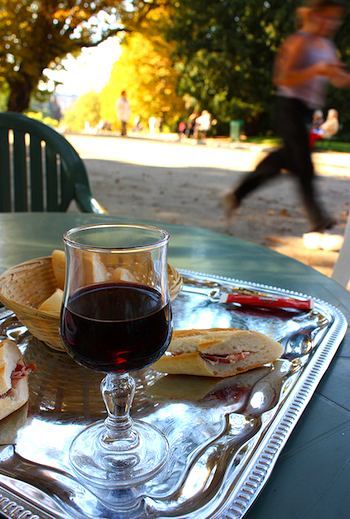 And like any city's best-kept secrets, the Rosa Bonheur restaurant has been in operation within Buttes Chaumont for a few years. It's just now hitting its stride with the Greater Parisian Bohemian, not to mention the International Wanderer. Its placement in the 19th has surely helped its under-wraps, in-the-know reputation to flourish; this is definitely one of the least known, most residential arrondissements, which gives it a charm all its own. The crowd at Rosa Bonheur is a super eclectic mix of young and old (though skewing to the young), cute and scruffy, and trendy and earthy, just like the park in which it is located.
A typical afternoon might involve lounging in front of Rosa Bonheur with a guitar, strumming your own bonheur, and having another (cute) guitarist come and join you to jam (extra points if you can explain the term "jam" in French).
Rosa's is billed as a "restaurant and guinguette," the latter roughly translating to an old-school-style bar, eatery and dancehall. It's really all those things and more. The space inside houses a "sustainable restaurant," most probably represented by the enormous greent plant sculpture that roots itself right into the center of the floor. It's a rare pleasure to actually find a spacious area to dance in Paris, but don't be fooled: this is a popular place that fills up quickly.
Rosa's boundaries are porous; the two outdoor terrasses bleed into the surrounding park and grassy knoll (read: steep hill). But on weekend evenings, barriers are constructed and a velvet rope-style ambiance is swiftly established. This is one party worth queuing up for though—and the queue frequently snakes its way right out of the park as it gets later, since the beats are fresh (some of Paris's most eclectic DJs have spun here) and the eats are fresher. From delectable desserts like cake bio to pâté in little Tupperware containers, this is gourmet chic made for the outdoors. And the sangria/fruit juice/chilled wine conglomerations are delicious (Raspberry rosé anyone? Mmm, c'est bon). The best part: prices are extremely recession-conscious here (all food prices well under 10 euros).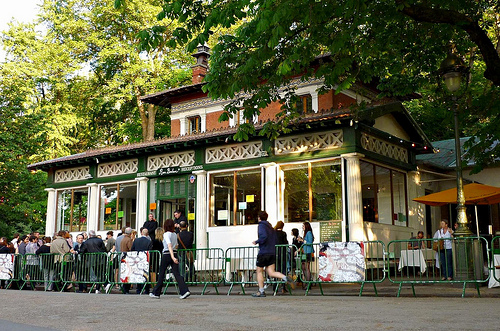 Rosa Bonheur's manifesto, displayed prominently on its homepage proclaims the spot's accessibility and availability to one and all, since it is found in a public park; still, Sunday night is unofficially considered to be gay night. But due to the healthy mix of just about everybody on every night of the week, this rumor need not be heeded. You'll find your crowd (or at least interesting and attractive people you wish were your crowd) no matter when you go. It's simple, really, since everyone is there for the same thing: Bonheur!
ROSA BONHEUR
Parc des Buttes Chaumont
1, rue Botzaris, Paris 19th
Métro: 7bis – Botzaris
Open year round, Wednesday-Sunday, noon-midnight
Photo credit: Creative Commons/ Contemporary photos of exterior and table setting ©austinevan

Subscribe for
FREE

weekly newsletters with subscriber-only content.
BonjourParis has been a leading France travel and French lifestyle site since 1995.
Readers' Favorites: Top 100 Books, imports & more at our Amazon store


Find more places with good cheer…click on an image for details.
Thank you for using our link to Amazon.com…we appreciate your support of our site.