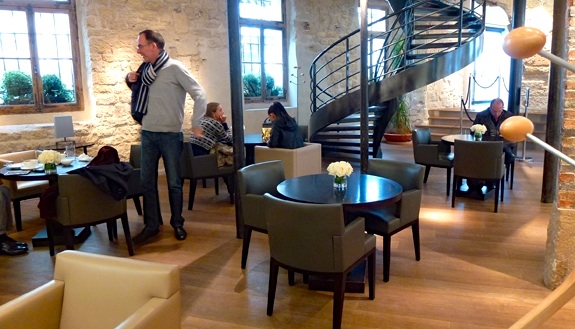 Mocha interior of Jacques Genin chocolate boutique. Photo by Jacqui Guglielmino
A Visit with Jacques Genin, Master Chocolatier in Le Marais
by Jacqui Guglielmino
At one end of rue de Turenne, a short stroll from Place de la République, is la chocolaterie Jacques Genin—named for its self-described fondeur en chocolat. This is a Parisian chocolate and pastry experience you will never forget.
From the moment you enter his beautiful boutique you know you are in for something special. Every detail has been considered in design and presentation. Since being in Paris I have visited five times and each time I enjoy myself just that little bit more.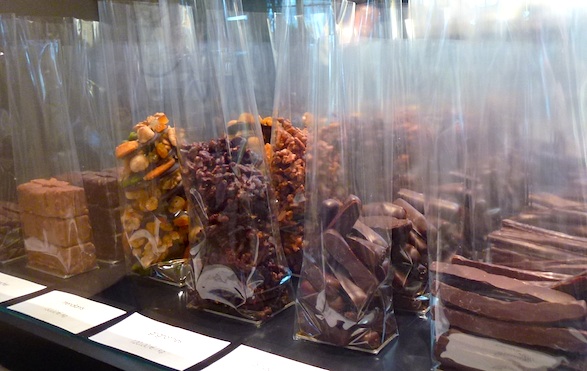 Bagged chocolates at Jacques Genin chocolate boutique. Photo by Jacqui Guglielmino.
You can buy pastries, chocolates, jellies and caramels and take them with you (emporter) or sit down in comfort and enjoy tea that has been especially mixed to go with the chocolates.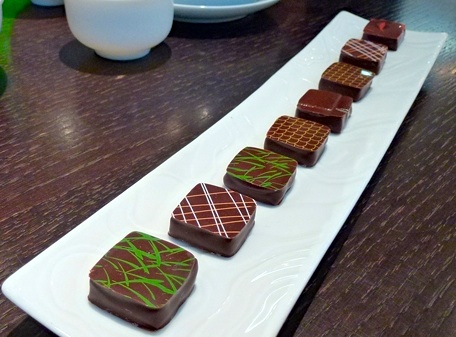 Plate of seven Jacques Genin chocolates for dine-in. Photo by Jacqui Guglielmino
We enjoyed the dégustation platter of seven chocolates with two pots of tea—one with hints of jasmine, the other rose.
The chocolate is designed to go in simple modern silver boxes of different sizes and you can choose which chocolates you would like. The mint with dark chocolate bursts in your mouth as if you had just picked a fresh mint leaf from the garden and bitten into it. The dark chocolate with honey has the most amazing layers of taste. On a previous visit I enjoyed the tarte au citron. Everything this master creates is perfection.
During this visit I asked if I might take a photo of the chocolate laboratory. Truthfully I thought I had no chance but there was no harm in asking. Although I was not allowed to take photos, I was invited upstairs to see Monsieur Genin at work.
As I climbed the steps to meet him my heart was pounding and my mind was swimming in French translations of what I was going to say. What a gentleman he was, shaking all our hands even though he was very busy piping éclairs. This work area is all stainless steel and modern gadgets.
On the side was a Galette des rois, the French cake that is served to celebrate l'Épiphanie. When I remarked on how wonderful it looked Monsieur Genin immediately cut pieces for us to take on our way.
I floated down the stairs and picked up several boxes of chocolates, jellies and some tea as special presents for lucky friends back home.
Take a video tour of the Jacques Genin shop….warning: this may inspire a chocolate attack:
PRACTICAL INFORMATION
Jacques Genin Fondeur en chocolat
133, rue de Turenne, Paris 3rd
Tél: 01 4577 2901
Métro: #3, 5, 8, 9, 11 Oberkampf or République or #8 Oberkampf or Filles du Calvaire
Open: Tuesday through Sunday 11am-7pm; Open Saturdays until 8pm

Jacqui Guglielmino is a lifelong Francophile with what she calls "an overwhelming" love for Paris. Please click on her name to read her profile and find more recipes at her blog, Everyday Cook in Paris.

Subscribe for
FREE

weekly newsletters with subscriber-only content.
BonjourParis has been a leading France travel and French lifestyle site since 1995.
Readers' Favorites: Top 100 Books, imports & more at our Amazon store


We daily update our selections, including the newest available with an Amazon.com pre-release discount of 30% or more. Find them by starting here at the back of the Travel section, then work backwards page by page in sections that interest you.
The famous French chocolate weight loss plan by Dr. Delabos [sorry, French only] is the hottest-selling book on BP.
Click on this banner to link to Amazon.com & your purchases support our site….merci!
Leave a reply
Your email address will not be published. Required fields are marked *